No, not swinging in that sense. What's wrong with you? Swing-dance-inspired fitness. Obviously. Get those minds out of the gutter. Let's move on…
It's January 19th and so far I have been to two exercise classes this year. It's just as well this wasn't my official New Year's Resolution, otherwise I'd be awarding myself "nul point" around now. Learning French wasn't a resolution either, which is also lucky. But I've been looking for a class to go to for ages, albeit it in a mainly-googling way rather than an actively going out and trying things way. I enjoy something that's more dance-y than hardcore ab-crunching – I've been to Zumba quite a lot and that was fun but the times just weren't fitting in with my lifestyle. Nothing was fitting in with my lifestyle. When I heard about SwingTrain and its 12:00 on Saturday class in South Woodford I thought that probably wouldn't fit in with my lifestyle either but I've made it to one so far.
(In case anyone's wondering, it's not a particularly glamorous lifestyle. I'm not busy flashing the cash and blinging the bling-bling. It's mostly work, child-wrangling and ten thousand different musical commitments. But really, try adding anything else in. It's pretty tough).
So, I bothered Nathan into driving me to South Woodford and along the way, took in an Odeon Juniors' screening of Storks. Amazingly, Eva sat through an entire film without screaming in terror. I'd recommend it for your nervous 4-year-old. And the class was lots of fun, but our Saturdays tend to be quickly filled up and so I needed a backup plan in case I never made it again. Which is why I found myself yawning on the 7:33 out of Highams Park this morning, leaving behind me kids already dressed and breakfasted and a slightly grumpy husband with slightly ambigiuous instructions about dropping those kids off at breakfast club.
I'd never been to the Bishopgate Institute before but it's quite incredible. It's much bigger than its carved-stone entrance would suggest, and inside it's all retro green tiling and wall displays about the history of the civil rights movement. This lighting-up picture is a timely lesson for us all:
Looking around, it seems that there are meetings rooms, a library and a cafe in the building plus the dance studios in the basement. I could have got very distracted but I was already on the edge of late so I hurried on down the stairs:
And there I was, 8:05 am in Liverpool Street and ready for class. At this point, I should probably stop talking about myself and tell you what SwingTrain actually *is*. The official description is " a high-intensity dance cardio workout inspired by the joyful, energetic sounds of Swing". In truth, it's not dissimilar to Zumba. There are lunges, kicks, shimmies and all kinds of fancy walks. Plus what I'd estimate were 56,000 squats. So say my thigh muscles. The difference is the music – it's retro, happy. kitschy music which covers genres like R&B (in the original sense of the word), Gospel and Hot Jazz. I don't claim to be an expert on any of those kinds of genres but trust me, it's better than Justin Bieber.
It's all a bit tongue-in-cheek and doesn't take itself too seriously…there are moves like "Scared by a Bear" and "T Rex" as well as Mambo and Charleston steps. It's full-on and I might have blacked out for the middle part of the class but I managed to keep up and I think I had fun. I am very far from fit so it was challenging but hey, it's meant to be, right?
We were done by 8:55 and it definitely set me up for the day. There's a shower in the changing rooms next door so I didn't have to go to work smelly and afterwards I wandered happily through the back streets of Spitalfields, taking in some street art:
And a hipster sweet shop: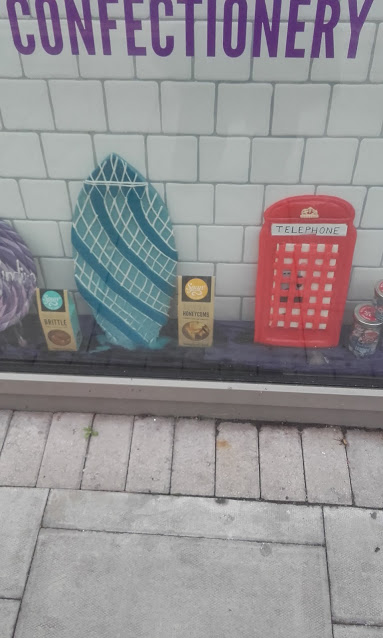 So, if you actually some kind of resolution that involves getting fit, you could do worse than join us on a Thursday morning. I'm paid up for the next six weeks (don't worry – the kids enjoyed Breakfast Club) and hopefully won't shimmy myself to death. More info here if you're interested.
(Not a sponsored post by the way…I know it's hard to tell sometimes)