Now, here's a conundrum – I made a decision three hours ago to stop talking on the internet about the President we'll refer to only as P45 (we can only hope)….for tonight at least. But I need to do some blogging today and it's going to be really tough to tell you what I was up to yesterday without mentioning him. Bear with me, would you?
Essentially, it was a day out in Central London with a lot of other people. We started by fuelling up at the ever-reliable Station Cafe in Highams Park. I wasn't sure when we'd next eat, so Nathan, Roo and I all had big breakfasts – Reuben's being around twice the size of his head. There was an American theme to the day, so ridiculous portion sizes are expected, right?
Then we met up with a load of people we knew and lost nearly all of them by the time we'd got out of the tube at Oxford Circus. Not intentionally, you understand. It's just that the station was even busier than usual. Remarkably busy. And we all had special t-shirts to wear for the day. The kids and I had made our own, with electrical tape and sharpies:
Whereas Nathan thought he was a bit better than the rest of us, and it was Vistaprint for him: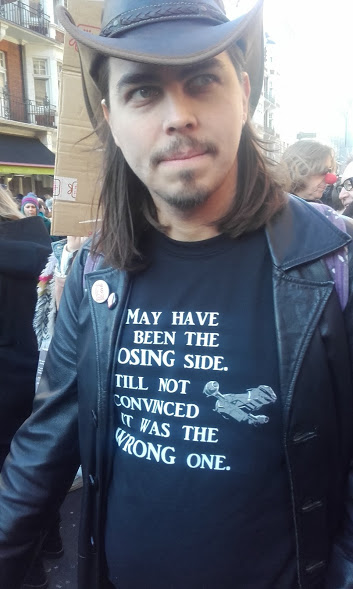 Show off.
So, we were shuffling down Oxford Street with a lot of other people, who also had special t-shirts and placards. Some were there to talk about the change of administration over the pond, others were focused on things like LBGTQ rights, racial equality or just a little light crushing of the patriachy. Bunny was busy crushing her own patriach by sitting on his shoulders. And yes, mutual friends. you have heard that joke many times already. Bunny'sDad was particularly proud of it.
By this point, Bunny'sDad and Bunny were the only two friends we had left, out of the 20 or so we'd started with. I caught up with some of later in a jacuzzi. But let's not get ahead of ourselves.
We turned into Duke Street and there we stopped. We were meant to be assembling in Grosvenor Square but there was no getting near it. The streets on all sides were packed with women, men and kids of all ages and backgrounds. There was a happy atmosphere of anticipation and every so often a "Wooo" would ripple through the crowd for no apparent reason. That irked Reuben, who said we shouldn't be making happy noises when we were complaining about something. I explained that the gathering had a slightly more positive slant than that – we were affirming our rights, not just having a moan. It's an important point to make.
Then…we waited. For a while. The kids had their snacks and started complaining. An hour or so passed.  Someone dropped a 6-pint bottle of milk and it looked strangely symbolic, like it was questioning whether a woman was more than just a 3-legged, 2-armed Milk Person. That was peak excitement for a while.
Then a chant started echoing through the crowd. It started like "Turn Around!" which I thought was some kind of rallying slogan. But no, they meant it in a literal way – we were changing route and giving up on getting into the square from the north. It was back onto Oxford Street for me and several thousand others.
I remember seeing protests going past when I worked on Oxford Street, and always being worried that there were going to start smashing windows and looting – it was only a few years after the May Day riots – so I made sure that I smiled and waved at shop assistants as we walked by. This was a polite and friendly march, and I was determined to be polite and friendly but here's the strange thing…so was everyone else. Even as we squeezed along the pavement, there was a complete lack of cross words, just people handing out rainbow stickers and chatting. And a little bit of chanting "Brick by brick/Wall by wall/Patriachy's got to fall". Reuben enjoyed that.
We turned into North Audley Street, back towards the square and again it slowed to a shuffle. The kids continued to complain. Their hair was crazy with static, from being on the same level as so many people's coats. I tried to tame Eva's a bit but only made it look madder, if I'm going to be honest.
The American Embassy was in sight. I was a little awed by the brash, bold Americanness of it all. Nathan used to work nearby, so I've seen it many times before, both in real life and on "The Omen" but it was like I was seeing it anew. It felt like a real statement to be right outside the heart of London America and I wondered gently to myself what the staff inside made of their new overlord.
The kids had a sandwich.
It took us a long time to filter past the embassy. There was talk of a kids' area somewhere in the square but I think that had long since packed up and moved on. So we started talking about escape routes instead. We'd been on the march for two hours now, even if we'd only moved a matter of metres, and it was time to head home. We got through the square and the pace picked up once we were heading towards Park Lane. On Park Lane itself, we seemed to be sharing the bus lane with some coaches, which wasn't ideal but we kept walking. Our target was Hyde Park Corner tube but after another slow shuffle, we ducked out down South Street and made our way to Green Park. I was extremely pleased to see – among other things – the Green Park tube toilets. It was a 50p I didn't begrudge spending.
The three kids had done remarkably well – yes, they'd whined but there were no full-on meltdowns and, in the end, I'm glad we took them. It felt like an important thing to do, both for my small manfolk and my proto-feminist girl (very much a work in progress. Yes Eva, women can be doctors). We're trying to teach them that there are times to speak out…and that misogyny and right-wing totalitarianism are things that need to be called out. If P45 continues to suppress the Press, it may be up to bloggers and tweeters to keep the true stories going out there and I take that responsibility seriously. I'm not going to let anyone tell me that 2+2=5 and that it always has done or that it was sunny when I know it was raining or that night is day and I just need to adjust my eyes to see the post-truth truth. I believe we now call it "Adjusted Facts".
By the way, one of those "truths" came from the man of the moment, another one came from Bunny. It's hard to tell which is which.
With such momentous and deep thoughts in my head, I did what any liberated feminist would do. I went to the spa.
Oh good grief, I totally recommend it after a protest march. It may have got us labelled as "Prosecco Socialists" by a grouchy HP Dad but I can't see how that's a bad thing. I like both socialism and Prosecco. Besides, he's just grumpy he didn't get invited. That's why we ditched him at Oxford Circus. Did I just say that aloud?
Anyway, I was off to the spa experience at the new Feel Good Centre in Walthamstow, along with some other marchers and a whole load of HP Mums. I always feel like life with two kids earns me a soak in the jacuzzi  but even more so after three hours pounding the pavements. Steam to clear some of those Oxford Street pollutants out of my pores, and a lie down in the relaxation lounge to put the world to rights. Perfick. At least until the water got shut off by a burst water main. Small details. Naturally, I have no photos of me in swimwear but if you need a photo to sum up my day, here's one of the other mother's placards in the changing rooms:
Cast off the muscle-ache of the day/Shoulder to shoulder with jacuzzi spray
Up the Sisterhood of Prosecco Socialism!