Sometimes you catch a glimpse of yourself and wonder "What has happened to me? Where did it all go wrong?". That's how I felt on the London Overground this morning, partway through a mother-son bonding day with Roo. Travelling through Hackney, wearing glasses that had no glass in them and shoes with no socks….was I becoming….a hipster? Lyrics came back to haunt me as we stopped at Homerton "20-20 vision just a pair of empty frames/Loafers with no socks/I love my life as a digger". Is this what a year in East London does to you? I'd even just been for a coffee at a rad hipster hang out.
But fear not. The empty frames were all for a good cause. Specifically, getting into the Orbit for almost nothing by dressing as "Where's Wally?". You have never seen anything less hipster than this:
To be fair, I didn't look much like Wally either but it was enough to get me in. Reuben looked much more convincing, being a small boy and all, and his dedication to the cause was impressive. Here he is, starting the day by being Wally in Tesco:
And at the play area in Westfield: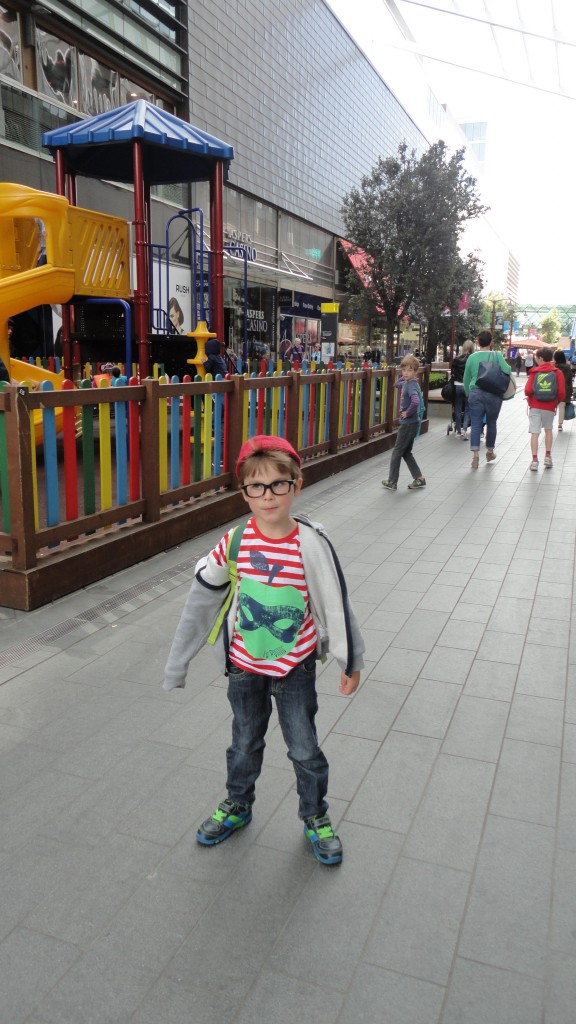 And in front of the Olympic Stadium:
Where's Wally? All over East London, it seems.
If you haven't gathered by now, the ArcelorMittal Orbit are running a week of "Where's Wally?" themed events that allow you in for a mere pound if you make the effort to dress up. That's a total bargain, especially if you've been wanting to go up the Orbit for a while. True, I had to buy the t-shirt for Roo but he needs more clothes that fit and it was quite a cool one. The rest of the outfits were improvised – lenses punched out of surplus 3D glasses, Eva's old strawberry hat co-opted against her wishes..the result was an oddly fruit-themed version of Wally but they could see we'd tried and it was for the astonishing price of £2 that we ascended…this…
Anyone remember that fear of heights I have? Well, nothing has changed. But, having Wallyed up I was determined to also man up and not show my fear as we ascended in the lift. As we went through the barriers, a cheery Wally greeted us and showed us where to go for the climb and another cheery Wally accompanied us up to the top platform. From there, there were views for miles over London, as well as some freaky mirrors that didn't help too much with my generally-unsettled feeling. But here's the obligatory panoramic shot:
There were opening viewing platforms on this level, but Roo complained they were too windy so we only went out for the briefest of moments before going to the next level down, where the activities were. As we went, I got a quick look at the top of the stadium:
Downstairs it was all quiet but I'd seen a large group on its way up and guessed it wouldn't stay like that. The activities were being hosted by the rather wonderful Discover Centre and first up was an interactive story-telling session, all about Wally's adventures. The "story builder" encouraged the kids to gather round and grab Wally's walking stick, which would send them spinning off to the Time of the Dinosaurs (Roo's suggestion) and the Land of the Fairies (not Roo's suggestion).
Reuben thought it was all super-fun and was still talking about it over lunch later. After the storytelling, we went on a scavenger hunt around the room to find little Wally characters, then Roo wrote a postcode about his Wally adventure. Surreal as he is, his was quite normal compared to one I found on the wall:
If you wrote that, please explain yourself. No really, please do.
It was almost time to go back down but gosh darn, what a long way down it was: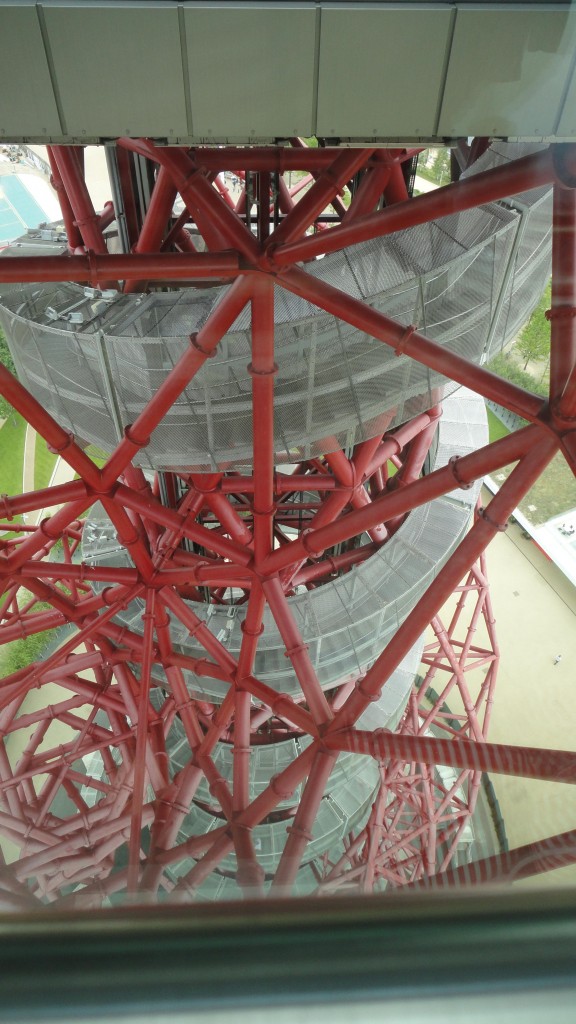 We decided to take the steps, and take in the view at the same time. There's about 300 of them and Roo wanted to jump down each one. He made it about halfway before complaining that his "legs were like dominoes".
I'm not sure what that means…maybe about to collapse? Mine certainly were. It was a bit of a terrifying descent, but we had the recorded "Sounds of London" to cheer us along and the cage was reassuringly protective:
Finally, we got to the bottom and I was in dire need of some lunch. Reuben found the ideal picnic spot and settled himself in:
Only problem was that we didn't have a picnic and I wasn't up for eating the long grass as our picnic. We headed back towards Westfield but got distracted on the way by a fun, interactive wall thing:
Each block swivels from black to white, so you can make patterns with it. Neat, huh?
Neat indeed but I really was hungry. We went to the Fast Food Court on the Lower Ground Floor of Westfield, which some might consider a hellish eating experience. I gave my boy free rein to chose which place we bought lunch from and was pleasantly surprised when he chose Harry Ramsdens over McDonalds:
I was surprised again when his kids' meal came with a free stick of rock. I don't think he'll like rock, but doesn't it look pretty?:
And yes, he still has the Wally glasses on. I think he kinda suits them.
After lunch, there was one more treat to be had and that was a trip to the Lego store. I can hardly believe that it was me who got to take him and not Nathan, but even as the less OCD one I got a small thrill from the neatness of the pic and mix block section:
Oh, the order! The loveliness! The potential for taking arty photos!
Made all the more lovely by how improbable it was. I mean, this was Westfield in half term and barely a brick was out of place. Reuben didn't fancy picking and mixing his blocks or even making his own minifigs. He was after a kit. And it would be a mean mummy who denied him the kit of his dreams just weeks before his birthday:
Yup, I'm a mean Mummy. He got a double-decker couch from the Lego Movie and he will learn to appreciate it. To give him his dues, he didn't complain at all about his relatively slim pickings. We've been working on gratitude lately.
So, a surprisingly nice day out in Stratford with my boy. The "Where's Wally?" events run till 31st May, from 12 to 4 each day and it's definitely worth it to dress up. Enjoy!