Another sunny day and this time we were staying local and hitting the streets of Walthamstow. Our aims were many but the big draw was the latest production by Slap Haddock – the charmingly insane people who brought "A Night at the Pictures" to Wood St Indoor Market last year. This year, they were putting on a show at the end of Walthamstow Market, celebrating the "Firsts" that had happened in Walthamstow, both now and in the past. To set the scene, they had a market stall, run by the Fyrst family, where you could write down your own "Walthamstow Firsts" and put them in the "Firsts Box". Here's Roo doing his:
Obviously, he's dressed as Spiderman. Who wouldn't want to wear a nylon outfit and mask on top of your clothes on a boiling hot day? His "first" was that the Town Square was where he first saw Mummy singing with the Walthamstow Acoustic Massive. Which is true. And coincidentally, you can see me singing with WAM in the Town Square again on 5th June at 7:15PM, as part of BBC Music Day. I honestly didn't prompt him to write that, but what a handy way to shoehorn that little plug into this post. Eva also wrote down something, though I suspect it was just her attempt at writing her own name. She's a narcissist like that:
And, in case you were wondering, here's the Firsts box:
I know you were wondering. You were just too shy to ask.
Talking of people who aren't shy, Reuben was very keen to get involved in the show once he started. A fact about the first aeroplane flight was elegantly enacted by a confused lady in a chair and Reuben as one of two child-wings:
His Spiderman shield, borrowed from Captain America, made an ideal wing accessory and he got right into the part, making the appropriate plane noises.  Eva was just watching, but she liked pretending to be a plane too:
He later said "It was nice of them to let people who weren't even in the show help with it". And we were all involved – I got a policeman's hat and my own line. I think Slap Haddock are keen on audience participation.
There was more to come, as we tried to create our very own first – a tiptoe race. Safety is very important to these theatre types, so all the kids were kitted out appropriately:
The race was a draw, so we went to a re-run, this time in slow motion. Two girls won, which reduced Eva to tears as it wasn't her. One of the lovely ladies gave her a medal as well and talked to her about one of her Walthamstow Firsts – watching "Frozen" for the first time at cousin Leo's house. Possibly even before we moved to this neck of the woods. She perked up a little but was being typically EvaFragile. So, I decided to take her for some retail therapy. More on that in a moment.
Tearfulness aside, the kids enjoyed the show. It was a lot shorter than "Night at the Pictures" and I think that might be because it was in such a public space, which people tend to move through at speed. It was very interesting though, and I learnt some good facts. Roo, as ever, loved being the centre of attention and he certainly got a lot of attention, in his sweaty spidersuit. When one of the performers asked what his real name was, he said "Peter Parker". Without even a pause. That boy is a comedy genius. Don't get me started on his superhero-comedy-maths skills.
So, the retail therapy. I've had better ideas. Eva needs new shoes, as you can tell from the fact she's wearing wellies in the sunshine. As soon as I found out we were having a girl, I started dreaming of going shoe shopping with her but I think it's safe to say that the reality did not live up to the dream. She melted down in Clarks, as nothing matched the vision she had in her head, gave me the silent treatment in Deichmann and by Shoe Express I was ready to give up. So, we went to BHS to buy Reuben a red and white stripy top (you'll see why tomorrow) and there she spotted her perfect pair. They weren't my perfect pair, being canvas, glittery and entirely impractical but I was broken by then. She got them. And ice cream. But I got a new handbag too, so all was right with the world.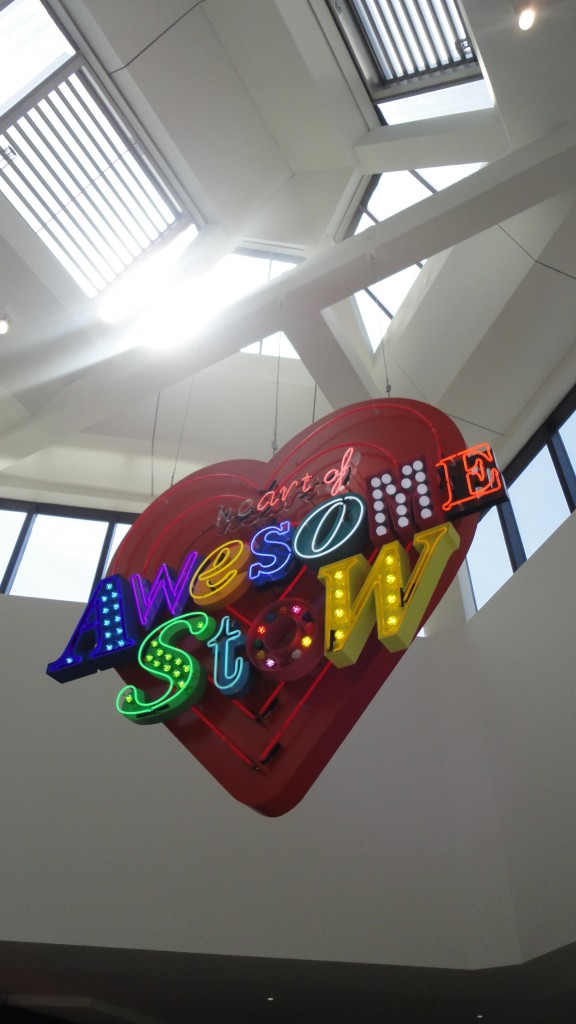 (If anyone is snarling about the gender stereotyping in the last paragraph, I would invite them to actually meet my children. More stereotyped kids do not exist. Spiderman and Belle, I tell you. Spiderman and Belle).
"Walthamstow Firsts" is on until 30th May, from 11 to 3 every day and it's FREE! Go on down and support local arts and learn some local history…or just try and win a free medal…