Now, Friday was a nice sunny day but Saturday not so much. It was cold, grey and drizzly and we needed an adventure. We've been East Londoners for almost a year now, but I still hadn't got round to revisiting the marvellous Discover Centre, which we lasted visited with a tiny baby Eva in 2012. So, we jumped on a bit of the Central Line that I hadn't sat on for hours last week (and there's not much of the Central Line that fits that description) and arrived at Stratford, with its promise of hot dogs, trains and rhubarb. And that's just on the walk from the station.
The Discover Centre is currently hosting an exhibition on the "World of Oliver Jeffers", who wrote such whimsical classics as "The Day the Crayons Quit".  I'll be honest – I had no idea what this exhibition might entail, but when we got there we were given a timed ticket for later in the afternoon So, we'd find out. Before then, there was plenty of time to explore the rest of the centre.  We were too wimpy for the outside bit (greyness! drizzle!) so the craft table seemed as good a place as any to start.
It may have been almost three years since we last visited, but they still have the same activity on the craft table – spoon making. This is not a bad thing. For the modest price of 10p, Reuben made a "Lord Business" spoon, which you can see above. Bunny's Daddy (BunnyDaddy) later found this vampire spoon:
I lost Eva within a few minutes – she disappeared into the tunnel and I never saw her re-emerge. Luckily, Nathan had her trapped and was wrapping her up in a giant pink sheet that she'd found in the dressing up box. I think she wanted to be Elsa. As ever.  The sheet slowed her down quite a lot and I was able to keep up with her as she struggled up the steps to the slide (you try climbing stairs with your legs tied together).
Meanwhile, Reuben and Nathan were playing a complicated, life-size board game that was something to do with being in a forest:
Then Eva and Bunny put on a puppet show: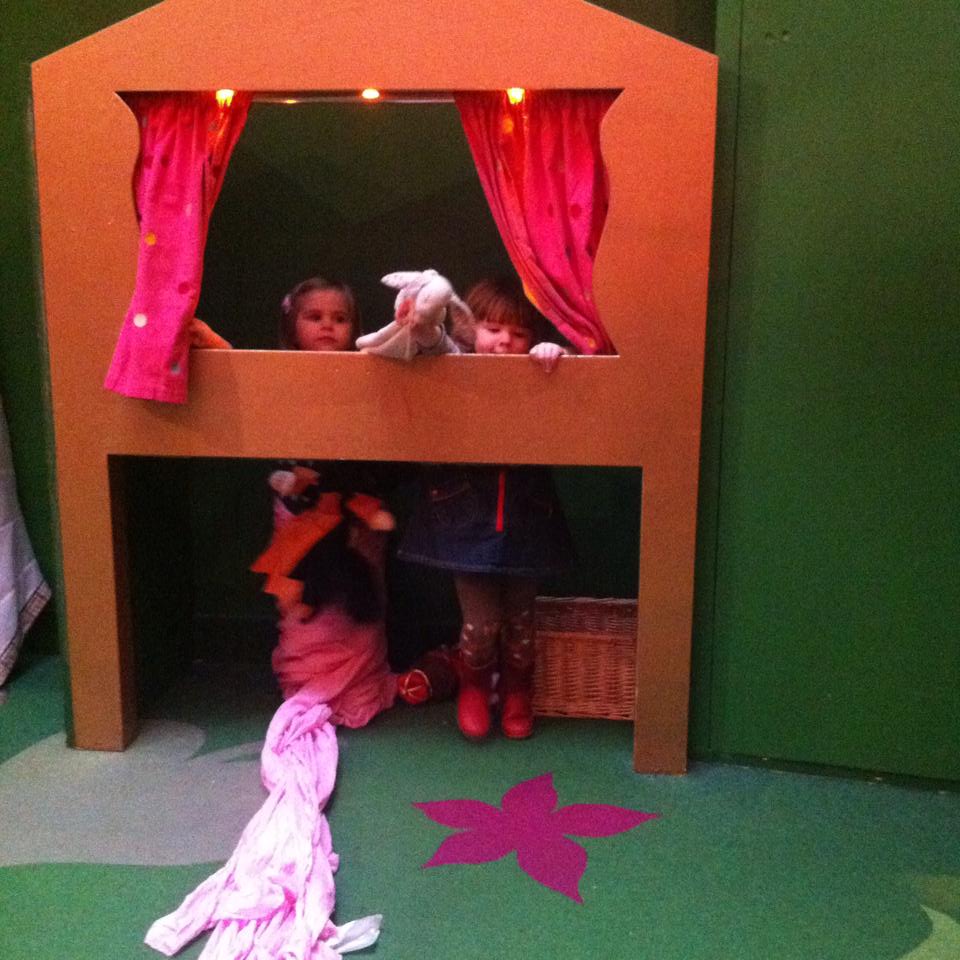 They couldn't agree on whether the curtains should be closed or open, so it didn't go too well. It was also lacking something in the narrative thread department. You can, however, see Eva's sheet still wrapped around her legs and beyond.
What I love about the Discover Centre is that it's all so stimulating. Why have a plain carpet when it can have flowers on it? Why have a wall without lights or sensory patches? The level of detail is astonishing and there's probably loads we didn't even notice. Even the toilets, with their child-size seats, are brightly coloured and covered in spots. I love it.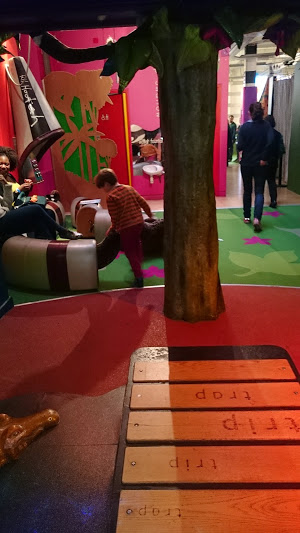 Soon enough, it was time to go downstairs for Oliver Jeffers. The children gathered at the bottom of the stairs as a "Lost and Found Officer" explained that they were about to jump into the pages of…you might guess this…"Lost and Found" by Oliver Jeffers. They all jumped together and walked through the door..into a perfectly realised little bedroom. She started reading the story, and asked them to open the door to see whether there was a penguin there. There were plenty of delighted squeals when it turned out there was. Then they had half an hour to explore the "world" before the conclusion of the story. Reuben got to keep the penguin:
For those who, like me, aren't familiar with the book, it takes place over a number of locations including a beach and the South Pole.  And here they were, all recreated and full of things to play with. It was wonderful. Here we are in the boat:
And here's the kitchen, full of play food that the toddlers were allowed to rearrange (I was worried for a second):
I really liked this shopfront:
And the beach huts, complete with a tray full of brightly coloured (plastic) ice creams: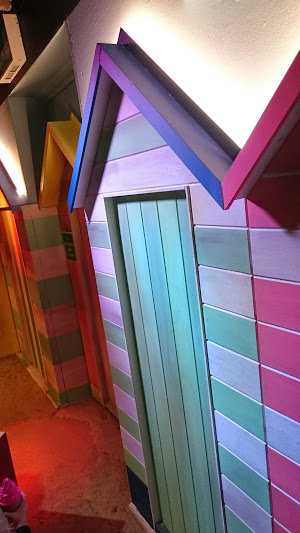 It really did feel like we were in the book, and everywhere had so many lovely details. The sea had ducks swimming in it, and the oars of the boat had hooks on the end to catch them with. The pet shop had cuddly rabbits in it. The bedroom had a wardrobe full of red and white stripy tops. so that the kids could dress up just like the protaganist. And then BunnyDaddy noticed a tiny mousehole, which had its own scene set up inside:
Nathan found another one by the beach:
So cute! After a while, the story resumed and Roo perched on the bed to listen. Then they had a few more minutes' runaround in the magical world but Nathan, BunnyDaddy and I were in desperate need of coffee, so we extracted them and went upstairs to the cafe.
 And this is where the Discover Centre falls down a bit. I'd promised Eva cake but there was none, only a few cookies (and the woman behind me in the queue also wanted cookies). So I bought a couple of those and we went sharesies on some M&Ms. I'm not going to push the point too much, but for such an ace venue it's a disappointing selection. I know it was late in the day and they'd been busy but I just think they'd stand to make a killing on the cafe if there was a bit more choice. It has lots of seating, a lovely range of books and toys and not-bad coffee. But the people have spoken. The small people. And they want cake.
That aside, it was a great day out and I'm very glad we opted for that over BunnyDaddy's forest idea. Drizzly, I tell you…