Yes, it's the last week of the holidays and we're not even halfway through the list. I'm OK with that. The list will go on. But we ticked off another item yesterday, with a trip to Clissold Park with Tammy and Jake. It rained all day.
Wow, that really sounds like the shortest post in the world…but no, you're not that lucky. I am going to talk you through a rainy day in Clissold Park in the usual excessive amounts of detail and you'll be surprised at the end to learn it was really quite pleasant. Well, you won't be surprised now, will you?
Let's start at Walthamstow Central. A glance at a local paper had led me to believe that a shiny new route had opened up between that station and the Queens Road station on the Overground. I couldn't see any signs, so just started walking the long way round, confident that we'd find a way through. As soon as we turned up towards Hoe Street, Eva started pointing into the carpark and wailing "No, dat way! We go dat way!". Like a fool, I ignored her because it turned out that the toddler was right. The correct route through did involve walking through the car park at Walthamstow Central and cutting through a residential street marked with laminated pieces of paper. Of course, I only found that out on the return trip because I was busy walking the long way round. I really am a fool.
We were getting the overground to Harringay Green Lanes and then a bus to the park from there. It may not seem like the quickest route, but the shiny new Overground has that magical step-free access that the creaky old Piccadilly Line stations can't seem to muster…even the not-quite-so-creaky Victoria Line stations boast but a handful of step-free routes. They do a great line in raised platforms though, so if you can get down there with a buggy or wheelchair you are totally sorted. Anyway, ramps at Queens Road and Green Lanes ensured a smooth step-free route for he buggy, which Eva doesn't necessarily use all the time, but Eva's stuff does. And on a rainy day, there was a lot in the way of stuff – particularly extra layers and that hoodless raincoat.
It was pretty drizzly by the time we got there. First impressions were of a big, open park that was also a particularly damp park:
It's amazing trick of the camera – or possibly of the weather – that makes Stoke Newington look bleak and unappealing because of the drizzle, whereas a sunny Leytonstone today looked positively utopian. I expect floods of enraged tweets complaining that I'm bringing house prices down. Fear not though – in the cafe, inside the very classy Clissold House, the aspirational spirit of N16 was alive and well. Every table was full of Annabellas and Edwins, fresh from their overpriced singing group, sipping babycinos with their nannies. Even the plants looked a bit disdainful and superior, in their shiny silver buckets:
This was not a place where you ordered the cheapest drink on the menu and ate your own sandwiches surreptiously under the table. So, naturally we didn't. No no. Neither did Roo unsurreptiously fashion a crown out of his tortilla. Again, no. We hid out there as long as we could make a packed lunch cup of tea last and then went back out into the drizzle.
A few words of explanations while we're here – as you approach Clissold House from the front, the cafe is up a slope and then some steps and it looks tiny. It's actually three rooms' worth of space, along with an atrium to park the buggy in, and if you go around the back you'll find a step-free entrance where you can either take a lift up or park the buggy at the bottom and use these Von-Trappesque stairs:
You may be tempted to sit on the bottom step and slowly shuffle upwards, singing about suns going to bed but repress that urge. The nannies will judge you.
I also noticed a "Quiet Room" behind the cafe, which I assume is more seating. Obviously we didn't go in there. Equally obviously, I didn't go in there and sing about suns going to bed. What a well repressed urge that was!
So, back into the rain and it really was a very light, misty kind of rain which totally justified shoving the kids outside for a run around the playground. They had coats. They didn't wear them all the time, that's true, but they had them. And besides, it was only an intermittent misty rain. Hardly rain at all. Just as well, seeing that the hardly-rain hardly stopped all day.
The playground then! A dangerous place, or so the gates would have you believe: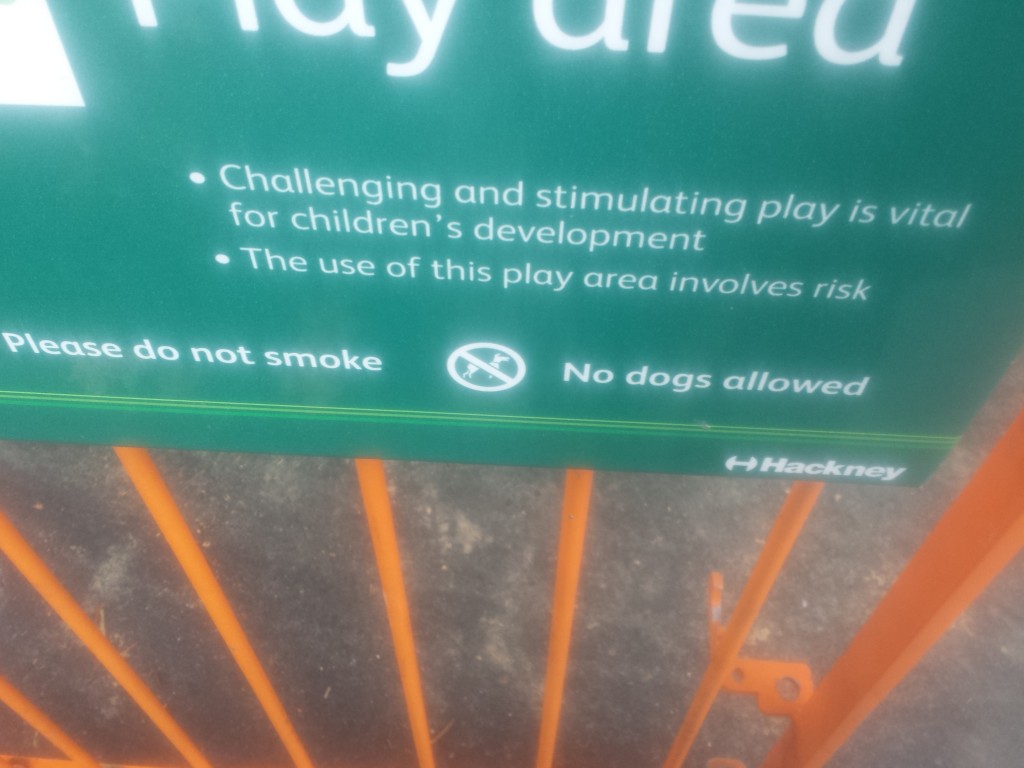 Clearly one of the solicitor parents of Stoke Newington has threatened a lawsuit at some point, for a grazed Grazia or a scuffed Scylla. Remember kids – play safe. Or at least, take responsibility for your own actions.
Reuben didn't read the sign:
And Eva just can't read:
As for Jake? He was being a rogue train, careering around the playground knocking down innocent bystanders. I'd love to see the H&S paperwork for that.
Anyway, I'll stop talking for a second while I eat a bourbon and instead show you some pictures of the large and well-landscaped playground:
From the top of the slide:
And from the other direction (I think that's a skate park):
Pirate ship! Or improvised rain-shelter…
And some quizzical-looking animals:
Oh, and some mysterious messages in the sand:
They played for an hour – in rainy times and less rainy times – but I wanted to have a bit more of an explore so me and the kids went to the animal enclosures, while Tammy and Jake played football on the somewhat soggy grass.
Now, we've tried spotting deer before but they're always a bit reluctant to come near my noisy children. This day, though, the children stayed miraculously quiet and a stag appeared right in front of us to sharpen his antlers:
And…doe! A deer! A female deer! If only she'd brought a drop of golden sun with her…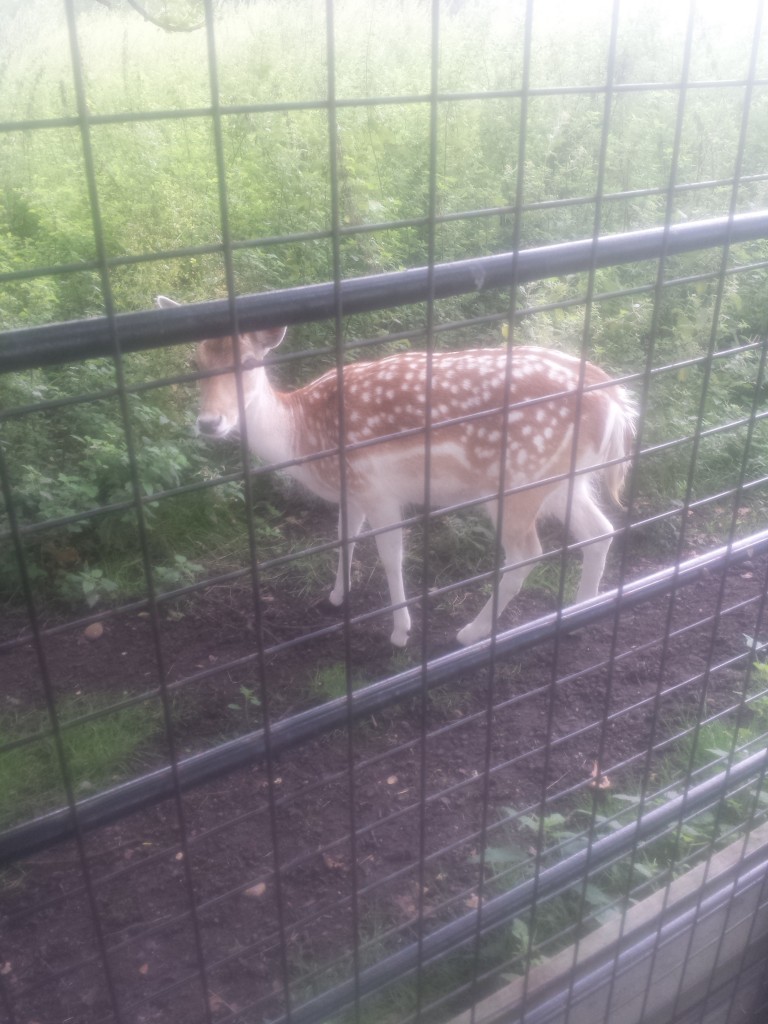 We also saw a goat and some chickens and got told off by a parkkeeper for leaving a buggy in slightly the wrong place. Then we went to the butterfly dome, where we didn't get told off for letting a couple of butterflies escape (only through the first set of curtains…and I don't think anyone spotted that it was Eva that did it). We watched the Butterfly Whisperer lure them back into place with a net and left feeling only a touch guilty. It was a lovely little feature though – and the butterflies were huge:
(Although you know that's zoomed in, right?)
It was almost time to go and get some more food (I'd packed surreptious sandwiches for the kids but not for me) but first we had some wet-grass football to play, some ducks to hassle and an island to see: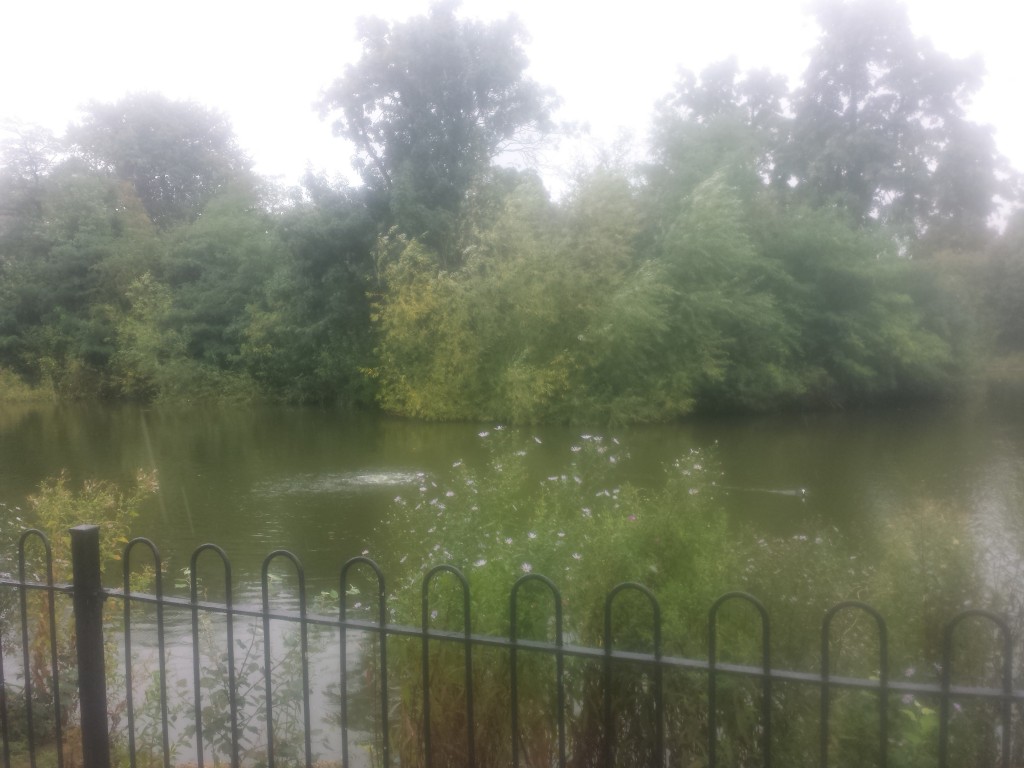 Recognise it? The kids did – it's the island that Abney and Teal live on, in the CBeebies show of the same name. If you don't believe me, I'd point you in the direction of the nearby Abney Park. QED. Reuben and Eva were mostly concerned with getting Bop to come out of his lake, and so stood hollering "Wake up Bop!" at him. It didn't work, but I think we managed to convince them he was just under that little circle of bubbles.
But food was calling, and we chose to leave the pricey surrounds of Clissold Park and go for the slightly more bargainous N4 Eatery near Green Lanes station, where a tasty lasagne and chips – with four different types of salad – costs just £6. For a plate that is literally bigger than your head. Me and Tammy could have easily shared one between us. As it was, she got a doggy bag to take her leftover moussaka home in. There was just such a lot of it. They were also incredibly friendly, helpful with the kids and willing to swoop in with replacement straws and forks as and when they got dropped. I would definitely recommend it.
And what then but another runaround? This time, we went to the edge of Finsbury Park where Roo collected conkers and Jake collected imaginary medals for fastest-downhill-runner-ever. Needless to say, they were both flaking on the way home. We didn't really do Finsbury Park justice and we'll need to revisit – we just went there because it was right over the road (although that bit seemed to be private playing fields so we had to walk up the hill to get in). But I think we did Clissold Park quite thoroughly and it was a lovely trip out – even in the rain. Another bit of the Bucket and Spade List ticked off!