OK, I might have been a bit harsh on Leytonstone in that last post but it was raining and rain puts me in a grouchy mood. Still, going through somewhere on a bus is a bit of a cop-out and so I thought I should probably give it a proper explore. Or at least take Roo to McDonalds there while running some errands for work.
Don't look so outraged. It's not like he has McDonalds all the time – in fact, he only ate there for the first time this year. But I've created a McMonster and he now has something of a taste for Happy Meals…or at least the toy that comes with them. It was our last Mummy-and-Son day of the holiday and I've spent most of those Mummy-and-Son days dragging him round Soho so a treat was in order. More on that later though…
Join me, if you will, at the end of the W16 route outside Leytonstone tube station. Like me, you may be confused about where you are. It will look a little like the bus station you went through on the 257 but with a complete lack of High Street next to it. Still, it had an interesting bus-sculpture:
..and some ladybirds on the floor. It entertained Roo for a few minutes but it wasn't quite going to hit the Happy Meal spot. I eventually worked out that we needed to go into the tube and through a subway to get to Leytonstone High Road. The subway was happily decorated with mosaics of Leytonstone's most filmic son, Alfred Hitchcock:
Who, according to these pictures, had an unfortunate habit of groping Janet Leigh in the showers:
No wonder she looks shocked. By the way, I am dedicating this picture to my A-Level English teacher Graeme Hodgson. It's all in the circles you know…
Anyway, once we'd got through the subway (possibly heading North-by-NorthWest) we arrived at another bus station which looked fairly similar to the first one. I was beginning to see where I'd got confused. But I was also beginning to see where we were going, past the big church and the Stone Gallery (is that a wee bit of gentrification going on there?) to the big McDonalds, which had…wait for this…a free soft play! Oh yeah, now you're listening aren't you? That over-processed food from the evil corporation doesn't seem so bad once you sweeten it with a play area, does it? As discussed, I have few principles anyway. I save my moral crusading for Nestle, which conveniently lets me buy my boy some McNuggets and a Fruit Shoot. Granted, I'd ordered a hamburger but he seemed OK with the change in plan once he opened the box. He mainly likes the toys anyway.
So, we ate and then he played. For a glorious 20 minutes or so, while I used the free wifi to send some work e-mails. But it was sunny outside and the park was beckoning. Along the way, we saw what looked like the poshest Tesco ever:
And then we crossed by the green man roundabout, which I've recently heard described as"the beating heart of Leytonstone". I'm not convinced on that, but it does make for fun road-crossing, when you wait for the green man at the Green Man (the fun mainly involves shouting "Green Man!" a lot. Your child being able to read road signs facilitates this fun). We also saw another mosaic, which I'm starting to think of as an E11 trademark:
The park I had in mind was the Henry Reynolds Gardens, which promised two play areas – one for under 12s and one for under 7s. And indeed, it had those. Here's the under-12s:
And here's the under 7s:
Obviously, the under 7s was covered in teenagers, spending their last days of the summer holidays trying to make themselves sick on the roundabout. But that's just park life.
Anyway, Roo ran in and the first thing he was drawn to was not the brightly coloured metal but the altogether more natural play area:
It was a kinda assault course, all carved out of tree trunks. There were lots of intricate details and even a snail, although we have enough of those in the playhouse at home.  There were rope bridges to climb over and things to balance on, and at the end you were rewarded with a good climbing tree which, unfortunately, was full of squealing girls. But, not to worry…there were still those two play areas to investigate, and a handy reminder of where you'd found yourself: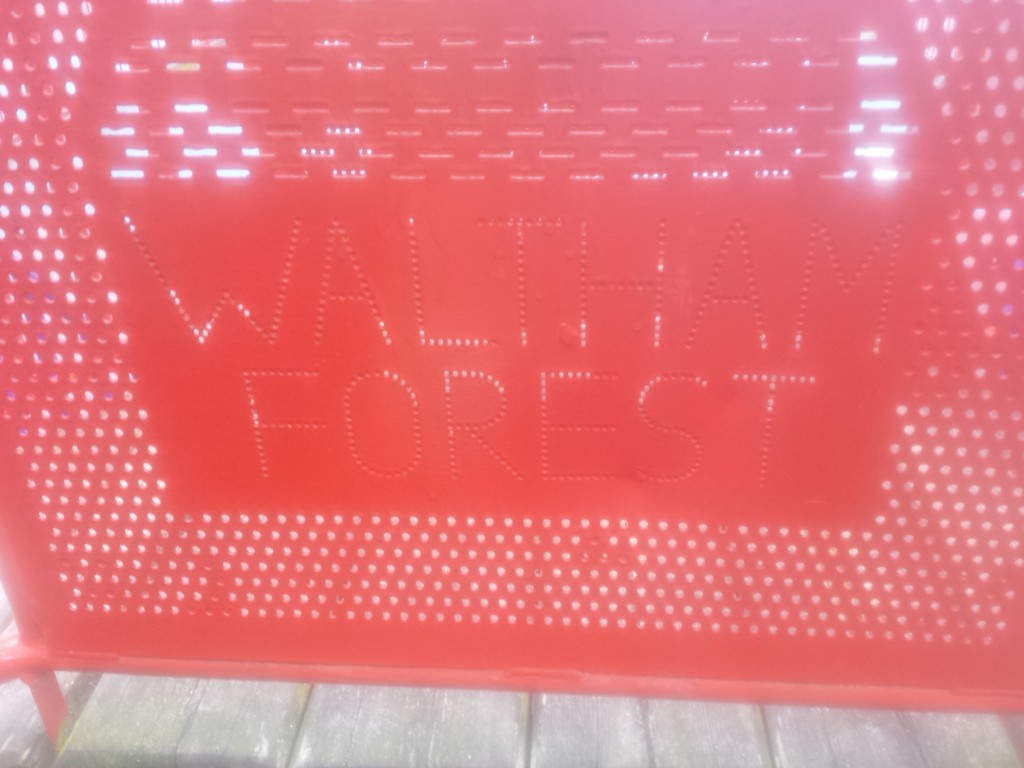 Some of us have no idea how we found ourselves here, but that's another matter…
A fairly nice park overall – small ish and with a few too many teens and pre-teens, but prettier than anything I'd expected to find in Leytonstone:
(As discussed in my last post, the sunshine helps) Altogether, a more successful trip than I was anticipating – parks, greenery, street art and a Big Mac. Leytonstone = done.