I say "Another Day Off" because all through these lockdown months, I've been idly daydreaming about that time in December 2019 when I took a day off from work and parenting and just wandered around Central London like a happy little Christmas elf. One day, I reasoned to myself, one day I would take another one of those. And so Nathan and I booked 20th July off work and made vague plans for lunch in London's most holiday-like destination, St Katharine Docks. Our stretch of self-isolation beggered up those plans but we had a back up. The day off was shifted out two days – we wouldn't be able to have lunch because it was the end of term and Eva would finish school early but dagnam, we were going to have food of some sort in a scenic location. So we did.
I worked briefly near St Katharine Docks before our office move so I was pretty sure on the walking route from Liverpool Street. If you want to follow it too, it's about a mile and is mainly flat. It may involve some dodgy road crossing near Aldgate but other than that, it is a very pleasant stroll. Well, the kind of stroll I enjoy anyway cause there are things to see en route. And it's not just the inside of my lounge.
So first off, you want to leave Liverpool Street by the Bishopsgate entrance and cross Bishopsgate in front of the Polo 24 Bar and Disappointing Wasabi. If your luck is in, the pedestrian crossing will be functioning and will allow you to cross safely. Our luck was not in but we made it across unscathed.
Next thing you want to do is go down New Street and into the Devonshire Place complex. Walk on through it and you'll be greeted with a tree that is, quite frankly, giant by City standards:
Look at that! It outstrips the buildings. Not all the buildings, obviously. Once you turn right out of Devonshire Place, you'll see two notable City buildings that are even taller than that tree. One looks like it's sitting atop the other like a little hat:
Now this is really stretching my powers of building-naming. The hat is obviously the Gherkin (or the Harlequin Hospital if you're of a certain generation of parents) and I've deduced that the one in front is known as the Can of Ham though I can't say I've ever heard anyone use that name. Still, a lovely gherkin-topped hamwich if the walk is making you hungry.
You can see the two grandiose white gates that mark the edge of the Devonshire Place Estate. Go through those and turn left, walking along Cutler Street and White Kennet Street until you come out at the back of Aldgate station:
More trees, shiny buildings and old buildings. See, I told you this was scenic. Now, the next bit is dead clever – there's a thin alleyway to the direct left of the station called Blue Boar Alley. Take that, and you cut a corner off. It brings you to the front of the station, where you can either do a devil-may-care sprint across the road or go a bit out of your way to use the crossing by Peter's Cafe. I used to do the former until I almost got hit by a bus coming out of the bus station so now mainly the latter.
Are you still with me? Good! Wohhhh, you're halfway there! Don't worry, we'll get onto brunch soon.
Now, just duck down the alleyway next to the barbers labelled "Little Somerset Street" and follow it round to the left and you come out onto Mansell Street, which leads almost all the way down to Tower Bridge. Best to cross over early, as the crossing down by the Wetherspoons is a bit tricky and you wanna stick to the left of the street as you go under the railway bridge (past the sign for "Barneys Fish") but all this will bring you out right by the Tower of London. At which point, you can take some touristy photos and discuss why one of the towers appears to have been rebuilt by some shoddy 60s architects:
Someone, sometime in the past thought that was an adequate restoration job. Anyway, some more manic road crossing over The Highway will bring you to the top of a flight of stairs which you can descend into the tranquil surrounds of St Katharine Docks:
Brunch time! We chose to go to Côte because it was fancyish but not too priceyish. Apparently there are no branches of Harvester in St Katharine Docks, or anywhere even remotely scenic. As much as I was craving the breakfast buffet, I was also craving somewhere that to eat that wasn't a carpark in Chingford. So Côte it was.
And we went All Out. Because it was the first time we'd even been slightly Out in eight days. I had a coffee AND a juice and French Toast AND A sausage baguette. Crazy, I know.
If you're insanely jealous of past Kate-and-Nathan at this point, let me tell you that the soy latte wasn't ideal. I've experimented with a lot of non-milks in coffee as they can curdle easily and this latter had, sadly, fallen victim to that. If you're wondering why I didn't say anything, just check out the giant pile of non-non-dairy on my French Toast:
I think I might have looked a tad hypocritical complaining about the foam on my soy latte while also sticking my face in a pile of Crème fraîche. Besides, I still drank the coffee. And ate both my brunch dishes. It was awesome. The only regret I have about the whole thing was sitting outside rather than requesting a seat on the terrace, which had a view over the marina. But then I spilt my coffee over myself so it was probably for the best that we were away from the more civilised people.
After all that food, we needed a bit of a wander about. It really did feel a bit like being on holiday.
We walked around the dock and saw a bright red mini-Tower Bridge opening for the lifeguard boat, with the real Tower Bridge in the background. Wonder if this ever confuses tourists who want to see the legendary Opening of the Bridge?
After watching that for a bit, we crossed over a wobbly bridge and past the Dickens Inn, which is possibly London's Most Flowery Pub:
It got a bit less pretty after that as we stumbled into the more industrial bit of the docks. Eventually, we found our way to the Thames Path and spotted a statue that, at first, looked like it was the side of Yoda's head:
It made a lot more sense from the other side: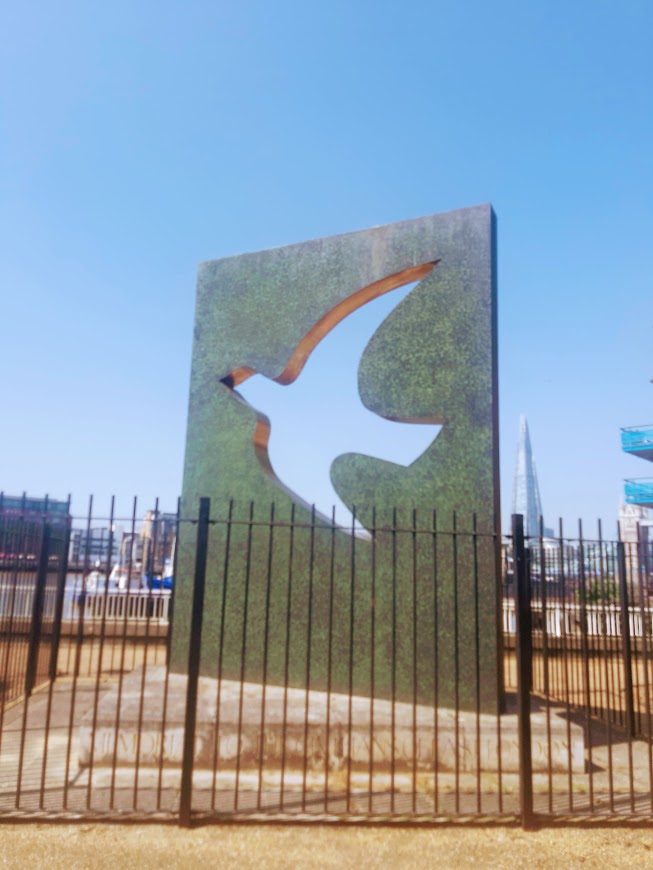 We'd somehow ended up in the Hermitage Riverside Memorial Garden, which was a new park to us even though we'd tried several out last time we wandered around Wapping. It was nice and peaceful, with only a smattering of semi naked men sunbathing on the grass, so we sat on a bench by the river for a while and rested after our epic journey.
But school pick up was drawing ever closer and it was time to find the 100 bus. On the way, we spotted another lovely water feature, which Nathan described as a "mini-Louvre". You can't see it in this photo so you'll just have to trust him.
I don't know why being near large bodies of water on a hot day is soothing as I wasn't allowed to plunge into any of them but still, it had the right effect. Leaving the house for approximately five hours is as much of a holiday as we'll have in July so I feel like we made the most of it….cause who knows when we'll be pinged again?