On Thursday, I took a day off. Unusual for me, I know, but it's been a busy old month and sometimes you just need to channel Ferris Bueller and take some time to watch the world go by. So I dropped the kids off at school and instead of going to work I went to Covent Garden with not much of a plan than "do some Christmassy stuff" and meet Auntie Sabbage for lunch.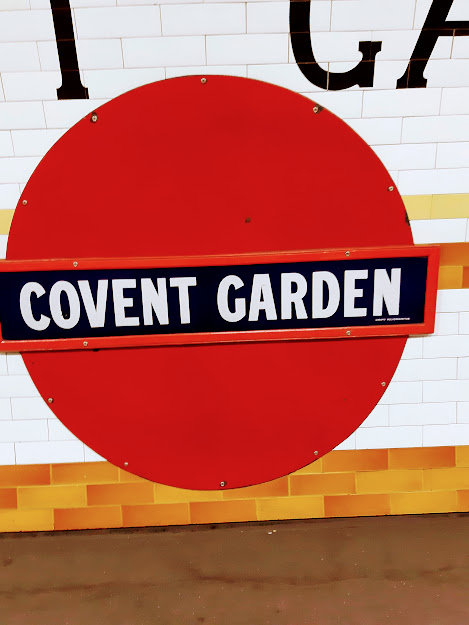 As plans go it's not a bad one. I was too early for anything in Covent Garden to actually be open so I sat in Starbucks and had a toffee nut latte and a croissant. On the way in, I'd read an article in the Metro about festive drinks containing dangerous amounts of sugar and that really made me crave a Starbucks. I don't think that was the intention of the article but it worked for me.
At 10, I set off for a wander around the market but still nothing was really open yet. So I went to Paperchase, which Eva had "fallen in yuv with" last year but, although the whole shop was fyuffy and sparkyee, there was nothing showstopping for Eva that wasn't similar to the piles of fyuffy and sparkyee stuff she already has. Christmas shopping wasn't going too well.
Still, Covent Garden is the most Christmassy place to spend a morning. Even if I wasn't ticking anything off my to-do list, I was starting to get into the Christmas spirit. I mean, just look at the sheer number of Christmas trees:
And this one I think Eva would particularly yuv:
And there was a giant snowglobe, a mini ice rink and more Christmas trees:
The only thing that spoilt the look was this slightly gaudy pop-up that wasn't really blending in with the ye olde Eliza Doolittle vibe of Covent Garden:
I'm sure the young folks love it. Eva probably would because it's so shiny. Eva would also yuv this rabbit:
The stalls in the plaza still weren't properly open so I wandered over to the Jubilee market where I scored some cheap woolly scarves for the kids in Gryffindor colours. First present in the bag!
I just kept heading south after that and stumbled upon a new shop called Neon Sheep, which was both cheap and sparkly. I picked up loads of stuff for Eva before remembering that it was Roo I really needed to buy for. A bottle of "Trump sucks" Kola Kubes and a desktop punch bag seemed to be the kind of thing that might amuse my boy. So it was lucky that Neon Sheep caters for the Trump-hating 10-year-old market. Plus the unicorn/glitter/fluffy stuff for Eva.
I'd managed to spend a lot in a short space of time so decided to go for a walk along the Strand, naturally humming "Let's All Go Down the Strand" as I did so. Again, I had no real plan but popped into Somerset House to use the loos and isn't it just another beautifully Christmassy place to hang out in?
It was at that point that I noticed a friend posting on Facebook about her stall at the Hatton Garden Christmas Market and I was only a mile or so away with time to kill before lunch. So I took a diversion down Fleet Street, past the Royal Courts of Justice and the very dramatic St Clement Danes' Church:
There are so many nice and interesting buildings around there and it was just the kind of day to walk slowly and take it all in. The last time I'd been in Fleet Street was at the very end of the first day of our Monopoly weekend and trust me, it was not a day to linger that day.
So I got to Hatton Garden, hung out by the heaters and chatted to my friend for a while then back down Fetter Lane to meet Auntie Sabbage for lunch and a lovely cup of tea with a view at her office. And what a view:
And then it was time to go home and get the kids but let's not dwell on that bit. Just know that I would highly recommend taking a day off if you can…there's so much to see in London at this time of year and it's so easy to miss. What would Ferris say?