Over the course of the last few posts, I've been trying to persuade you that we're back to our old adventuring ways, now that we're armed with an armful of Pfizer. But I know, 90 mins playing golf next to a roundabout in Walthamstow is not the kind of mad plan you came to expect from LWAT in our pre-pandemic days. Hopefully today's plan fits the bill a little better. It certainly was a little insane and there was a real return to the old school LWAT haplessness. Plus, it literally has "Adventure" in the title. What more could you want?
In our first trip across the M25 since August, we decided to mark Eva's birthday with a trip to Adventure Island in Southend. There were a fair few flaws when it came to the idea of taking an anxious girl to high-octane thrills theme park at the tail end of a pandemic when even like low-octane thrills stress her out….but I figured we'd work it out when we got there. The more pressing issue was parking.
The Adventure Island website assured me that "parking in Southend is easier than you think" but I didn't find that too reassuring. I thought it was going to be very hard, so maybe it would just end up being moderately hard? Turns out the website was right – it was remarkably easy. We went past several signs on the way into town, which told us which car parks had spaces. We had to adjust the route a little towards the end so that we turned right at the last roundabout before the seafront, instead of left but as soon as we took the right, we saw the gigantic Seaway car park which had loads of spaces. It wasn't cheap – and we had to download the Mobon app to be able to pay – but it was easy to find and just a couple of minutes' walk away from Adventure Island.
Going well so far. What was trickier was actually getting in to Adventure Island. There's a queue as you walk down into the sunken garden but no signage to tell you what anyone is queuing for, so it's all too easy to do what we did and go down the other side of the path, straight past the line of people. Only to be turned back and have to do the walk of shame to the end of the queue. That's the queue to get in, apparently. I'm telling you this so that you don't make the same mistake as we did.
It moved quickly tho and once we'd done the Track and Trace check in, we were allowed to roam free. There was little point in roaming before we got the kids' wristbands tho and this is another confusing thing that I'll explain to you now so that you don't have the pain of figuring it out.
We had vouchers that needed to be exchanged for wristbands. That's the first thing to note. We'd bought them at a discounted rate through a local school but the bits of paper alone did not get us in or on anything. We had to go to the wristbands booth along with thousands of other people to make the exchange.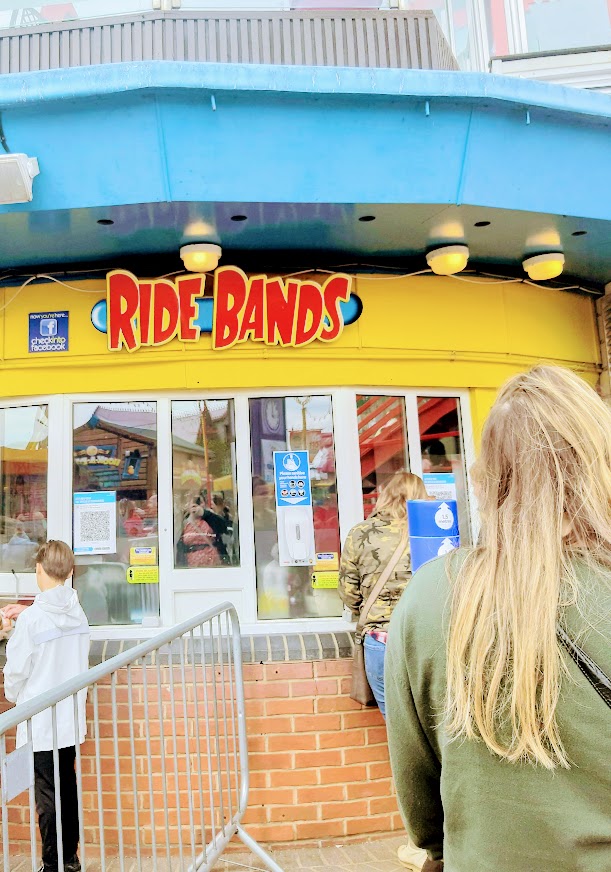 At that point, there are more queues for different windows but before you get in a queue, your kids have to be measured and stamped to say whether they're over 1.2m or not. You'd hope at this point neither child would reveal a pathological fear of hand stamps but our hopes were dashed. So there was a mini-scene while we tried to figure out a way around this system. Eventually we just got into one of the wristband queues and hoped for the best.
Exchanging vouchers for wristbands was fine and the handstamp issue was solved by the child in question agreeing to get a stamp on the wristband, rather than the hand. What was slightly more confusing was the question of who even needed wristbands in the first place. I'd seen something on their website about blue, red and green rides and how adults could ride for free on the red and green rides if they were accompanying a child. Now, the system has changed. Adults ride free on some rides if the child is under 1.2m but if the child is over 1.2m they have to ride alone or the adult has to pay to go on it with them. Now, it all makes sense when you know but when there's a disconnect between the headline "Ride for free if you're aged 14+ and accompanying a younger guest!" and the reality, it can be a bit confusing.
It all worked out fine. The kids are 1.3m and 1.5m and I had wristbands for them both and they could both go on rides unaccompanied for the most part. Nathan and I didn't particularly want to go on any rides so us not having wristbands didn't matter too much. But for the early ones where Eva was nervous and Reuben wasn't always prepared to babysit her, it would have been beneficial if one of us had the option to go on with her. But, as I say, it was fine in the end and only cost me 2xdiscounted wristbands, which is a bit of a bargain really.
Anyway, on to the actual fun bits. The park is divided into two ends, with an undercover bit in between. Most of the middle bit is closed off at the moment, for obvious reasons, and you have to wear a mask as you walk through. So we walked the length of the park first to decide which rides Eva might agree to go on and started at the far West side with the American Whip.
This was a remarkably tame ride, with a bit of spin at either end of the track (the aforementioned "whip"). Walking through the park and seeing the terrifying vertical rollercoasters had made me concerned that we wouldn't find anything Eva-friendly, especially as the sight of the rollercoasters had put her on edge a bit too. But this was plenty gentle enough and Reuben was gracious enough to go on it with her.
Next door to that was a ride which I keep referring to as "Sk8ter boi" as they were blasting out the Avril Lavigne hit all day. I don't think that was its actual name but it was skateboard-themed and alternated between that song and two others. "Heaven is a Halfpipe" was one that Nathan and I had confidently predicted but "Surfing USA" was a bit of a curveball, given the boi was definitely on a skateboard rather than a surfboard. Eva refused to go on this one or even look at Reuben as he went on but Roo described it as "epic". And I sang along a lot.
After that we tried to find something else that Eva would like, given it was her birthday. The helter skelter seemed like a strong possibility but she had a wobble just as she got to the front so Reuben went on it alone. I think she was worried about all the steps inside – this was definitely one where it would have been handy for Nathan or I to have been able to go on with her and encourage her up the stairs. Roo was not enthused about that task so was a bit relieved when she decided not to go on, I think.
By this point, it was past 1pm and definitely time for lunch. The croissants we'd had in the car were not fulfilling the same role as a Harvester breakfast buffet does on our Legoland trips. I'd packed some sandwiches but was going with the flow a bit so happy to buy Reuben a hotdog when he asked for one. Slightly less happy to wait ten minutes for the hotdog but I used to be in the hotdog hawking trade and I know that those little snaggers can take their time, so I wasn't judging. We also got a bucket of candyfloss for Eva that was bigger than her head (not *for* lunch, I should probably point out), a coffee for Nathan, a Coke for me and some chicken fillet bits to pep up the sandwiches I'd brought with us. So I'm probably wrong to blame the hotdog anyway.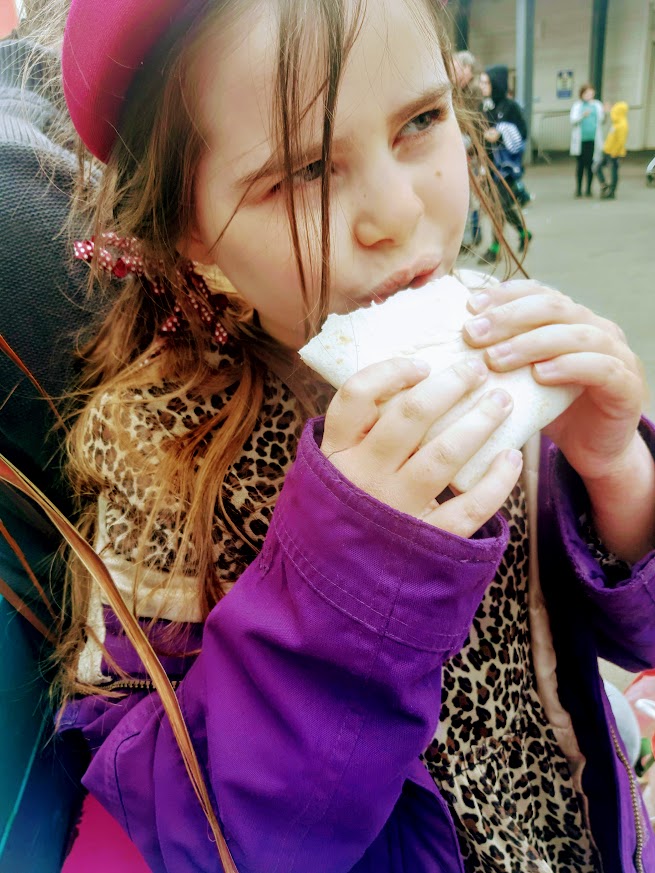 There wasn't a huge amount of seating but we managed to find a bench near the Helter Skelter and the West entrance to the park. It had a view of a truck and spiky plants invading our personal space but it was good to sit down.
I balanced my Coke in the plant pot and we were all set up. In a remarkable feat of comedy timing, it was just when I'd taken a messy bite of chicken fillet-enhanced sandwich that we were spotted by someone Eva absolutely idolises. I kinda waved hello while trying to wipe off the chicken grease but I'm not sure what kind of impression we made back, half buried in plant life. Ah well… I later found out that there were picnic tables up a flight of steps that Nathan had failed to notice when he and Eva were scouting rides up there but I bet they would have been all full at lunchtime anyway. Our bench a la spiky plant did us just fine and was very convenient for the toilets.
After lunch, the hunt was back on for a ride Eva might like. If you've been paying attention, you'll know that Eva had one been on one ride so far on her grand birthday day out. So we split up and Nathan took Reuben off in search of thrills while I took Eva to the tamer seas of the Jumping Jolly Rogers. Not to be confused with the terrifying Jolly Rocker at Legoland, this was a very mildly exciting ride with the same velocity and altitude as a drive along Wadham Road. An enthusiastic staff member shouted piratey things at them and Eva seemed to be finally having a good time.
The next thing she wanted to go on was the Go-karts. Now, this is where things get confusing because their wristbands covered the majority of the rides but the Go-karts and the dodgems were both added extras. I was happy to pay a few quid for the karts if that's what her tiny heart desired but hoped Reuben would go on with her. He did not want to and, as it turned out, wasn't tall enough to drive anyway. Besides, he was off with Nathan at this point queueing for the Green Scream (his verdict: "terrifying").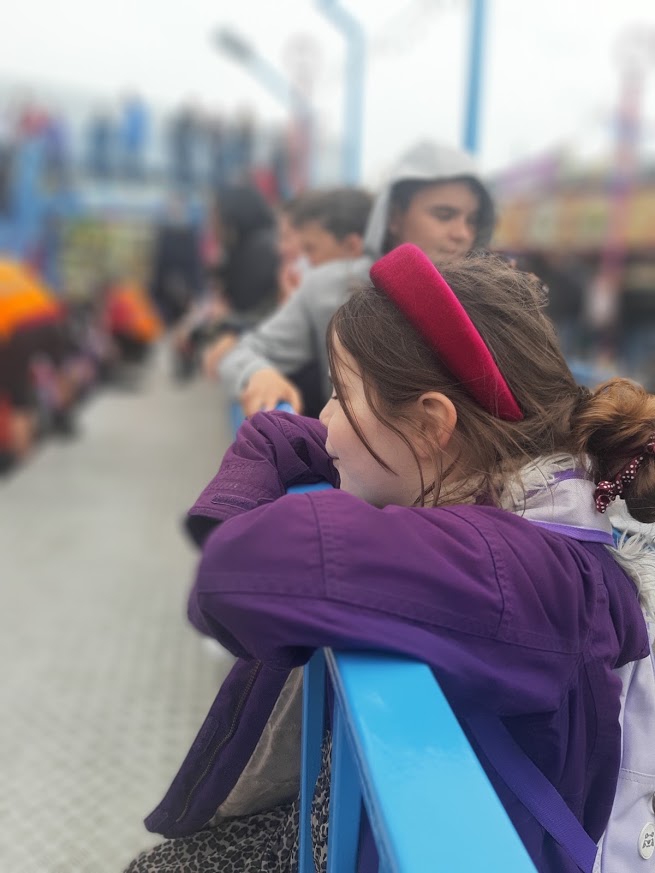 So I paid the £4 for me and Eva to go in a Go-kart together and had to leave all my bags on the side as I squeezed in in a somewhat ungainly fashion. I definitely understand now how I buggered up my knee getting into that boat at Legoland. Once we were in and seatbelted, there was a bit of a wait while the single-person karts did their race and the juddering and petrol fumes were making me feel a bit nauseous. But then we were given the green light and I tried to move forward. You have to turn the wheel as well as push the accelerator apparently. And try not to get stuck on your way out of the lane. Once we were on the track, I found my groove but didn't fancy doing any of that aggressive overtaking stuff. I mean, I didn't even have wing mirrors to check before manoeuvring! So Eva and I stayed in the left hand lane, going daringly fast on the straights but easing up on the corners. Despite the repeated mantra of "Use yer brakes! Use yer brakes!" I never found that I had to…I just took my foot off the gas a bit. Thinking about it now, that probably means I wasn't going very fast.
Ah well, Eva enjoyed it. And Nathan and Roo magically appeared at the side of the track to cheer us on even though we were never going to be anything but last.
Seeing as big brother was back on the scene, I thought he could make himself useful and take Eva on the Pharoah's Fury – a ride she'd noticed before but not been brave enough to go on alone. His head was still spinning from the heights of the Green Scream I think but he agreed because this one more or less stayed on the ground.  Eva later said that this one was her favourite ride, even though the forces made her squash Roo into the corner. Glad we read the bit about the bigger person sitting on the outside.
By this point, we were all ready for another break. So we climbed to the upper levels of the park, where everything was a bit calmer and shared a large bag of crisps together. This is when I found out there were picnic benches up there but even at 3PM they were all full, so I imagine they would have been overrun at lunchtime. We sat on the floor and breathed in some restorative sea air while formulating the next part of the plan. Eva hadn't really spent much time in the Eastern side of the park and Reuben wanted to go on the giant turtle chair ride thing. So we headed that way and he did that, while Eva enjoyed more gentle thrills on the Viking ride:
And got one of those supremo hot chocolate things (plus more coffee for me and Nathan and a Coke for Roo):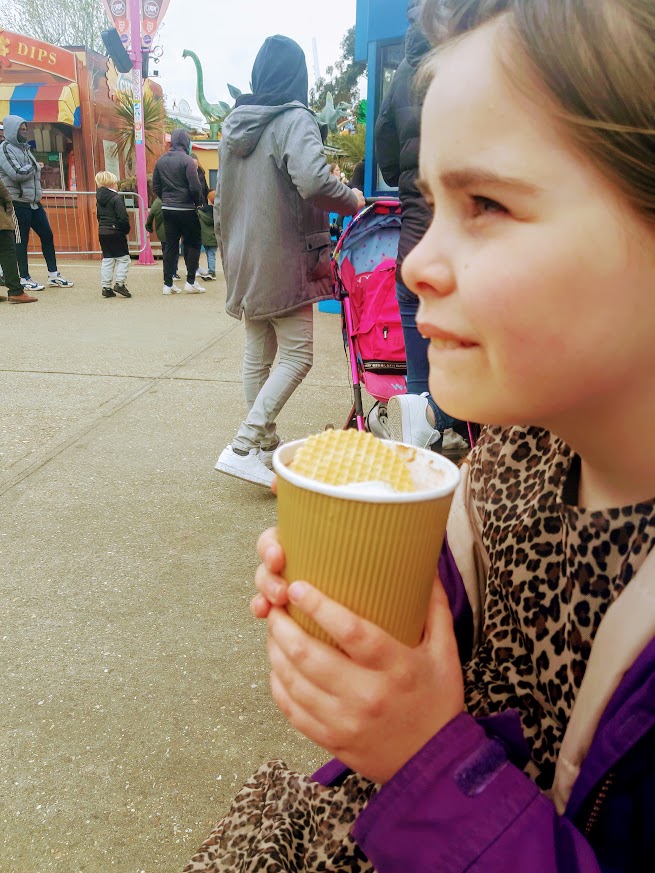 The end was drawing nigh, even with the caffeine boost. The rain had held off all day but the skies were menacing and we were verging into "pushing our luck" territory. So we split up one last time, with me taking Reuben to do the Sk8terBoi again while Eva went on the ChooChooVille train and disappointed herself on the Hook-A-Duck. Then they went on the Jolly Roger boats together again and it was definitely time to leave.
It was coming up to 5PM when we passed the remarkably louche giant and went out through the West gate. Chips were definitely on the agenda and there were many, many outlets that would sell us those on our walk back to the car. We still had half an hour left on the parking and it would have made sense to grab some as we went past but in my brain was a half-remembered conversation with my boss, who is an Essex native. He'd said there was a much nicer beach called Thorpe Bay a mile or two down the coast and my romantic notions of how a day at the seaside should end latched onto this idea. I was sure he'd said there were chips there so we could just hop in the car, park up at the nice beach and buy some chips for dinner. Given we'd technically been at the seaside all day, I had seen very little of the sea and thought it was time to remedy that.
As you might have guessed, this is where it all gets a bit farcical, in true LWAT tradition. I definitely should have ignored any romantic notions and just bought the chips on Southend seafront. For one, the wind was getting stronger all the time and the chances of actually being able to eat on the beach accordingly reduced. For two, there were no chip shops at Thorpe Bay and you had to pay to park there. So we kept on driving. My phone was running out of battery but I had "chip shops near me" as a Google Maps option open already and directed Nathan to a place called Nessy's, a little way inland. Again, parking was tricky as it was on a busy main road and the bays were on the wrong side of the road…..so we ended up round the back of a housing estate, which wasn't quite the picturesque dining scene I'd envisaged. I mean, we'd eaten lunch in front of a truck so was it too much to ask for something a bit more scenic for dinner? And maybe just a little less broken-glassy?
We left the car on the estate, walked a few minutes back to Nessy's and ordered our chips, battered sausages and burgers. Because of Covid regulations, we had to wait outside while it cooked and even I was prepared to admit it was getting a bit chilly. Eva huddled inside my coat while we sang her current favourite song – "Roar" to ward away the cold. Reuben leapt about to keep warm, inevitably jumping straight *into* something and Nathan was stoic but, as someone who hadn't packed a coat, very, very cold.
I got it. There was no buy-in for al fresco dining. I compromised and agreed to eat in the car as long as we were somewhere near the sea. So we set off again and, with one false start, managed to park up on the main road going past Thorpe Bay. We had turned right into the parking spot, which meant we were facing away from the sea and it wasn't yet 6PM which meant I needed to use the app again, with the last gasps of my phone battery, to buy another hour of parking.
But I got my chips at the seaside, even if we were in a car facing away from the sea with a gale-force wind blowing the door shut if I even tried to open it to – for example  – go to the bin. I don't often share close-ups of my face on this blog but I think this illustrates how windy it was:
But hey look – seaside! Well, Estuary-side! And the chips were good so it all worked out well.
And then it was most definitely time to drive home. In fact, it was probably about an hour later than we should have driven home given the wind was pushing our little car all over the M25. But everyone agreed it was a fine day out. If any of this makes you want to do the same, you can find out more info here.