I know this seems like a quick turnaround from our last visit but back then we were celebrating Eva's birthday. Roll on June and lo and behold…another kid had a birthday to celebrate! Fortunately the fairground gods were smiling on us –  a loosening of restrictions and a shift in the weather meant we could take one more kid and a lot fewer layers than we did in May. The lighter-travelling was lucky because this time we were going on the train. You see, it might be a re-hash of a lot of things but that bit's different, isn't it?
Talking of hashes, the first stop was for some hash browns  – and other breakfasty items – at Liverpool Street. I'd planned to get brunch in Southend but I think the tickets we had were only valid from Liverpool Street after 10 so we had some time to kill. Eva, in a rare burst of early-morning energy, was out of the door by 8:35 so we hit Liverpool Street with time to get some brunching in. As it turns out, I think the 10am restriction only applies on weekdays but that was just one of the aspects of the train journey I got confused about so who knows? I haven't caught a lot of trains lately.
I did know that a good lefty liberal like myself should be boycotting Wetherspoons because of the way they treat their workers and the whole supporting Brexit thing. But dagnam, they do a cheap breakfast and it's right there at Liverpool Street. And just look how posh it is! The last of my resolve slowly slipped away at the thought of bottomless coffee and we slipped through the Track and Trace into the world's fanciest Spoons.
Eva wasn't convinced. I'd seen a menu somewhere that said they did pancakes but this pandemic, app-ordering version of Spoons doesn't seem to. It was all just various combinations of sausages, bacon, egg and beans, none of which she really eats. It was pretty perfect for the 12yo boys though and the service was super quick. I mean, literally a minute for the drinks to arrive after we'd paid on the app. The coffee cups were empty, which was disappointing but then I realised it was self service so you could refill without even having to ask anyone. As it happened, the boys ate so quickly we only had time for one cup but I still feel like it was pretty good value. Eva had an order of toast and butter….not quite the all-day fuel I had in mind but at least she ate something before we got on the train.
So yeah, I got a bit confused. Firstly, I thought the train was at 10:13 and we'd missed it after some faffing around with the ticket gate. The doors closed, leaving us on the platform and I sighed a bit before realising the door light was still green so we could just press it and get on. It was 10:15 but from *Platform* 13. That's why I got confused. They're every 15 minutes anyway so it'd be hardly a tragedy if we had missed it.
It was only once we were on the train that I realised our train was for Southend Victoria and our tickets were for Southend Central. My brain had run that query at some point when we were on the concourse but I think Southend Victoria was the only option I'd seen. I puzzled about that one all day before realising that the Southend Central ones terminate at Shoeburyness. I just assumed all Southend trains finished at Southend cause that's where the land runs out. I didn't realise that a) there were two different lines that both go to Southend and b) trains can run *along* the coast, not just turn right and plummet into the estuary.
Like I say, I'm really not used to the outside world anymore.
Anyway, long story short our tickets worked fine for the amended journey and the walk was maybe 15 minutes instead of 10 from the station to Adventure Island but that was fine and everyone survived. Close call with a pedestrian crossing outside the station because people in Southend cross on a red man and hapless kids follow them but everyone did survive and we made to Adventure Island on foot. The End.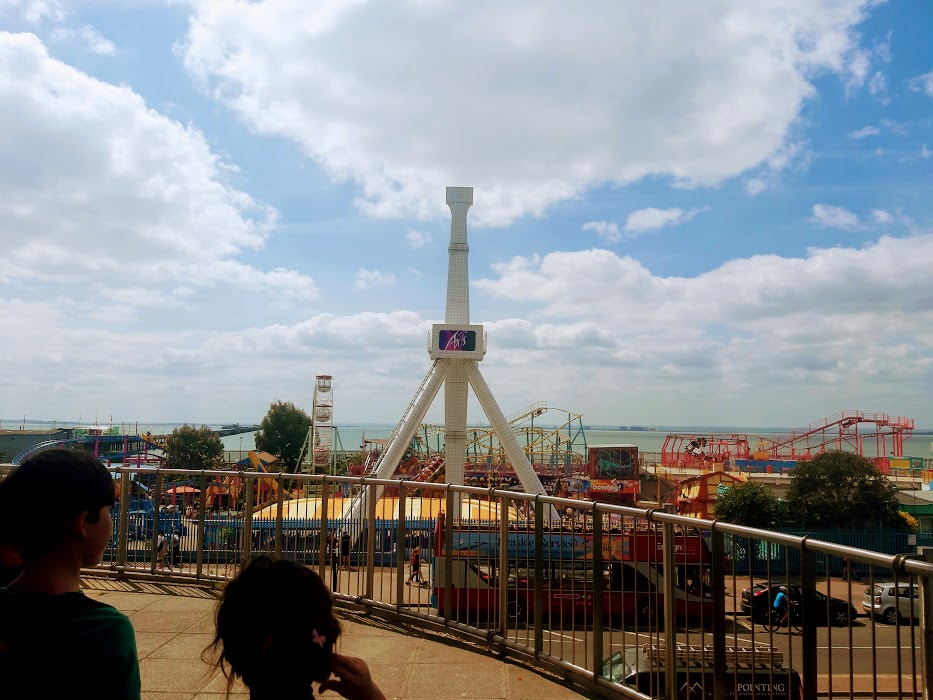 Ah, did you want to know what we actually did once we got there? It seems like unnecessary detail given that so much of it was the same as last time but gwan then, I'll indulge you.
As it happens, there were a few things open that hadn't been in May because of the restrictions on being inside. The first thing we headed to was the Crooked House, which was one of those. I'm still not sure what actually happens inside that house but Eva went through it six times in total and the boys at least four. Something to do with stairs ar a crazy angle apparently.
From there, all three of them headed to the dodgems. Reuben's friend C had unlimited dodgems as part of his annual pass so we added unlimited dodgems to Reuben and Eva's wristbands as well. It was £4 for one go or £5 for unlimited so it seemed a bit of a no-brainer. Of course, when I was actually watching my firstborn driving a dodgem the wrong way round the arena I might have regretted that decision. Eva had to go on with Nathan because she was too small to drive so at least I was spared the experience of watching the second-born try to drive as well.
After that, we split up a little. The boys wanted to go on the first rollercoaster of the day – the Barnstormer  – while Eva chose the more gentle thrills of the Jumping Jolly Rogers.
Then they all wanted to go on the go-karts so I paid more money to shed more years of my life watching Roo's driving skills. Nathan took Eva in a two-seater and, while they didn't have much call to "Use Yer Brakes" they still went fast enough to top up the tiny girl's adrenaline levels.
Did I mention it was absolutely roasting by this point? I persuaded all the kids to sit in the shade for a few minutes and have a drink before they went running off again. It seemed a lot less crowded that last time we went despite – or maybe because of – the glorious weather. So the queues were shorter and there were more places to sit down, which was good. They were whipping through these rides at quite a rate though.
And that didn't stop as the boys went on Sk8borda, the Kiddi-Kosta and the Dragon in quick succession. I don't quite remember what Eva and I did in that time but it probably involved the American Whip and it almost certainly involved the Crooked House again.
It was almost 2pm by this point but none of us were hungry for lunch because of the breakfast. I'm not sure how that worked with Eva's solitary slice of toast but she was holding up OK. What I was craving was an icy fruit drink. The slush stands near the Go-Karts weren't fully open yet so we roamed the park in search of a slush stand that could sell the birthday boy a cola slushie. Eventually the hotdog stand near the Rage came up trumps and we sat down in the shade for a bit with icy fruit drinks all round.
The main part that was unexplored was Adventure Inside. Eva and I decided to go and have a look while the boys went on Archelon. It was a bit…intense inside, being so hot and full of flashing lights and noises.
I kept my mask on but no one else seemed to be. And I'm not one of those people who love to moan about how I'm the only one following the rules and everyone else isn't….but in this situation it really was true. There were no other masks to be seen. It was surreal, almost like we'd gone through a portal into a pre-pandemic world. After all, it did feel a bit like that when we went down this corridor:
Eva had fun though. There was an indoor carousel and Eva rode a horse that she christened Nightfury. Then there was a massive softplay frame, for under 10s only. The boys and Nathan popped up at one point to see if they could go on but, after some confusion, we established that they were too old. So they skipped back off again to go to the dodgems or something again and I sat and watched Eva climbing, feeling like we could be back in real life for a bit. Did we ever think we'd miss soft play?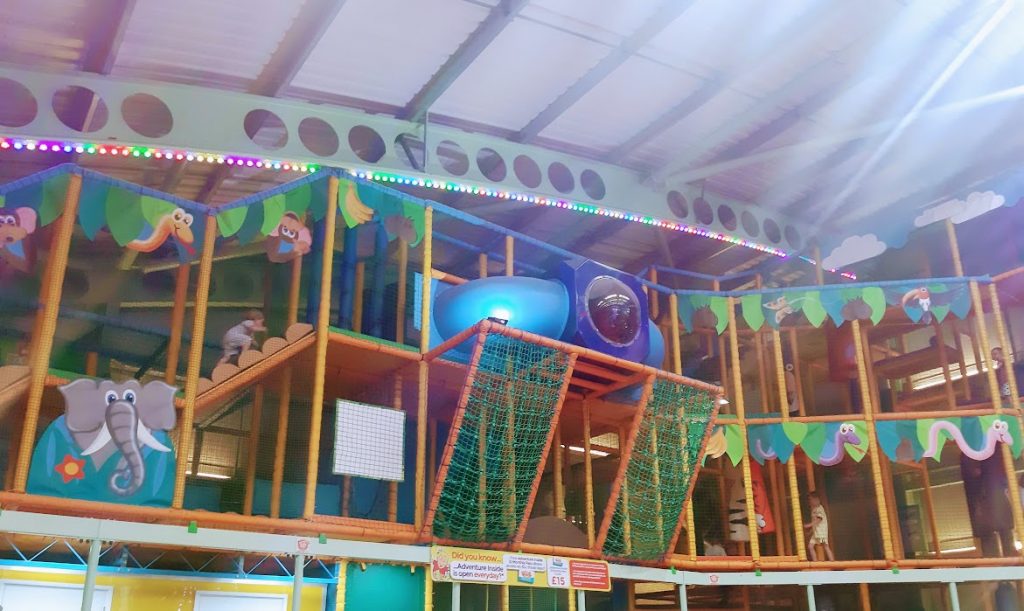 Indoors and masked in that heat though was not much fun and so I persuaded her to leave and go to find the others. It all gets a bit hazy from then on but I know the boys went through Spooksville ("not that scary") and C went on Rage on his own ("not that scary either") and Reuben went on the dodgems at least once more.
I think Eva might have gone on her old favourite, Pharaoh's Fury, and I think she'd gone on it with the boys earlier as well but I have no idea when that might have been.
It was 4pm and we were all done with Adventure Island. I had, as ever, the romantic notion of chips on the beach for our second meal of the day. I'm not sure what you call that meal but Reuben was not keen on the idea of "dunch". As ever, my romantic notions were a bit flawed. Th beach was ridiculously packed, like one of those photos you see in the Metro when there's been a sunny Bank Holiday. Again, I'm not judging because…yknow…we were there too…but it was pretty intense being so close to so many people.
We did put our feet in the sea, which was glorious after being in the sun for so long, but I wished I'd packed swimmers so we could have had a proper dunk. I wrangled all three kids in the shallows while Nathan was getting the chips and I'm pleased to confirm we were still mostly dry-clothed by the time he got back.
So we did manage to eat some chips on a beach, even though the beach was rocky and crowded and we didn't have any ketchup or drinks….but those are mere details. Another #dayoutgoal ticked off.
One item of business was still outstanding  – Eva had been bleating for candyfloss as we were leaving Adventure Island and I'd said some vague things about "after chips". She held me to that and our final stop before the station was at a snack stand where she and Roo got candyfloss, Nathan and C got ice cream and I got a blessedly cold Sprite. All of that sugar was enough to sustain us to get back up the hill to Southend Central which, as it happens, does have trains back to Liverpool Street. And a very scenic route it was too, with sailing boats and rolling hills and a ruined castle and all kinds of things that I couldn't take photos of because my phone was out of battery. So I'll elave you with this photo of the sign we saw on the way back to the station. Tells a story, doesn't it?