It's been a wild week. The kids have been staying at my sister's in Wales and Nathan and I have been kidfree and fancy free. There was a night out dancing, which I might write about soon if I have the energy, and pub trips every day. Literally every day.
It's little wonder that by Thursday I was feeling a little dazed. I left work in Bank at 4ish and my head was in desperate need of some clearing before the next trip out, so I wandered down towards the river and took in some not-quite-fresh air. My eventual aim was to meet Nathan near Southwark Bridge but I had time to kill so I followed the River Path along the north bank for a while, taking in sights like this cool little Art Deco-esque tunnel:
And the Queenshithe mosaic:
And the imposing columns of this building, which Google tells me are the offices of Miki Travel Limited:
There's always something to see on the river and I was hoping to see a few more things to see in the Tate Modern. So I crossed the wobbly bridge to get there, which was disappointingly unwobbly.
Talking of disappointing, the Turbine Hall seems oddly empty at the moment. I could see some swings outside the back doors of the building and they may be the same ones that used to be in there but safe to say, it's in a transitional phase right now.
So I went up to the Start Gallery on the 2nd Floor, which was indeed a good place to start. There were some huge, colourful pieces that I think Eva would like although the strobing of this particular one was not making my impending headache any better.
Then I looked through rooms about genocide, mourning and slavery and started to realise that I wasn't quite in the right place for art. The right mental place, I mean. Being in an art gallery is exactly the right place for art. So I sat down for a long time with my magazine on the fourth floor, then when I realised the gallery was emptying at 6pm, I vacated too and sat on a bench by the river.
It's surprising after all this that I decided to go through with the evening's plans. The headache was threatening to take me down altogether but somehow the rest, the fresh air and a pint of lemonade with Nathan's colleagues at The Anchor pulled me back from the brink and by 7:30 I was ready for the main business of the evening – an open air production of "King Arthur" at The Scoop near Tower Bridge.
Well, almost ready. First we picked up some tasty food from Pod just by the Scoop. Apparently after 7:30 everything is half price, so we got a pot of curry, a falafel wrap and a bottle of water for £7. Score!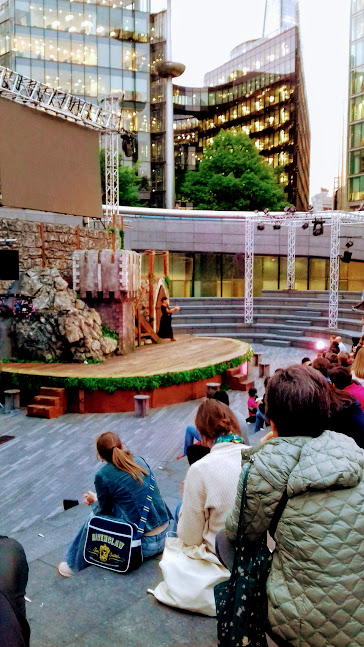 Though it did mean we missed the first few minutes of the show. We picked it up pretty quickly though – the guy in the crown was Arthur (Adrian DeCosta) and schemey ones were the baddies, Mordred (Tom Gordon) and Morgan LeFay (Eva Fontaine). The basics of the plot we knew from a combination of "The Sword in the Stone", "Monty Python and the Holy Grail" and "The Magician's Chamber" but there were some new elements in this one. It was based on Thomas Malory's "Le Morte d'Arthur" (spoilers!) and adapted for this season by Phil Willmott. The language had a Shakespearean feel to it but there were some decidely modern elements, like the feisty female knights who joined the Round Table as part of Arthur's brother-sister knighthood. It's a female Gawain/Gawynn (Emma Hoey) that goes in search of the Green Knight although there's a bit of ambiguity about whether her hosts in Anglesey realise she's a woman. Kay (Sarah Agha) is also female, holding her own and then some against Gaheris (Hadley Smith) as they fight with both words and swords. As you can imagine, I enjoyed the strong women characters though it did have the effect of making Guinevere (Siobhan Cha Cha) look a bit wussy as she stood around waiting to be rescued a lot.
Guinevere is key to the whole plot though – it's her marriage to Arthur that brings Lancelot (Henry Wyrley-Birch) back from abroad and the rekindling of the love between Lancelot and Guinevere that sees the country descend almost into civil war. Word of advice Arthur – don't keep walking around telling everyone how perfect your happiness is. It'll all fall apart by dinnertime, no really.
The first half of the show was quite lighthearted, with the wedding of Arthur and Guinevere and the aforementioned perfect happiness, along with the arrival of the Scottish siblings and their integration into the court. The sun was setting as we got closer to the interval and the plot, accordingly, was about to take a darker turn.
But first a loo break for anyone who, like me, worries about these things. There's a wooden building behind City Hall that contains what you need and you don't even need to pay for them. There's also a bar for people who don't worry about needing to pee all the way through, and a fried chicken shack. We brought our own snacks, which was good as I didn't see anyone selling any nearby, and we also brought a couple of cushions each, for sitting on the hard steps, and a blanket or two as well. The production runs for 2.5 hours so the cushions were well needed.
Back to the show! Guinevere and Lancelot's very chaste affair was about to be discovered, thanks to the scheming of Mordred and Morgan and the resulting drama made the second half speed by. Arthur looked suitably heartbroken to be betrayed by his queen and Guinevere showed nothing but dignity as she was led to her death by the clearly quite sinister Mordred. I won't say what happened next, for fear of spoilers but a few people die. I was very fond of some of them.
There were well choreographed sword fights, taking the actors well off the stage and on to the space around them. There's a timely intervention by Merlin (PK Taylor) who seems convincingly in touch with the higher powers. And inevitably there's some villainous cackling as the plot reveals itself. Along with some very tactile-looking velvet cloakery.
If I haven't mentioned this so far, all this was for free – the cast just appealed for donations at the end. It was a great evening's entertainment in a very scenic location and we really enjoyed it. We even got to meet Mordred on the way out:
It was billed as suitable for kids but I'd say the adult themes of death, adultery and vengeance make it for the older end of the kid-market. Reuben (9) would have enjoyed the sword fighting but might have lost patience with the romance. Eva (6) would have *loved* the beautiful costumes and scenery but would have been overwhelmed by the big emotions. Of course, it's easy to drop in and out of the performance so if you're not sure whether your kids would like it, you always go for a bit and see how they find it.
Anyway, they were miles away so it didn't matter whether they would have liked it. But they're back now, so our adventures are at an end. I may still tell you all about that wild night in Shoreditch though….
"King Arthur" runs till 2nd Sept. More information here.