Reuben is almost 7 – I know, I can barely believe it either. And he's not having a party this year. We started Project No Party early on in the year, sowing seeds in his mind about going to Legoland instead and he seems to have swallowed the bait. Turns out that a big family day out doesn't cost much more than hiring a hall, buying party food, emptying the 99p Store of superhero-related tat etc etc. So he's got a friend coming for hotdogs on the day itself and a room full of sweaty, screaming boys was replaced by a day of fun. Of course, I wasn't expecting it to be very much fun. I expected the kids to be over-excited, over-tired and melty-downy. So, I took some steps to try and deflect the worst of the tantrums. Starting with a huge breakfast, to fuel up.
We were off-site at this point. We'd left home super early and by 8:45 we were breakfasting at the Windsor Lad, a Harvester just off the M4. For £1.99 each, the kids could have a 5-piece cooked breakfast, and Nathan and I splashed out on the all-in breakfasts – unlimited cooked and continental, plus unlimited tea, coffee and juice. Oh yes, this was serious fuelling up. We weren't planning to eat again for a long, long time. So, red meat quotient filled, we set off in search of the mystical Land of Lego. The website had warned us that SatNavs often had problems finding the right place and they were not joking. One hasty U-turn in  a housing estate later and we were on the right track, thanks to Google Maps.  The kids were squealing with excitement as they saw lego men hauling giant letters around, which spelt out "Welcome". We'd spent longer on breakfast than we meant to so got to the gates a little after they'd opened – around 10:15ish. We had to queue for about ten minutes or so, but nothing horrendous. It did mean that the lockers on the other side of the gate were already full though, and finding a locker was sort of a priority. You see, I was nothing if not prepared for the day but the result was we had a lot of stuff to carry round. We had wet weather gear, snacks, sandwiches and swimwear – all things we might need but not things we wanted to be stuffing under our seats on the rapids ride. Luckily, there was a further set of lockers next to the Hill Train station and we could jump on the brightly-coloured train with a much lighter load. Remember kids, load up on £1 coins – the lockers use one every time you unlock it, and the family-sized driers next to the wet rides use 2 of them. Top tip, I know.
So, we descended the hill and arrived at…the Land of the Vikings. Reuben had spotted the Loki Labyrinth on the map and yknow how much that kid loves a Marvel connection – so that was our first stop.
Loki, as we all know, is a mischievous sort and it's no wonder that his maze was full of dead ends and trickery. But we did find some interesting things along the way:
Eventually, we found our way to the centre, which gave us a vantage point from which to see the way out. And a dragon!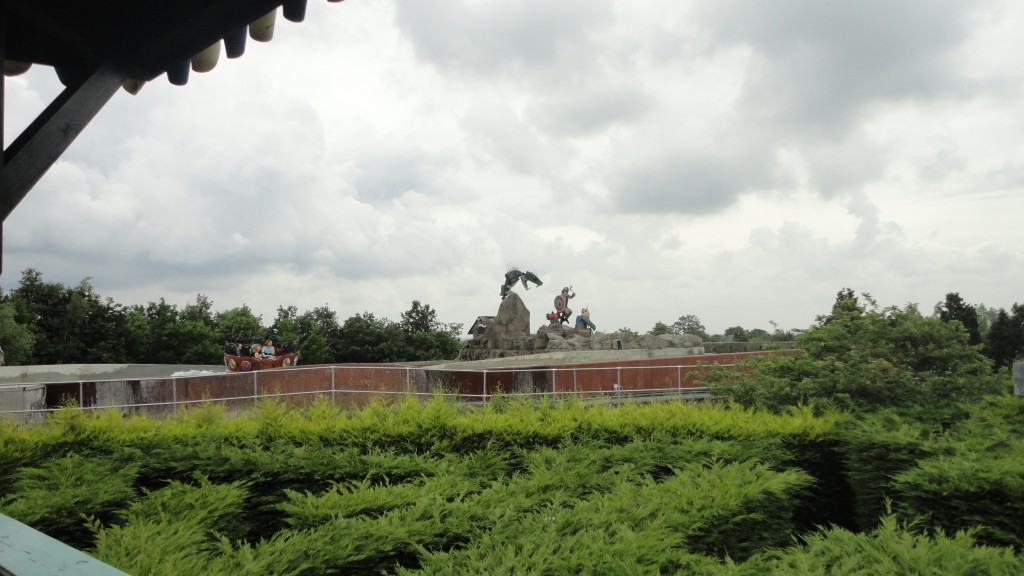 Next up was the Vikings' River Splash. I was only mildly perturbed by the sight of a giant Viking, who appeared to be taking a leak in the river:
Now, rookie theme-park-parents that we were, we neglected to check our the height restrictions before joining the queue. It was only after we'd been waiting for 20 minutes or so that an announcement told us the minimum height was a metre. Now, I knew that Roo was 1m 20ish last time we'd measured him, but what the heck was Eva? She was 60cm at her one year check but I thought she might have grown since then. Well, the lady with the measuring pole would tell us before we could get anywhere near the ride. We waited nervously as the queue snaked round the barriers and…phew! she passed the test! We had to make her stand up really straight and then the top of her head just touched the bottom of the pole. Really only just. But we were on. Of course, what they actually need on these rides is a minimum bravery threshold as the scared-of-it-all girl shrieked all the way round. Not so Reuben, who whooped and laughed with every bump and splash. As he got off, he yelled "that was AWESOME!". I think we had a winner.
Eva may have disliked being sprayed with water while on the ride (she grows ever more kitteny all the time) but she didn't mind dishing it out and soon, she and Reuben were fighting over who got to operate these water guns and soak passing boats:
We managed to drag them off those after a while and we strolled over to Pirate Shores, where a huge playground awaited.
The sign said it was for 5-12s, so it was a little on the big side for Eva, especially as some of the in-between bits involved balancing on a thin plank and hanging onto a rope. It all made me a little nervous, but she wasn't bothered. I forget she's actually quite strong and competent when I'm not watching. It's only when she thinks we're looking that she suddenly loses all structural integrity and becomes scared of her own shadow. Hmm, wolfcrier much?   Anyway, we played there for ageees – long enough to have a snack break, to lose Eva several times, for a quick jaunt round the Enchanted Forest and back again and to get a drink. It was coming up to lunchtime but we were still riding the bacon wave so we were not ready to stop for long. Reuben had his eye on something called the Jolly Rocker, which was one of those pirate ship rides that swings at a nauseating angle. I wasn't keen, and I guessed Eva wasn't either so we left the boys to queue and headed off to the pinkest, most girly part of the whole of Legoland – Heartlake City. Now I'll warn you that Eva wanted photos of her with every single girly Lego model/ice cream/puppy in there. So, I'm going to share some of them  with you. Feel free to skim down to something more interesting:
Then we went to the mall, again at her request, and the cupcake cafe. She's ticking all those cliche boxes, huh?
Sadly, the cafe only had pictures of cupcakes and not real ones but we had a very passable brownie and took shortbread and cookie back for the boys. They'd been on the Jolly Rocker and their assessment was "terrifying". Yes, both of them were scared pantless by a pirate ship that kinda swung around a bit. Nearly a week on and Reuben is still going on about how scary the Jolly Rocker was. As is Nathan, to be honest.
At that point, the inevitable happened. It tipped it down. That's where some of this stuff we'd been lugging around came in handy. We had waterproofs for the kids, although Roo's only come up to his chest and his coat was in the car. Nathan's coat was in the locker, which wasn't much more helpful but we were all a bit soggy from the river ride anyway so honestly, it made little difference. We had three bits of waterproofing and one umbrella between us…but we coped. Besides, Eva had a masterplan. "I know somewhere we can go!" she started, after an abortive trip to the Nexo Knight's Castle (it looked undercover but they are only walls…no ceiling) "It's a ride and there's a roof and there's a cover on the queue". Well, we didn't have any better options so we went with it. The ride was the Aero Nomad, in Kingdom of the Pharoahs and the queue wasn't undercover as far as I remembered. Turns out, there was a small amount of tree cover on some of the corners of the queue but believe me, we were not dry in that queue. Once we got onto the ride, there was a roof over our hot-air-balloon but the seats were a little soggy to sit on. For all Eva's positivity, her plan wasn't exactly keeping us dry.
But it was a good long ride. The wheel rotates bit by bit to allow people to get on, which takes ages. Then there's the ride itself and then the disembarking process, which takes just as long. So it meant we had a decent sit-down with a roof over our heads, a small amount of icy water in my back jeans pocket and 20 foot of fresh air between our little pod and the ground.  Yeah, Roo didn't exactly look sure either:
It was time to do something more gentle. And what's more gentle than the delights of Miniland, Legoland's 20-year-old centrepiece? It's certainly impressive both in scale and detail – it covers several countries from Europe, as well as sights around Great Britain (not sure why Ireland doesn't get a look in). We enjoyed spotting familiar London buildings, as well as making the boats and trains move. Here are a few of our favourite models. First up, Caerphilly Castle…not exactly Land of My Fathers but certainly Land of My Nephron:
Waterloo, gateway to London for all our Hampshire teens:
Vue Leicester Square, where I did my manager training the first week I moved to London: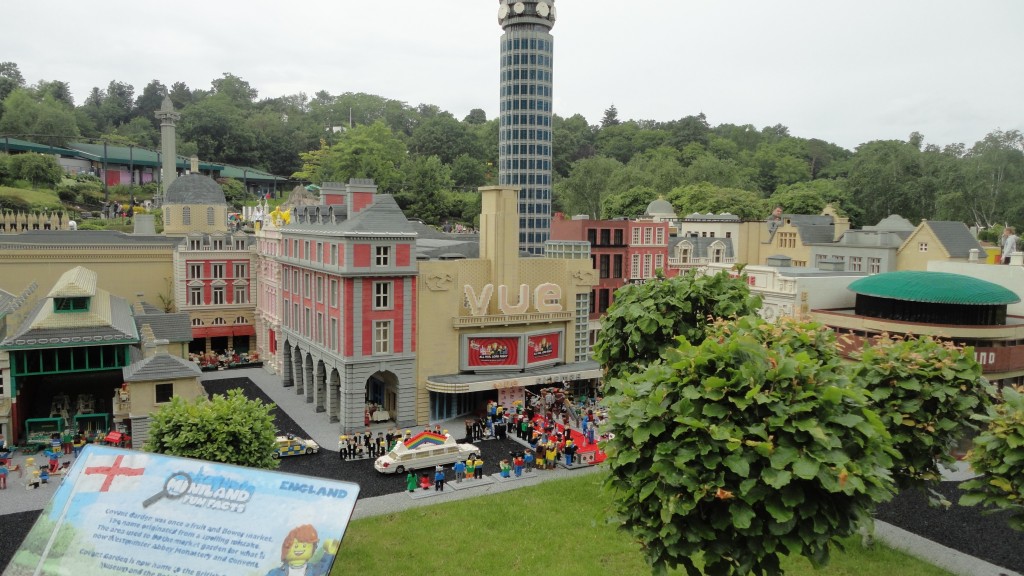 A ducky boat, that cheerful yellow Vauxhall icon:
Mini Holland (this one's going out to all you E17ers):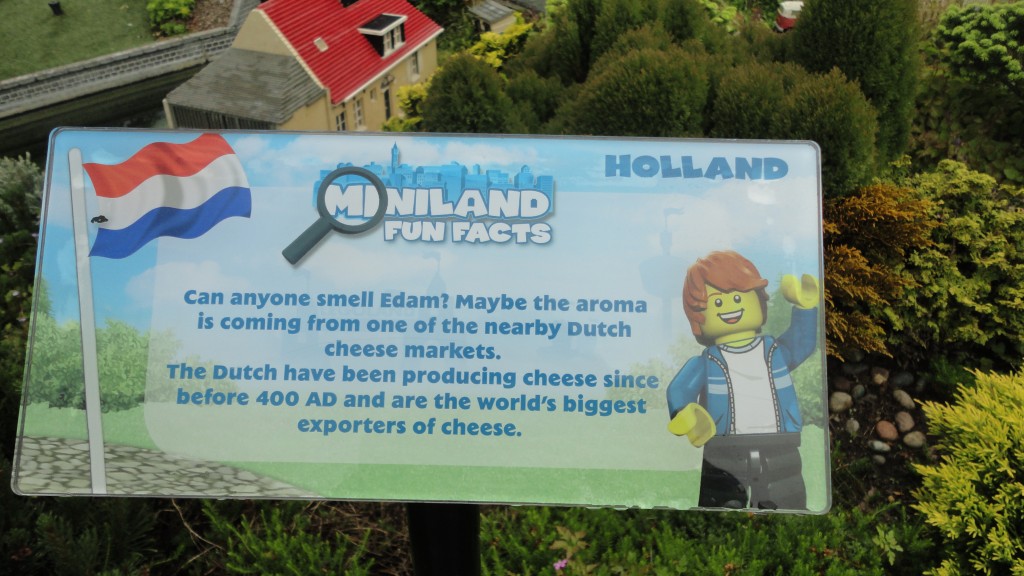 And the London Eye…cause Roo went on a school trip there:
Ahh, calmness restored. It was nigh on 3PM by now and we weren't planning a proper meal break any time soon. So I went to the locker to retrieve our swim stuff and some lukewarm sandwiches and the kids sat down for a few moments to eat by these slide-steps:
Swimwear, you say? Wasn't it raining a moment ago? Why yes, but this is the British Summer and though it was grey, it was still warm enough to try out the splash park at Duplo Valley. Plus, I'd packed the swimwear so we might as well use it.
Look, there's a hint of blue sky in that photo. Or at least a paler grey.
Duplo Valley is fab. Designed for the more Eva-age kids, there's a huge water play area called Splash Safari, with friendly duplo animals squirting water at you. There are changing rooms and more lockers there, so the kids and I got into swimwear and I held the nervous girl's hand as we ran through the fountains. She'd gone in on her own initially but spent so much of the time creeping around the edge with her hands over her ears that I thought I'd better help her. Reuben needed no help and he was having a great time. I'm not entirely sure he was meant to climb the animals but still..
Just up the hill from Splash Safari was Drench Towers and this was why I'd packed my own swimwear. It's a massive structure of steps, waterslides, water shooters and showers, which children over 6 can freely roam. The under 6s however need to be accompanied by a suitably-clad adult, and that's how I found myself being soaked in buckets of freezing cold water (thanks Roo!), clutching Eva's hand to stop her running away while Nathan looked after the stuff and watched. I think he had the sweeter deal.
In case you're wondering, yes – we did all spend most of the day in soggy clothes. That's the combination of water play, river rides and rain for you. Lucky it was warm with it. Post Drench Towers though, I felt the need to put the kids in the change of clothes I'd brought and attempt to keep them semi-dry for our remaining 90 minutes or so. I had a beach dress to change into to, so bits of me were dry. I hadn't brought an all-over change though. I'll leave that thought there and strongly advise you do differently.
While I was changing, the kids were enjoying the Duplo Valley play area. I was most surprised to look for Eva and not find her in here:
Apparently she had a fire engine to be driving…well, who knew? She's breaking out of her mould.
Time was running out but thankfully that meant the queues were getting shorter. We managed to squeeze in another three rides before the park closed  – the helicopters in Duplo Valley, the Fairytale Brook and the Atlantis Submarine Voyage. All three were good, but it was the Atlantis ride that stood out as being really special. It's all indoors, and you step down into a submarine-shaped pod with glass panels at the bottom of the sides. As you move round, it becomes apparent that your bottom half is suspended in a water tank, filled with the ruins of Atlantis but also real live fish and…OMGoodness, was that a shark? Yes, it was. And some pretty impressive manta rays too. I can't really do it justice and it was a no photos ride, thanks to the sensitivity of the fish, so I can't prove to you how cool it was. Just believe me.
All of which brings us to the  very tame but very sweet Fairytale Brook, which seemed like a nice way to finish the day. All of Eva's favourite characters appeared, although she thought this Cinderella looked more like Belle:
She has a point.
It wasn't a very challenging ride but it was soothing after a long day and when we asked Eva about her highlights, she said "The DisneyTales ride". I think Roo enjoyed it too, as he was laughing aloud at the antics of the seven dwarves.
We made it to the shop just before it closed and well, the first meltdown of the day happened. Not bad going at 6PM. The effects of  brunch had finally worn off, so we decided to find some dinner nearby before driving home. And where better than back to the Windsor Lad?
Look, I was very tired by this point…my brain had failed to come up with anything more original. They still welcome kids after 7PM, they have activity packs and unlimited bread rolls. Haters, hate away. But first have a look at what Eva drew while she waited for her meal:
So, Legoland then…exhausting, exhiliarating and definitely worth it. Don't be afraid to spend the whole day there, from opening to closing, prepare for all eventualities, use the lockers and …enjoy yourselves!