I almost forgot to blog about this day, which would have been a pity because it was one of those rare days when Eva was in a good mood pretty much all the time. Except one breakdown, but that was reasonable…we'll get to it in a bit.
Eva and I spend every Friday together – or at least we will until she starts school in September (#denial). But this Friday, we had a special guest – Nathan had sprung a surprise day off on us, and so two became three. Not four, as Reuben gloomily pointed out as we packed him off to school. Just the three of us.
I'd already asked Eva what she wanted to do for the day and she had a plan – she wanted to go "somewhere we not gone for a yong time" – Tumble in the Jungle. Imagine then, the disappointment on her yittle face when we got to Tumble and it was already closed for the Bank Holiday weekend. Yes, the breakdown is coming early on in this story…but to be fair to her, she didn't shout and scream like she would do over an inappropriately opened yoghurt. She just crumpled and wept a little.
We needed a Plan B. We were near Wood St station so my mind zipped along the soft-play possibilities of the Chingford branch. It quickly alighted on Kidzmania, a soft play near Clapton that I'd been to twice on a Sunday afternoon, when it was heaving with small children. Turns out it's much more pleasant on a Friday during term time, and we spent our full two hours there watching Eva play and lunching on cheesey chips and panini. This 2parents;1 child ratio is pretty sweet, isn't it?
Afterwards, it was sunny and we had time to kill so we headed for a park we'd driven past a few times on the way back from church. Yes, along the miles-long bus jam of Lea Bridge Road is a surprisingly lovely green space: Millfields Park.
It's huge – big enough for a lawnmower thing to be doing a decent speed across the grass. The play area is towards the back, handily located for Clapton station. It's been recently revamped, though there's an older part still and we can definitely see the join. The new part is all tree trunks and sand, including this novel entrance way:
As you can see, it's not a super-accessible way of getting into the park but there is a normal gate on the other side of the playground. The sand area is pretty big, with a little hut in and a swing:
Plus this ingenious tree-climbing frame: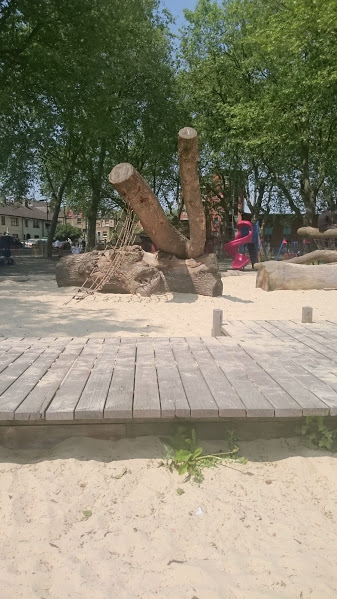 But there was plenty of fun to be had on the older, more metal-and-plastic bit too, like this curly slide:
And a bench shaped liked a train:
Which was a constant reminder that we needed to go and get the actual train so that we didn't miss school pick up and leave Reuben there for the weekend. Hard to remember when the weather's sunny and the girl is sunny and the parents outnumber the kids…it was a happy day.
But don't worry, we got him back, we took him to a far crappier park near school and then Nathan went to the pub. So, all good.