It's taken me a while to write about this trip because I still feel a bit exhausted and trust me, you will too by the time you've read it. If you make it to the end.
So the first thing we did this Easter holidays was to go to the North and come straight back again. Like you do. There were many good reasons for doing it that way but essentially, we were attending a special party for CousinZ in Southport on Easter Saturday and needed to be in our church on Easter Sunday for Eva's special dance. Hence the madcap 24-hour dash to the North and back.
Now, I'm not recommending you do exactly what we did but I will recommend our lunch stop – a Nandos not far off the M6, with unlimited free parking and a soft play upstairs. I think it's this one.  The promise of spicy chicken and refillable frozen yoghurt kept Nathan and the kids motivated throughout the M1 bank holiday traffic even though when we got there, the frozen yoghurt machine was broken as ever so we had to spring for mango ice cream for them. But still, it was the perfect stop off point and the kids had a much-needed runabout at the soft play, which was pretty cheap to get in to and accepted card at the coffee bar. What else do you need?
The next section of the journey was hardgoing, I'll admit that. I took over the driving from Nathan at Keele and there was a lot of clutch work in the next 50 miles or so to Preston. Then we got to the turn off, the hotel was 6 minutes' drive away and …well, it didn't go well. We ended up back on the M55, heading towards Blackpool for 7 miles before turning around, driving the 7 miles back, missing the small road that turns off to the hotel, having to go right round two roundabouts and darn near get back on the M55. That's what happens when I'm driving and Nathan's navigating. The opposite to the ideal combination.
What a hotel though! Totally worth the wait. We'd booked the Preston Marriott  for a bargain price on hotels.com and I was justifiably paranoid that it was going to be worth the price we paid. But it was worth way more. It looks fancy, the beds were comfy and they cater to children – as we walked in there was a table with Easter crafts and mini egg cakes on it, which we entirely failed to pick up but the thought was lovely.
The best thing though – and the reason we'd chosen it – was the spa. The jacuzzi was out of order but the swimming pool was warm and lovely and there was a steam room and sauna, which I enjoyed. Nathan tried one of them for a few minutes before complaining that it was hot and steamy. I don't think he quite gets the idea. The changing rooms were clean and had lots of fancy touches, like PIN-operated lockers and a swimsuit drier. Totally impressed Eva, and me too to be honest. After a long car journey, it was heavenly.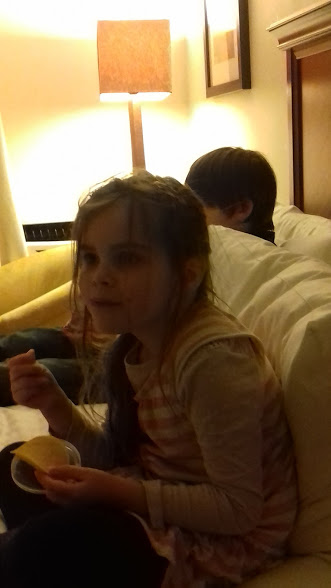 We hadn't quite planned how to feed the kids dinner but they'd had a Nandos for late lunch, right? So that's dinner enough. That justifies opening a tub of Pringles and letting them loose. They supplemented the Pringles with some Bunny Bites and McCoys too and I believe maybe even a chocolate chip pancake. If that's not a balanced dinner, I don't know what is. We were all sharing one room, two beds, so they got into PJs, climbed onto their bed and watched Room 101 with us until waypastbedo'clock, at which point Nathan and I hid in the bathroom for ten minutes and came out to find them both asleep. Score!
I was still hungry so we rooted around for a room service menu. Of course it was scarily expensive but £22 would get us a pizza and two beers, which seemed reasonable by hotel standards. So we ordered that and honestly, it was amazing. Really messy pizza so I'm glad we decided to eat at the table rather than on the bed. It tasted soooo good though.
The next morning started early. REAL early. 5:39 if my hazy memory serves. I knew it was a risk of us all sharing a room but managed to persuade the kids to stay on their bed – with me hugging them both – until 6AM, when I switched on the light, served up brioche from a Tesco bag and put "The Adventures of Shark Boy and Lava Girl" on the laptop. Nathan slept through all these things.
We all wanted another swim before we headed off to Southport but the pool didn't let kids in till 9 and Roo was bouncing off the walls by 8:30 so I took him for a romp around the grounds, where he managed to get inexplicably muddy in a matter of minutes. It was drizzling and I was supping my warm cup of hotel tea. "This is a very Britishy day, isn't he?" he said and I had to agree.
We met Nathan and Eva at the pool shortly after 9 – Eva still in PJs and onesie – and had enough time for another quick swim before drying off, packing up and checking out. Cause lovely as the staff at Preston Marriott were, they hadn't managed to convince me that £39 was a good price for a family breakfast. Especially not after that pricey pizza.
I had another destination in mind and that was the Harvester at Buckshaw Link. We've pulled the unlimited breakfast trick before and it fuelled us for an entire day at Legoland so I reckoned it would be just the job. And I was right! £24 for the 4 of us and we could eat at our leisure. Harvester has no truck with hanger – you can eat as soon as you get there and so it's ideal for kids and, quite frankly, for me too. There's a breakfast bar of cereals, fruit and yogurts plus tea and coffee and various bready things to stick through the automated toaster machine. while you're waiting for your bottomless cooked breakfast.
I'm not saying it's a sophisticated option but it's tasty food- especially the sausages – served quickly and with a lot of friendly Northern charm. It was exactly what we needed at that moment. Roo had a bespoke cooked breakfast – bacon, sausage, beans, hash browns and scrambled egg – while Eva just had the toast and cereals option, which cost a princely £1.79. Definitely a trick we'll pull again. We didn't need another meal till 8PM and 100 miles away.
Of course, nothing goes entirely smoothly in the LWAT family and there was an edgy moment just before we left. I was in the loo upstairs and heard the sound of a distressed child outside. One of mine, to be exact. I ran out of the cubicle leaving – unbeknownst to me – my handbag and cardi on the back of the door and rushed to find my traumatised boy. Turns out he was back downstairs with Nathan already, freaking out about a tooth that was ever so close to coming out, with all the blood and carnage that sometimes requires. I had a panic as I was now handbagless but a lovely lady brought it down to me and so we left the Harvester with all our possessions and bodily parts more or less intact.
(If you're worried about the tooth, don't be. He later sold it to his Grandpa for a quid so did pretty well out of the deal).
From there it was quite a pleasant country drive to Southport. We went to the party, Roo lost the tooth (unconnected to the amount of sugar he consumed at the party….so he tells me) and then it was back in the car for the long drive home. Thankfully the kids slept for an hour or so, which meant I could nap too as I was a *little* tired from the 5:30 start. We were all awake in time for the Watford Gap services, which I always assumed were at the end of the Metropolitan Line and it wasn't till we were coming back from Scotland that I found out the truth.
By this point, the children were a bit over this whole adventure:
But the McDonalds at the services had table service! What a wondrous world we live in! You order on the touchscreen and then you and the knackered children can just sit and wait for the food to arrive. Ideal.
We eventually got home at 10:20PM. It had been a long, long trip but considering what an insane idea this was, it went off relatively well. Yes, it cost us a fortune and looking back at the photos it seems that all we did was eat. A lot.  But it was worth doing. Just don't ask what kind of moods we were all in on the Sunday morning…