Well, where to start with Kidzania? Let's start in West London, a place much maligned and neglected by LWAT but the focus of a "Getting to know you" campaign this summer.  The particular bit of West London we visited today was Shepherd's Bush, and the all-new Kidzania theme park at Westfield, in association with the Mumsnet Bloggers Network. You may join us, if you will, outside the tube, where Eva's scooter has just broken:
Bah, GrumpyNathan! This has happened to us out and about before but you'll be pleased to know that this time we found all the parts and managed to repair it once we got home. But it did mean we were dragging a broken scooter around all day and Eva had to use her "yegs" for once. Not ideal when we had our usual huge amounts of stuff with us anyway.
A distraction was on the horizon though, as Westfield had – like its Stratford cousin – turned a bit tropical:
We didn't pause to try out the deckchairs, as I was feeling the need for coffee before we tackled the big KZ and first off we had to stop by the satellite ticket office and check we were OK to go in without print outs of the tickets. The office is here, outside M&S on the First Floor:
And luckily, an e-ticket on Nathan's phone worked just fine as a ticket. I'm not sure what I would have done without Nathan, given how unsmart my current phone is…but I didn't need to worry about it. We got coffees from the Starbucks downstairs, where Eva insisted on sitting not with us but opposite two random girls who, happily, didn't seem to mind the intrusion. They even gave her some popchips, which was a bit of a win for Eva.
Then we came upstairs, found the actual front door and ascended to the third floor "check-in desks".
Yes, they're exactly as you imagine. KidZania has a bit of an airport theme (as one of the most popular activities is in partnership with BA). So, at the top of the escalators there are queue barriers, leading to a bank of desks where you check in. Along the way, there are lots of things to look at, like these posters of KidZanias around the world:
I think KidZania London is something like the 19th location around the world and it started as a Mexican company. But KidZania is officially its own country, as a plaque on the floor explains. Hence the International Airport (you also go through Customs when you leave).
Check-in involved us all getting electronic bracelets – child ones to tag into activities and parental ones to keep track of those children. Here's Roo, showing his off:
He was also issued with 50 KidZos – the official currency of KidZania (although don't worry, the restaurants and the merchandise shop inside all give you the chance to spend actual pounds as well). For those who are completely unfamiliar with the KidZania concept, I'm going to explain it slowly now. If you already know it all, feel free to skip on. You can join us again after the picture of the kids with the KidZania sign that differs ever so slightly from the picture at the top of the post (it contains approx 50% more terror).
So, the KZ Concept. It's a miniature city, for miniature people. Aimed at the 4-14 age group, it's a chance for kids to take part in real-life scenarios – working as anything from couriers to pilots. For some experiences, they'll earn a salary that they can pay into their KidZania bank account or use to buy things at the Department Store. For other experiences, they'll need to pay to do it. All in KidZos, naturally. Each activity lasts around 15 minutes (some- like the acting class – are much longer) and are fully immersive, with costumes and realistic props. The under 4s are catered for too, with their own preschool area, but they don't get the KidZos on arrival and can't take part in the role playing activities that make up most of the city. Are you ready to see what Roo and Eva made of it all? Read on…
Are you back with us, skimmers? Good-oh! Well, the official advice on check-in is to take a walk around the city before deciding what to do but we had a stop to make first – at the Big Yellow Storage unit, to dump the broken scooter and various other bags. The guy running Big Yellow seemed a little unsure on what to charge for a scooter (it's £5 to store a buggy, £3 for a locker) but happily it fit into one of the bigger lockers so we just used that.
Unencumbered, we set off into the city with a plan – I would stick with Roo and Nathan would take Eva to the preschool bit. This almost fell apart when Eva ran off on her own down the main street but we got her back and I believe Nathan kept a slightly tighter grip on her thereafter.  I don't actually know, as we lost sight of them minutes after locking up the scooter…but he did appear with her later so I can only assume he didn't lose her too many times.
Roo and I started our visit on the tour bus, which was just about to leave. Our tour guides were, naturally, kids who were working at the radio station so it was a slightly nervous rendition of the KZ script that we heard. Still, it was helpful to see around all the different activities and get a feel for the size of the thing. Roo was very keen on the idea of firefighting, along with every other child in the world, so as soon as we got off the bus we joined our first queue.
Now, the queues. There's no getting around the queues at KidZania. Every review I've read so far has mentioned them and I'm not going to buck the trend. The problem is that the 20-minute activities are all-or-nothing kinda deals – you can't join in halfway through. So even if you arrive 5 minutes after an activity has started and it's only half-full, you can't join in until the next cycle starts. Every activity has a limited capacity, so if there are more than about 8 people in front of you in a queue, you know that you're going to need to wait till the cycle after next. This is all tricky with a small child.
There are loads of issues with the system as it stands at the moment. There's nothing to do in the queues, so you spend precious KZ minutes entertaining your own child in a confined space. There's no-one managing the queues, so other kids can easily push in front of yours. And there's the torment of a child having to watch others having fun when their own fun is half an hour away. As I said, this is all tricky.
But not insurmountable! An extra staff member on the busy queues would make a world of difference – someone to keep kids informed about how long the wait is, keeping track of who's allowed into the next session and maybe even providing some in-queue entertainment. A step on front that would be maybe a ticket system like they have at Clarks or a screen somewhere, telling you which sessions were starting soon and how full they were. The fire station had a manual clock showing when the next session started but it clearly wasn't right (it was 1:30 when we were queuing and the clock said the next session started at 12:45). So we were in the queue for 20 minutes without knowing when we'd be out of the queue and having not had much in the way of fun yet. I can forsee this being a repeated complaint among parents but there are some relatively simple solutions to the problem that I hope they'll consider. Everything about KidZania is so sophisticated, except this one part…but it's something that comes to dominate your afternoon.
When he did get called in to the fire station, Roo was thrilled. He paid his KidZos, put on his hairnet and helmet and got ready to learn about fire:
Ysee, this is totally educational too. And the fire station, like everything else, is super cute:
They watched a video on fire safety, practised some firefighting techniques (drop and roll, crawling through smoke) and awaited a call out. When the emergency call came in, Roo was a little worried:
But also excited as he piled into the fire engine and they drove off, chanting "We are the firefighters!":
The fire was at the Flamingo Hotel, which seems to be a bit of a cursed building, given how often it sets alight. In a cleverly synchronised move, all three emergency services arrived at once – the police set up the barriers, only letting the fire engine and ambulance through, and the firefighters jumped out to man the hoses:
Was it exciting? Yeah! Exciting enough to justify all the waiting? Heck yeah! Reuben super-enjoyed himself, especially when the building caught back on fire after they thought they'd put it out.
He was so buoyed up that he was ready to try another popular activity straight away. I suggested that maybe he should try a less popular one first, because he might be able to walk straight in. Maybe the power station? But no, the boy wanted to make chocolate:

On joining the queue, it seemed that our luck was in. The next session started in 5 minutes, the capacity was 8 kids and there were 7 in the queue ahead of him. I counted them many times to make sure. So, what happened as the doors opened? Well, the kid behind Roo pushed in front and he was left outside, pressing his nose against the glass. Literally:
I have to admit, that bit kinda made me cross. The child was one of the older, unsupervised ones so there was no parent I could politely point out the error to. And the person running the session didn't seem overly bothered that it had happened. She just told us that the next session started in half an hour and we should queue now to guarantee a place.
So we queued for 30 minutes, watching other people making chocolate. Like I say before, there's room for improvement in this system.
But let's be positive. Because at that point, I spotted Nathan and Eva and caught up with what they'd been doing. And now you can too! They'd been to the Science Lab, where Eva was taught to make bubble mix:
And the kindergarten, which was full of brightly coloured toys, and fun and noisy things:
No, I mean really noisy:
When I met them, they'd just come out of the RightZKeepers Residence, which Eva was very keen to show me. I'd just watched Reuben going into his chocolate session at last, so I left Nathan watching him and followed Eva into what turned out to be a giant playhouse.
The playhouse was fab. Partnered by the Early Learning Centre, it had that trademark ELC mix of educational play with sheer,fun tactileness. There were four rooms – kitchen, bathroom, lounge and bedroom and each one contained many treats for the curious preschooler.
The lounge had a shelf full of books, and a little sofa just perfect for sitting down and reading on:
Oh, and it also had a dressing up box, which is why she's dressed as a knight. She was on the look out for a princess to rescue, but none of the other children obliged her. Who could say no to this dashing rescuer?:
The bedroom was all made out of soft play material, with beds you can jump on and walls you can jump off:
And it's also handy for a lie-down, as I saw one father having.
The kitchen is stocked with play food and drinks, including this very full salad tray:
I doubt Eva's ever seen that many vegetables assembled in her life. It also had a rack of plates, which one of my friends would be itching to rearrange into rainbow colour:
My favourite bit was the bathroom, where a giant square bath was filled with wobbly virtual water and fish. I'm sure I'm not doing it justice with that description, so here's a few photos. Take note of the number of umbrellas Eva needs in the bath:
By now, I was feeling considerably less grumpy – it was the effect of an activity which was free, unlimited and didn't require queuing. Roo, meanwhile had been enjoying his chocolate making: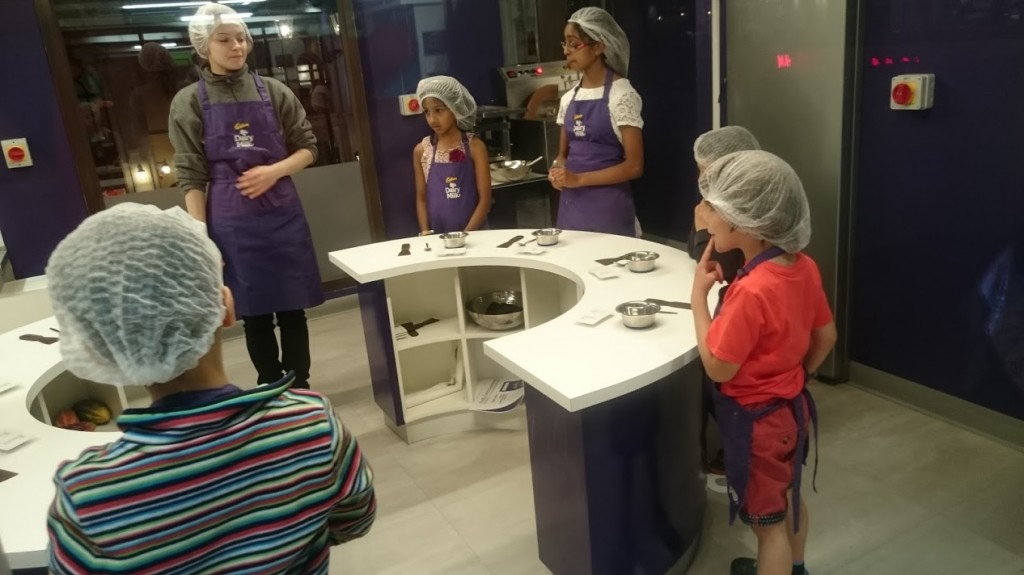 And soon, he came to join his sister in the bath, dressed as a policeman (apparently):
I'm not sure whether Roo was meant to be in the playhouse or not, but he needed a bit of letting off steam time after so much queuing and some structured, listening-to-instructions kinda activities. So I let him play, only asking of him that he tried not to squash the little ones too much.
Eva refused to leave the house when Roo and Nathan did, so we played some more while they were off trying to spend the rest of their KidZos:
We were due to have afternoon tea in the Stadium at 4, so I eventually bribed her downstairs with the promise of cake. We found the boys in a games room next to the Stadium, where they'd paid a princely 8 KidZos to play Jenga:
Unfortunately, they were being turfed out as we arrived so Eva and I paid another 8 KidZos to play Connect 4 for a few minutes before joining the rest of the Mumsnet party for some very well-earned cake and tea.
It was nice to sit down after a full-on three hours of KidZania. But Eva, as ever, was unpredictable and requested a loo trip just as I was taking my first dram of tea and first bite of pastry. We spent a few minutes in the bathroom and on the way back, caught the last seconds of the KidZania dance. Apparently, 5 times a day all the staff stop what they're doing and do a giant synchronised dance routine in all corners of the city. It was awesome to see. And as soon as we got back, a big blue dog mascot was waiting to greet the kids:
The official photographer got some nice pictures of Eva hugging the dog. I only have her running away from it like a loon. A dance class followed, during which I could finally sit down and have my tea, as well as snaffling Eva's cake. Then it was pretty much home time – we picked up our lovely goody bags (cuddly pilots! Chocolate!!) and went back through Customs, redeeming Roo's Cadbury's voucher as we did so (more chocolate!). We were so tired that we just sat on the Central Line for 21 stops all the way back to Woodford because, quite frankly, it was easier than moving.
So, verdict on KidZania? Well, there's a lot of fun to be had. The set up is unlike anything I've ever seen and the detail is impressive. Roo really enjoyed the experiences and would have liked to have done more than two, but I'm not sure I could have coped with more queuing. If they could sort the queuing systems out, it would be non-stop aceness..but as it is, it's a good day out but not a perfect one.
Disclaimer: I received free entry to KidZania in return for this review. All opinions remain honest and my own.