This Summer, I am doing something brave. I am conquering my fear of West London. But I can't do it alone. Thankfully, when I announced this on FaceBook, a kind family of West Londoners reached out to invite us over to play. It was still a daunting prospect, especially getting there and back in the 6.5 hours that Eva spends at the childminders…but the promise of playmates and a strong cup of coffee at the end of the journey got us there in just an hour from Walthamstow.
I think it's clear from this photo that Roo shares my mistrust of that end of the Piccadilly Line. Still, there were wonders to be seen as soon as we left the tube. Look at this garage that specifically caters for cars from the last century:
And this takeaway that caters for punters from centuries way before the last one. Maybe the Ancient Greeks. Did they love the tandoor?
West London is a marvellous place indeed. I think I'd always had the idea that it was kinda grim and industrial and generally just one big overspill of Heathrow. Certainly, this view from the tube didn't reassure me too much:
But that was before we got to the magical land of Hanwell – and I assure you I'm not the first one to liken it to Narnia. It's a pretty place, full of lovely period houses, green spaces and the occasional massive Lidl. Our native guides told us that there were some nice cafes about, including one at the back of a bike shop (sadly closed on Mondays) and I liked the look of the Clocktower Cafe, though the clocktower itself was a bit brutalist for my taste, although I think it's actually Art Deco.
(Apparently it's too brutalist for other people's tastes as well. Read about one man's campaign of hate here)
Our actual destination was Brent Lodge Park, which sounded like it would be almost too much fun to fit into the time we had. And sorry to yes that yes, it was too much fun for the time we had. But we managed to fit a fair amount in. Bear with me here.
First stop was Katy, Kit and Alice's house where we had a coffee and a chat about superheroes before heading out to the park. Hanwell certainly has a village-y feel to it…just look at this church!
Oh, and take note of how the sun suddenly burst through the clouds as we parked up. I think West London arranged this specially for us.
Brent Lodge Park is part of Brent River Park, which I know because I read it from the picture above. It's also known as Bunny Park, which I know because a 4-year-old girl told me. I assumed it was just the kind of thing small girls like to come up with (see "Tunnel Park") but when I got home and looked on Google Maps, it appeared that this was the actual name of it. Sorry to doubt you Alice.
We did see a bunny when we were there, along with many other animals in the mini-zoo:
A few of the animals were being a bit camera shy  – we didn't spot the marmosets or a peacock, which is probably just as well given that Roo wanted to scare one so that it would show off its tail feathers. We did see a peahen, pheasants, pigs, a tower of goats:
And these meerkats, who were – and I quote – "doing that meerkat thing". Yes, that was me that said that. If blogging doesn't work out I'm considering being the next David Attenborough. But, for your delight, here they are sitting up and doing the meerkat thing:
<Space for readers to make their own, car insurance-based jokes before we can possibly move on></car insurance-based jokes>
We also saw some cranes, with a patch of red atop their heads that Reuben eloquently describes as "like a piece of chorizo". He's going to be my nature-reporting sidekick. There was also a pretty, and only recently restored, lake:
And a crocodile! In the playground, rather than in the lake:
We'd moved onto the playground by this point because Roo had heard the word and was asking for it repeatedly. The zoo probably deserved more of our time, but the boy wanted to do a little monkeying around of his own:
There's a couple of climbing frames, all new and shiny, with a loose animal theme (a tunnel was a rabbit burrow, for example). Some bits on the bigger frame were a bit hard for Roo to do alone but quite frankly, I think he was just being a bit wussy.
After a quick play, it was time for a picnic lunch and, just in case this day wasn't ambitious enough, Katy had a plan. It involved a prime kite-flying spot and more kites than we had children. Fittingly enough, there were many ups and downs with this plan. Her face in this photo may illustrate a "down" moment, where it all seemed to be more about untangling bits of string and less of running around singing Mary Poppins songs:
But then there were glorious moments when it all came together and the wind was right, and the children were running in the right direction and the strings were untangled and it all worked!
Of course, the struggles only made those moments all the sweeter. There's a message in here somewhere. Possibly that message is "Don't imagine that kite-flying is the kind of thing that small children can do alone while you relax on a picnic blanket."
Time was getting on and we needed to traverse London again to fetch Eva. All three kids had spotted these giant bouncy things on the way in, but neither Katy nor I were super-keen to spend time and money on them when there was so much else to do:
So we spent money on something more worthwhile instead – an ice cream! The cafe had an amazing looking selection, all piled up gelateria-style and…did I just drool on the keyboard a little there? Whoops. I was pretty full from our picnic but Roo never says no to one, so chose blue flavour: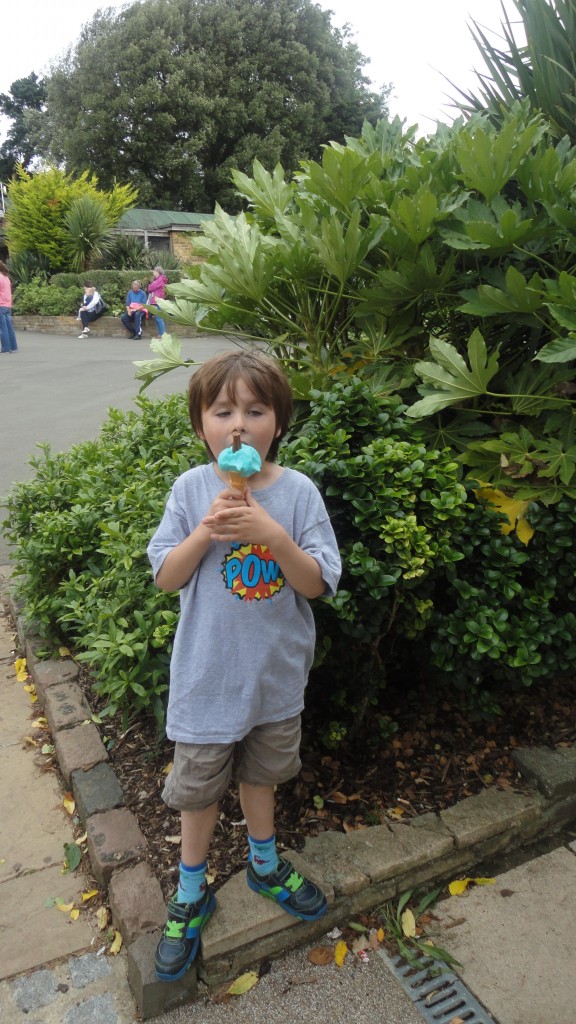 I'm not sure what I would have gone for, but the Haribo one looked pretty intriguing. Incidentally, the park cafe takes card which is both rare and useful to know.
Sadly, we did have to rush a bit and so didn't get time to check out this awesome maze:
Maybe we'll come back another day. After all, we had a lovely day with our very gracious hosts. Kit says that Reuben is his best friend now (I suspect that he was impressed by Roo's superhero knowledge). And the journey isn't too arduous,  especially if Roo reads silently for the entire journey like he did on the way there:
One borough of West London – done! Bring on the Hillingdons and Hounslows…
More information here (official website)