Yesterday could have gone one of several ways. It could have been a day when I looked at the four things I wanted to do and sensibly decided on just one or two of them. It could have been a day when I attempted to do all four but ended up with screaming, overtired children. What I never would have anticipated would be that we would do everything we wanted to and it would all go well and smoothly. Every so often we have one of those days and when it happens, I like to write about it. To remind myself when we're having the not so good days – the other 364 days of the year.
First up on the Day of Insanity was Roo's school fete. I won't tell you which school he goes to for lots of good reasons. Like the head might read this. Or you might hang around the school gates and try to kidnap Roo. Or I might get it into my head that someone out there is going to kidnap Roo and then I'll be disappointed when they don't, and I continue to have to pay for all that food he consumes. So I'll just share a picture of him on the bouncy slide:
And I won't share with you the quite remarkable wristband he got at the Hook-a-Duck. Were those really tiny marijuana leaves printed on it?
Next stop, after some Mr Freezes, was Highams Park Day – a kind of local village fete, East London style. So there were cupcake stalls, vintage stalls and, of course, bunting:
We didn't spend long at the fete itself, before retiring to the adjoining park, but we did stop by the "Enchanted Invasion" tent to make a fairy door or two. The idea is that on the weekend of the 25th and 26th July, these fairy doors will be popping up all over Highams Park and kids can follow the trail using maps from local shops. Having no artistic abilities at all, I was shying away from hosting one of these doors, but the kids wanted to get stuck in:
So, we now have two fragile cardboard affairs that may or may not be appearing outside our house in a couple of weeks. I may have to cobble together something more substantial, using the decking I ripped up from the garden. I don't know how I ended up agreeing to this, but it's hard to say no to these elvish landgirl types:
By the time we'd listened to some ukelele music and got covered in glitter, it was definitely park time. I've mentioned Vincent Road playground before, and it was conveniently next door:
Even more conveniently, it contained some Dads who wanted to buy Nathan beer…so he was happy. And a whole load of kids for Reuben and Eva to play with. Or ignore. Here's Eva, "relaxing in her lounge and watching television":
Little did she know that it was actually the control centre for the S.H.I.E.L.D. helicarrier and would be later used by Roo and his friends for some top secret superhero missions. Luckily, she also had her "school" to play in:
By now, it was 4PM, we'd done 2 fetes and were all hot and bothered. Nathan was enjoying his strawberry cider (they'd run out of beer) and the last thing that we felt like doing was getting on a bus to go to a pub in Walthamstow.
But that's just what we did because, as I told you, this was a Day of Insanity. The pub was The Bell, the reason was a friend's leaving do and the incentive was dinner. I'd heard that Walthamstow folks often take their kids out to The Bell for Saturday evening tea and we were about to test it out, with some very overtired and potentially grumpy children.
Yknow what, though? They were fine. My friend had brought some Elsa and Anna dolls, so Eva was happy, and Roo was content to look at the Simpsons pinball machine and explore the vast beer garden: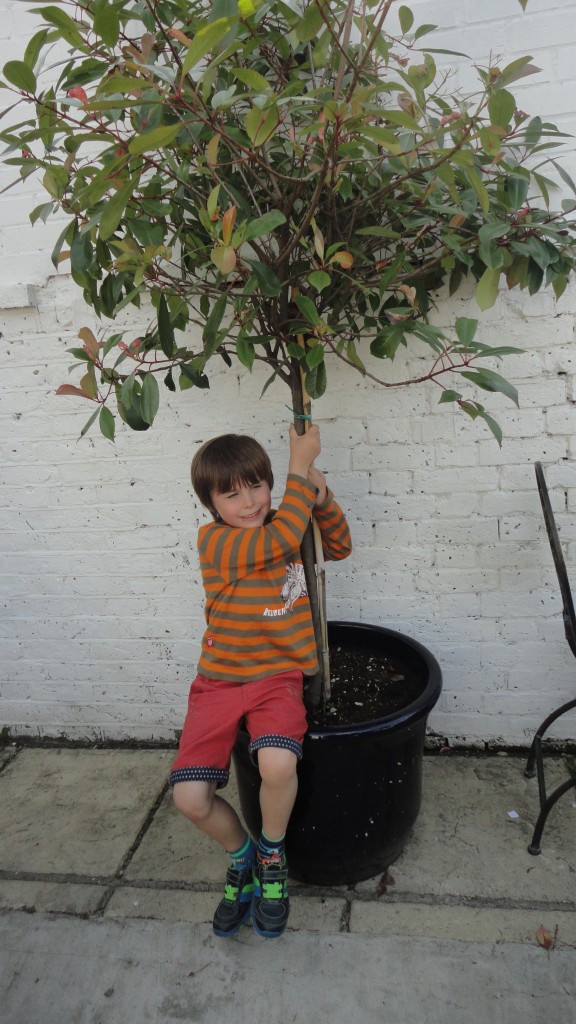 Our food came swiftly – burger and chips for Nathan and Eva, chicken nuggets and chips for Reuben and houmous and flatbreads for me. It was so hot that I didn't feel like eating much, and I knew I'd have a good shot at Eva's kids' meal later. Kids' meals are £3.95 by the way and the chips are beautiful. The burgers are good and meaty too. However, I'd hesitate to say that it's as posh a dining experience as this next shot makes out:
Still, it was good food and much needed. Even my houmous plate was huge, with a dollop of houmous the size of a cricket ball on it. Plus, as predicted, I got to eat a lot of Eva's burger.
We had one more mission to do, to complete the Day of Insanity and that involved climbing a big hill opposite The Bell. This would require serious motivation for all of us. So a handily placed Tesco provided us with chocolate buttons, Kinder eggs, drinks and magazines. We were going to the Natural Voices concert in St Mary's Church and then we really would be calling it a day.
I was surprised that I'd go out of my way to see Natural Voices, given that they often sing at the same gigs as WAM…so normally I just turn up and they're there. But I'd heard they were premiering something very special tonight and I wanted to hear it. It was a medley of songs from the best film in the world, ever. The Sound of Music.
First though, we settled into our pews with the children fully bribed-up with their toys and magazines. Nathan surprised me by producing a book of his own. Apparently he'd found it in a Little Free Library along the way. You really can find anything in Walthamstow:
There were four different NV choirs singing, including two of the youth choirs so the concert was a masterclass in stage management, shuffling kids off in one direction while bringing on ladies from the other. It was also a glorious blend of different musical styles, from 60s pop to SpongeBob SquarePants. There were a couple of songs that I've always loved – "Be My Baby" and "Happy Together"  – and lots of music I didn't know, like a beautiful arrangement of an Irish folk tune, accompanied only by a violin. The senior youth choir sang "Don't Stop Me Now", with one of the ruder lyrics tactically removed, and a couple of more contemporary songs. Reuben was mainly absorbed in his magazine but Eva enjoyed clapping along when she was asked too and told me that she liked the "song wid all the bunny ears":
The Sound of Music medley was towards the end, with the kids singing "So Long, Farewell" as their goodbye song. It was adorable – especially the line which used to be mine at family get togethers (I suppose I need to get Eva to learn it now….though CousinZ might be ready to take it over before Eva's had a chance to perform it). I felt emotional at the whole thing, and so did Nathan. Our children are not so easily moved, though Roo later said he liked all the songs and liked hearing the children sing. I might sign him up for a youth choir one of these days. Apparently, talent is not an entry requirement, though enthusiasm helps. That sounds like Roo all over.
The concert finished with "Bring Me Sunshine" and we tumbled out into the not-quite sunshine of 7:30PM. I just had time to take a photo of Crosbie, Stills and Nash House before the bus arrived to take us home:
And that was it for a long, hot and crazy day. It all worked beautifully – not a meltdown from the kids all day and they even slept late Sunday morning. I have no idea why it worked, but it was one of those lucky things. Don't worry, normal LWAT-rubbishness will be resumed soon.