Something about this blogger event scared me and it wasn't the twinkle-toed reindeer above. It was the idea of handling a brand new phone that someone might want back. I have a bit of a curse when it comes to phones, and the last 15 years have been littered with the broken corpses of Nokias, Samsungs and the occasional Blackberry. I have used a phone for a whole day before without losing or breaking it but I can't say I've lasted an entire day with every phone I've ever owned.
I didn't tell Samsung that when they lent me one for the S5 Build-a-Bear tea party. Would you? Really? Anyway, I handed it back intact at the end of the day, and even managed to take some rather nice photos along the way (which will make my scratched-up S4 camera pics look even worse by comparison, but never mind).
The venue for the party was the legendary Hamleys, and we got there early so that Roo could have a snoop around before we got down to the serious business of bear-building. He liked the cuddly animals section:
He's writing a booklet about elephants, dontcha know?
He was quite overexcited by the whole thing but the man with the bubble gun almost tipped him over the edge:
Yeah, that's not a good photo..but he wasn't staying still for long. In the pre-Christmas Saturday crush of Hamleys, such a loose cannon was a worrying prospect. I mean, I know I occasionally threaten to leave him places but I didn't actually want to lose him forever. So, we stepped outside to find the other bloggers and while we were there, we took in the Santa Claus and Peppa Pig windows. I almost wished Eva was with us. But then I remembered the pre-Christmas Saturday crush of Hamleys. It was better without a toddler. And the boy was excited enough for two kids:
Bloggers assembled, we made our way up to the third floor and found our Build-a-Bear host, the ever-energetic Jen. She labelled the kids, explained the rules to them (no walking – only penguin waddling or crab shuffling) and hyped them all up. Roo got very into it, especially the penguin waddling (he would later try this trick again in Lillywhites – it wasn't so funny then). Were they ready to build a bear? YEAH!
(He was far more enthusiastic in real life, honestly)
First step was the most important – bear selection. There was everything from the classic teddy to Olaf the Snowman, which was a popular choice among the small girls. Roo dithered for a long time. Would it be Rainbow Bear?
Or a ninja turtle?
But then he spotted the superhero bears:
And it was a lucky Batman bear that got to be Reuben's special one. And I mean, really special. He put the "Star Wars" theme in it. There can't be many of those…
Bears chosen, they placed them on their heads and marched off, chanting "Stuff my bear! Stuff my bear!":
And then it was time for the pre-stuffing rituals. Every Build-a-Bear has a little heart put in it, and that heart needs to be kissed, squeezed, talked to etc before it goes in. Roo took it all very seriously:
Then, while the bears were being stuffed Jen played some games with them all. She divided them into teams and each team had a reindeer to assemble a costume for. Reuben has clearly been hanging out with Eva a lot, because he got right into dressing the girl reindeer in sparkly pink things. They even had pants for her, and a sparkly chair:
Then, Batbear just needed a little stitching and he was done:
Reuben was keen to give him some accessories but I thought that might be overkill, so we just gave him a little flag and got him boxed up with his birth certificate and a few other treats we'd find later on:
It was definitely time for food, and we were very lucky to have a Scrumptious Afternoon Tea at Scoff and Banter to go to. We went there by cab, which Roo thought was a massive novelty: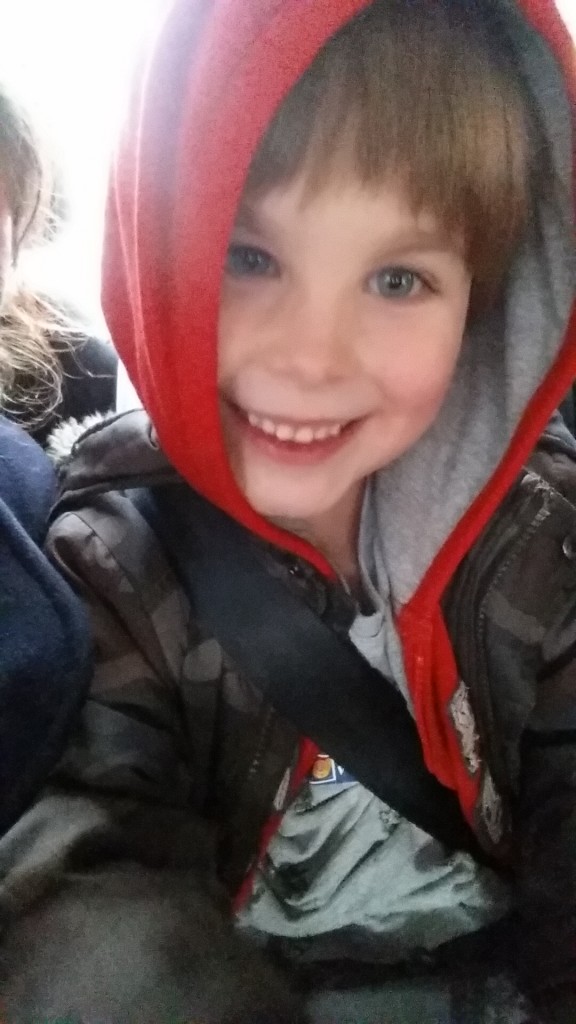 Once we got there, he got Batbear out for cuddle and a drink of water:
The food took a  little while to come, so we investigated what else was in the Bear Box. There was a snack pack containing water, fruit winders and a cereal bar. There were some teddy bear stickers. And some ribbons. Lots of ribbons:
That was Eva's gift sorted then. Meanwhile, Roo had acquired a delicious-looking strawberry milkshake (with real fruit!) and I had a pot of tea. All was well.
But we were starting to get a little hungry, so welcomed the arrival of this baby:
I love the ordering and logic of afternoon tea. You start at the bottom, with the sandwiches, work up through the scones and onto the sugar-overload of cake at the top. All with lashings of tea. I'm dribbling a bit just thinking about it. This tea included a kind of mini fondue (marshmallows and fruit on skewers with chocolate dipping sauce), cupcakes and mini trifles. I'm ashamed to say we couldn't eat it all or even try every bit..but we gave it a good go. Roo consumed four finger sandwiches within the space of about a minute, then cupcakes and the triangle shaped chocolate cake. I paced myself a bit more, stopping to try out the macro features of the S5 camera:
Look at all those mega-pixies! Aren't they lovely? And the scones were pretty lovely too:
I took a couple of those plus a pot of jam home for Nathan. I think he appreciated it. The cream was more of a challenge to pack:
Ah, I so badly fell off the dairy wagon today, after a couple of days of hardcore cheeselessness. But what is a scone without cream, really? And the vanilla cream in the mini trifle was a little bit tasty too:
(The dairy-free thing was just an emergency measure to shake this cold I've had for the last two weeks.  I'm always falling off that particular wagon)
I just about had space for a red velvet cupcake but there was so much I didn't even have space to try. Next time, I did to slow down on the scones…
A great day, captured in fine detail by the Samsung S5. It'll pain me to go back to scratchy-cam after this. Talking of pain, Lillywhites after all this fun was a bit of a crazy move, even by my standards. But swimming hats needed to be bought, for next week we plunge. Don't forget, you can sponsor us here! And if you fancy a Samsung S5 of your own, you can buy it here!
Disclaimer: Reuben and I enjoyed the Build-a-Bear experience and the afternoon tea courtesy of Samsung. All opinions remain honest and my own.