I'd like to begin by pointing out a massive administrative flaw with this whole show. The premise is that it's 21 years since Ash released their third album – "Free All Angels". However, I was at university when it was released and there is no way that it has been two whole decades since I was at university. I expect they actually mean 2 years or 5 at a push?
We'd left the kids in the care of my nephew who I remember (erroneously as it turned out) babysitting just before an Ash gig at Frog in December 2004. It seemed pretty nifty to me that he was babysitting our kids for an Ash gig when we'd babysat him before a different Ash gig but I seem to have got my years mixed up. We definitely say Ash in 2004, as this ever-so-grainy picture proves:

And we definitely drove back from Wales for it because that's when we ran out of petrol just before Junction 13 and had to get towed to Reading (incidentally, the place where I bought "Free All Angels"). We were very pleased with ourselves for managing to get back in time for the gig, even if running out of petrol was a stupid thing to do. Anyway, the fact that the nephew himself is now at uni kinda debunks my theory that I only left a couple of years ago. Dang, the passage of time.
Anyway, let's talk about "Free All Angels" for a moment. As I said, I bought it in Reading – specifically in the Virgin Megastore in Broad Street Mall, which I believe is now a Metro Bank. Ash were signing copies instore and I got one for me and one for Nathan, which meant we had two signed copies of the album when we married and combined our assets
.
I mainly remember how lovely Tim Wheeler's smile was and how blue his eyes were as he signed my copy. It's not a surprise that the album holds a special place in my heart (possibly less so in Nathan's now I've said that bit). It also came at just the right time to be on heavy rotation. While I loved "1977", it was an album I got amidst the flurry of wonderful Britpop music coming out at the same time and there was a lot to take in. "Nu-Clear Sounds" came out in 1998 when Nathan and I were busy partying every Saturday night and hanging out every day. We didn't have much attention to pay to it. But "Free All Angels" came at a time when I was slacking off in the second year of uni and so wasn't doing much work. I had also fallen out with my housemates so was hiding in my bedroom as much as possible to avoid them (Note: not you Juan….the ones in the second year). The music scene had been barren for a while and it was just before "White Blood Cells" and "Is This It?" came out later that summer. So a new album by Ash, with the ink still wet from the bank's own signatures, got played on repeat a lot.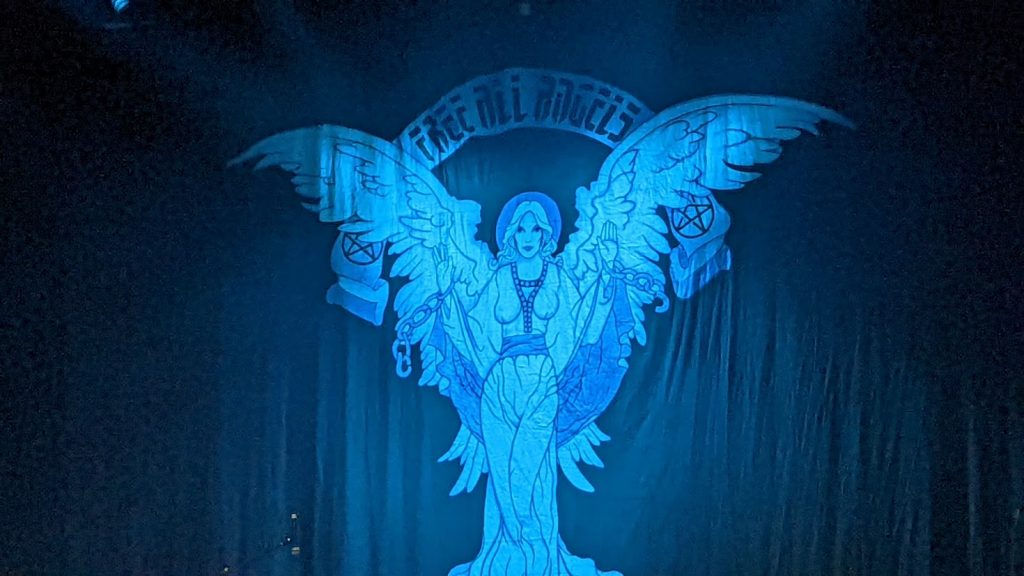 So as soon as I saw this tour advertised on Facebook, I booked tickets. It was just after Nathan's birthday and it was relatively affordable. The questions of whether I was physically fit enough to go to an Ash gig or whether I'd survive work on the Monday morning didn't really occur to me. As it happens, we now have a Bank Holiday Monday which is extremely well timed. And I survived but am *feeling it* this morning. Maybe it really HAS been 20 years since uni?
Also, I like gigs where they play straight through an album. It's the third time we've been to one of these – the first was Suede doing "Suede" in 2011 and the second was SFA doing "Radiator" and "Fuzzy Logic" back-to-back in 2016. I don't think I reviewed either of them here…Suede must have been pre-blog and I was so deadly tired after SFA, having been to a team Christmas lunch that same day and a magic show the night before, that I probably fell asleep drafting it. But I like the concept  – you know roughly how long the gig is going to go on for, even if they usually add some extra songs at the end, and you know pretty much what you're going to hear. Of course, it has to be the right album. Much as I love blur, I probably wouldn't pay to hear them play through "13". But any of the previous four albums? Yes!
I should probably get on to the gig itself. I might have gone overboard on the context there but yknow, gigs are a rare occurence for us nowadays. And you can tell because there were New Ways that baffled me a bit.
The first thing that had changed since we last went to a gig was that we didn't get paper tickets or even pdfs….the tickets had to be shown from within the SeeTickets app. Luckily I realised that before the day itself otherwise that would have been a faff on the door. The second change was that the Kentish Town Forum – which was sponsored by HMV last time I went there – is now sponsored by O2. Which meant that Nathan, as an O2 customer, could download a "Priority" app and get free cloakroom access. Result!
The third thing was that – as soon as we walked in – we had a minute's silence to remember the Queen. I think that might have been unique to last night but it was respectfully held and felt pretty surreal to see the whole arena descend into silence.
After that, we went to the bar and watched the support, The Gulps. I'm gonna admit that I may have pre-judged them as they looked like arrogant hipsters when I googled. The music was alright but I don't think they will ever be my new favourite band. The lead singer had a bit of Mick Jagger complex, except at the end where he inexplicably changed into Johnny Rotten to croon "No future for you" as they walked off. I get that rock n roll has always been anti-monarchist but it felt a bit like it missed the mark with the crowd who had, after all, just stood quietly to honour the Queen. It was the first of two such "seize the moment" moments and neither quite hit home in the way that I think they were intended. I'm not hugely royalist but I suspect most of the crowd were feeling similarly to me – not overly bothered one way or the other and certainly not about to join in with the anti-monarchist statements from the stage. We were all a bit too middle-aged to stage a coup, quite frankly. And we just wanted to see Ash.
Lucky that they turned up not long after then! All four of them. Yes, four of them.  I had wondered whether Charlotte would be there but the sight of three mics gave me hope. The crowd definitely appreciated that – towards the end, Tim introduced the band and the cheer for Charlotte went on way longer than the cheer for anyone else. I'm not sure how the rest of the band felt about that but the "Free All Angels" songs definitely wouldn't have sounded the same without her harmonies. I think I sing her part more than I sing Tim's when I'm listening to that album….it just hits my ear more naturally. Not that she's just a vocalist – in fact, I noticed how she moved away from the mic every time she stopped singing and only returned for the next chorus. It was almost like she was making the point that she was brought into the band primarily as a guitarist and vocals were just a bonus extra.
Those with a good knowledge of the album – or the ability to use Wikipedia – will have guessed already that they started with "Walking Barefoot". On the album, this is a slightly slow burner as the drums don't kick in until the "why don't we just quit?" at the end of the first chorus. But people had started to bounce about at the start anyway  so hype levels only built once the whole band was at maximum noise levels.
The hype continued over the next two songs, which were the big singles of the album – "Shining Light" and "Burn Baby Burn". I really liked what they did with the lighting so that "Shining Light" was played under a white beam but it turned to a fiery red-orange for "Burn Baby Burn". Everyone went wild for both songs but it calmed a bit for "Kandy" (blue and pink lights). I think this was the song where Tim made a split second change between different guitars so that had his flying V for the solo. It was impressively quick. The lights changed to an appropriate cherry red for an appropriately riotous "Cherry Bomb" and we were almost halfway through the album without even feeling it.
Well my feet were feeling it but, as discussed, I am getting on a bit.
The second half of the album is a bit more blurred for me than the first. I couldn't sing "Nicole" or "Shark" to you if you asked but I could sing along with every song they played. The album fluctuates between high-energy songs and slower ones like "There's a Star". I knew it finished with "World Domination" but it was barely 10pm by the time they got to that point so it seemed obvious that they would pull a few more hits out of the bag. But what would they be?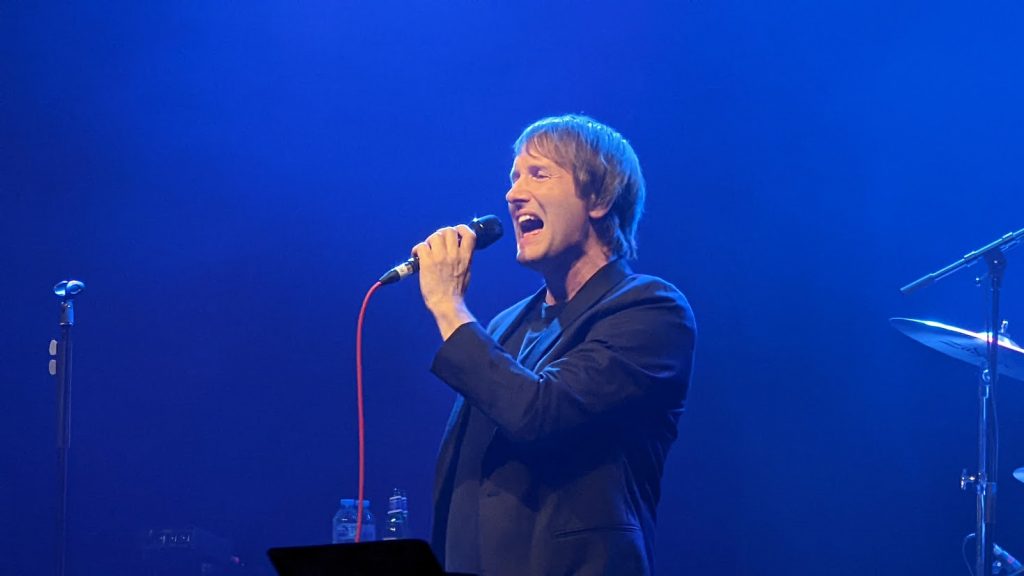 I was super pleased with the first couple. They introduced "A Life Less Ordinary" as the first song they ever recorded with Charlotte but it was almost the theme tune of mine and Nathan's first date in October 1997. So that was a little bit special and it's an absolutely belting tune too.  The next one was "Wild Surf", which is possibly my favourite Ash song ever. It's just got such a nice melody and sounds a bit Beach Boys-like. I'm not saying that just of the "surf" in the title but that helps too. After the gig, I remembered how much I also loved the B-side, "Stormy Waters", and how I haven't heard it for years. It's worth a listen if you're not familiar with it.
I might have got the order wrong here but I think it was "Goldfinger" next, which was one of only three pre-Charlotte songs they played. Then a couple from the Nu-Clear Sounds era – I think they were "Orpheus" and "Projects" – followed by "Clones" from "Meltdown". Us middle-aged folk were getting a little tired by this point but luckily, Tim had the perfect thing to liven us up  – a screaming contest to "Numbskull"! Each member of the band had a chance to show off their screaming skills…from Charlotte's banshee howl to the resonance of Rick. I did wonder why Tim had very deliberately taken his earpiece out mid-song but that explains it. After that, it was just a boisterous rattle through "Kung Fu" – with Mark joining us in the audience – before the band left the stage or, in Mark's case, left the moshpit.
Of course, we knew they were coming back cause the lights weren't on and besides, they hadn't played "Girl from Mars" yet. They hadn't played the puking song yet  – and I had speculated to Nathan that they might – but Tim referenced it during the set, which was a nice touch.
What we weren't expecting was a special guest. When they came back, they welcomed Steve Ludwin onto the stage, who had written the "Shining Light" b-side "Warmer than Fire". For a crowd who were expecting the big hits to finish the night off with, this was a slight change of pace and there was a bemused feeling hanging in the air. Still, the man who apparently injects snake venom as healthcare put on an energetic show, lending his grungey vocals to a song which normally sounds quite sweet and straightforward. For me, his vocal didn't quite blend with the tunefulness of Charlotte's but it certainly made things interesting. He finished with a similar flourish to the guy from the Gulps – singing the verse from "The Queen is Dead" about Charles dressing in his mother's bridal veil. Morrissey has been a bit problematic of late, so isn't quite the darling of a North London middle-aged indie crowd that he would have been 20 years ago. And again, mocking the royal family on the eve of the Queen's funeral didn't quite land with the audience as he'd perhaps hoped it would.
But then Ash played "Girl from Mars" and everything was all alright again. I wondered what else they'd pull out for the final song – would it be "Oh Yeah"? "Jesus Says"? "Angel Interceptor"? Tim explained that their sound tech had had a "cool idea" and that the last song would be…."Burn Baby Burn" again. I wasn't totally sure why it was a cool idea but Nathan explained to me that it's the song that Ash usually finish their sets with so it did kinda make sense. I've seen Ash as many times as Nathan has so I really ought to have known that but it just didn't click.
After the reprise, they gathered together to bow and left the stage to a storm of applause. Us old people dragged our aching limbs through the lovely Art Deco foyer and out into the night, which was  – like us – far from young.
We wanted to get some food afterwards and there was a bit of a queue at the kebab shop so we wandered a bit further down Kentish Town Road in search of other options. As we passed the tube, there was a queue to get in so we thought we had plenty of time to go get a McDonalds and then catch the tube. We probably should have checked what time the last train went as, once we returned with food, there was a sign that the last southbound train had gone already. The station guy told us we actually had two minutes, so we ran down the escalator and managed to jump on just in time. So, make a note of that all of you – Kentish Town McDonalds opens late but the last tube goes at 23:30. Still, we got food, we got the train and Nathan even bumped into a 2000AD friend while we were doing it so it all worked out well.
And there we end…it's been a mammoth post so apologies to those of you who have trawled through in search of three elusive words. So I'll end with them again just in case you missed them in the haze:
Charlotte was there.
Thank you Ash for an awesome gig….see you again for the 30th anniversary!