As you may have noticed, it's the Easter holidays. Opportunities to get away and see the sea have been pretty thin on the ground lately and so we snatched a few days where our work schedules would allow and took a little roadtrip to Dorset. The main aim was a friend's housewarming on Saturday in Sturminster Newton but I thought we'd stretch it out as much as possible by swinging past Bournemouth for a night on the not-quite way. So, laden with only four cuddly dogs between the four of us, we drove down one Friday afternoon, stopping only for a quick Katsu burger at Fleet Services. I mean, I had the Katsu burger.  As you may recall from my last post, I'm a sucker for anything involving pickles. Eva considered the vegan Whopper for a while but eventually chose to just have chips. That would be something of a theme for the weekend.
We got to our hotel just after the 3PM check-in time, which was pretty perfect timing. We were staying at the Bournemouth West Cliff Hotel, which I'd impulse-bought on hotels.com and then spent the next few weeks panicking about because the family room only had one bed in it and the pool and the parking were both going to cost extra. Turns out I was panicking over nothing – the parking was free on the road outside the hotel and so was the upstairs pool (it was only the spa pool that was chargeable). Our family room was actually a suite, with the double bed in one room and kids' bed set up in the lounge area. Considering the bargain price I'd paid, we did very well indeed. And breakfast was included, which is one of Reuben's top priorities.
Almost as soon as we had the luggage in, the kids were changed ready for the pool. So we went for a swim in the lovely warm pool as I was pretty sure I'd wuss out of a seaswim this time. We did go for a paddle though:
The beach was just down the hill from the hotel and had no shortage of Good Boys running in and out of the surf. What it did have a shortage of was blue sky. There was enough for the bit over the sea but the bit over the land was a charcoal grey colour:
That's not filtered by the way – the contrast really was that stark. We'd planned on a quick runaround on the beach and then some chip shop chips but seeing the greyness rolling in, we were very tempted to change plans and dive into the handily situated Harvester. And when I say we were tempted, I mean that three quarters of us were fully sold on the idea but the remaining quarter had heard the words "chip shop" and was not to be deterred. You can guess who that was.
Problem was, there was no chip shop in sight. The nearest one had some terrible Google reviews so we set our sights on a more-average one that was a mile away and a sheer cliff-face upwards. We started trekking along the beach, with the ever-present threat of rain offset by the glorious sunshine from the bluesky side.
Of course, it did eventually rain while never ceasing to also be extremely sunny. Which meant we got to see a rainbow as we ascended the cliff steps. It was hard to get a good photo of it but here's one end sticking out of the BIC:
And the other end plunging into the sea:
You can tell there's a rainbow there because Nathan is pointing at it:
Eventually we made it up the cliff, up the hill, back down the hill and over a very busy roundabout until we found our more-average chip shop. And very average it was too  – not amazing chips, definitely not an amazing battered sausage but very eatable and they had Rio Riva, which is a big plus in the nostalgia column. I also got some free vinegar when the chip ship man knocked the bottle over my coat. It's probably still pooling in my pocket. But as I said, can never get enough pickled stuff. Even when it's pickled pocket fluff.
As we walked back through the town, mainly in brilliant sunshine this time, we encountered no less than three stag parties. I didn't realise that Bournemouth was such a hotbed of stagtivity but I'm guessing that's what they were. Unless the Pope genuinely was in town, in which case I probably shouldn't have questioned his Catholicism.
After all this vigorous exercise, the kids were pretty quick to fall asleep. But late night chips didn't stop Roo being hungry in the morning and we were the very first people at breakfast, arriving even before the staff did. It started at 7:30 and by 7:32, both kids had a plate of food ready to go. The hot food and pastries came out a few minutes later, and involved quite some dyspraxic juggling with a hot plate warmer, but they started off with cereal and porridge to stave off the worst of the hunger pangs
.
We were planning to squeeze another pool swim in before we checked out at 11 but I'm ever mindful of the need for a gap between a large meal and a swim. So I persuaded Reuben to walk back to the beach with me, just to let the food go down. Nathan and Eva let the food go down by sitting on the sofa and doing colour-by-numbers apps. Roo was rewarded with his efforts by several more Good Boy sightings, including a magnificent Golden Retriever and a very silly Cockapoo who hadn't quite got the hang of fetch. Oh, and another very cold paddle.
This morning though, there was no shortage of blue sky. Still a tad cold water-wise for seaswimming though, especially as my costume was still wet from the previous day. I might be foolhardy but I'm not stupid.
One gloriously warm poolswim later, we were packed up and on the road to Sturminster Newton. It wasn't quite as scenic a drive as I'd hoped for, as it seemed to involve a lot of roundabouts. When  I thought we were passing Poole Harbour, I shouted to the kids to look out at the view…only for the view to be of a massive B&Q. We did glimpse the harbour as we went, and there was one very scenic roundabout that had a boat in the middle of it, but it wasn't until we were much closer to our destination that it began to get more idyllic.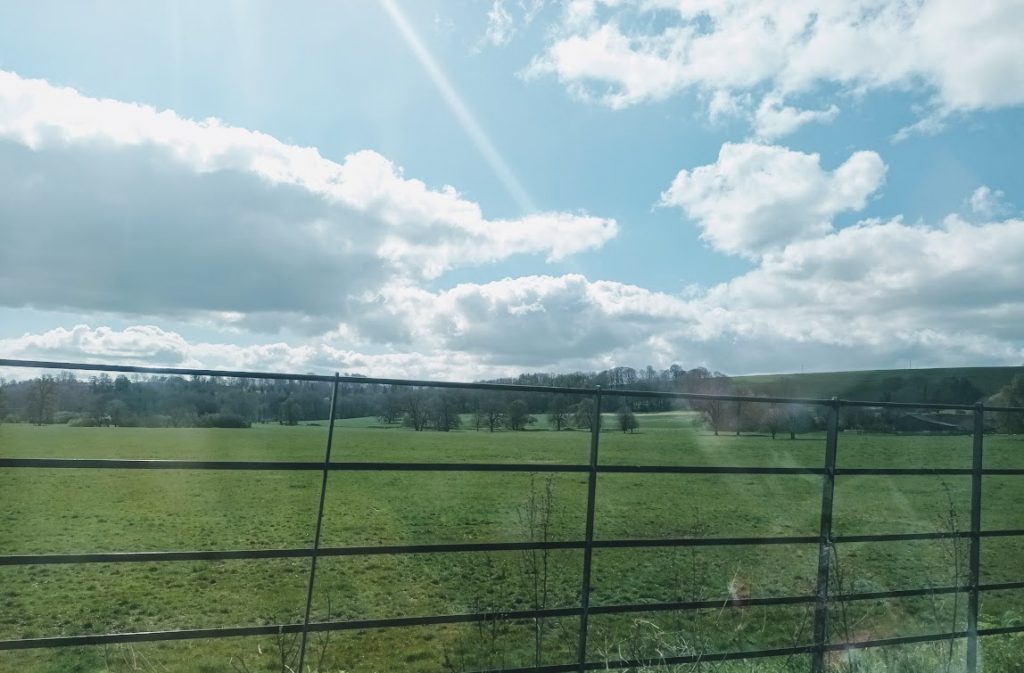 They say that Dorset is beautiful wherever you go, but there are definitely some suburban bits which are pretty much like any other suburban bits anywhere else in the country. And in case you think I'm using lazy stereotypes by quoting the Wurzels, I should say that the roadside posters were advertising an upcomign gig by that self same band. Along with the Fratellis, randomly enough.
Anyway, Sturminster Newton itself is very pretty. We got our first glance of it following a truck through the high street, which I assume was meant to be two-way but became one-way as it steamed through. I don't think it was a natural fit for the narrow streets of such a quaint town. And we sheepishly followed in its slipstream, meaning we were greeted with glares from the oncoming drivers.
A much warmer welcome was found at our friends' house, along with many cuddles from an extremely Good Boy. We didn't really explore the town much, though we took a few of the more energetic kids to the park at one point:
We were staying at the Swan Inn that night but got in too late to put in our breakfast choices, so I made some half-formed plans while half-asleep about where we would fuel up next. The Swan was nice and the beds were comfy but we were really only there to sleep and go. A band was playing downstairs till midnight, which wasn't ideal for getting to sleep but the kids were once again exhausted by all that country air and were pretty much asleep as soon as they crawled into bed. I slept more fitfully, my mind turning over about which direction we'd head in the morning for Reuben's most important meal of the holiday. Would it be time to introduce the kids to the wonders of the McBreakfast? Or would Eva cry at the lack of fries?
The answer came to me in a dream, or possibly from early-morning Google mapping, and turned out to be a small cafe in Blandford Forum that also sold 10 DVDs for a pound. I hardly dared hope that Google was correct and that this place was open before 9 on a Sunday but we drove there, parked up nearby and yes indeed it was. It was an unusual looking fella:
But the breakfast options were extensive and hearty and, to Eva's delight, she could have cocoa pops, hot chocolate with marshmallows and yes, more chips. The rest of us went for very large plates of cooked breakfast and coffees for Nathan and me. It was cheaper than hotel breakfast, the staff were very friendly and the atmosphere most jovial. Would recommend.
After that, we left the delights of Dorset behind for 24 hours in the Hampshire homestead. It was certainly the mini-est of mini-holidays but it did us good to get some sea air in our lungs, some sand between our toes and lots and lots of chips in our stomachs….