Happy New Year! It seems crazy that we're here in 2020 and I'm still blogging and haven't yet got a blog-a-bot to do it for me but Reuben assures me the robot uprising is coming sometime this year so hopefully it'll all be automated before I know it.
Till then, tho, a trip to Dalston. I'd heard a lot about the pop-up Wonder Factory art installation,  which takes pains to emphasise that it is not a kids' play area although the promo shots of the marshmallow pool make it look darn similar to a kids' play area. It is open to all ages though, so I was happy to take my kids along to the art installation. The location might be a touch obscure if you don't pass it on the way to church like we do every week but essentially, get the train to Hackney Downs if you're coming from Walthamstow direction and then it's two stops on the 30/56 or ten minutes' walk. It's also close to Dalston Junction and Dalston Kingsland if you're coming from a more South Londony direction or in fact any other direction that's not on the Chingford branch.
Once you get closer, look out for the new development by the car park behind Matalan. Then follow the pink and blue signs:
Tickets are for timed 15-minute slots and the door only opens at those times but we managed to go in a few minutes early because the slot before us wasn't overly full. There's a buggy park as soon as you go in and we left the kids' rucksacks there tho I wouldn't leave any valuables or anything as it's right by the front door and this is Hackney after all.
The installation is over two floors and there's a path to follow round each. You start by crawling through a tunnel  – not ideal for anyone with restricted mobility but I think there might be a shortcut through in a different place. The kids could have stalled in the mirror tunnel for ages but I shuffled them on through because other people were waiting to start as well. It was pretty cool though: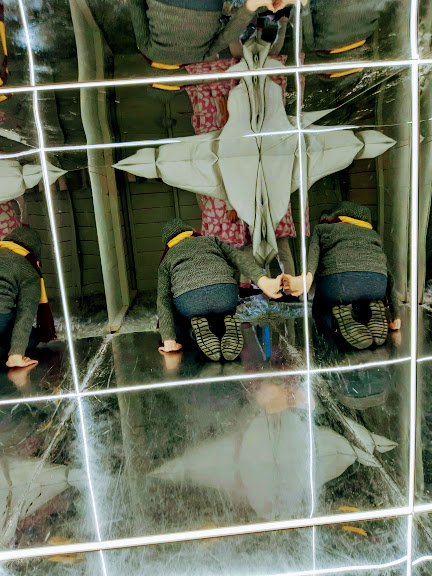 We emerged from the tunnel into a beach hut, in a room filled with pinkish sand and walls of fluffy cloud. Again, we could have stayed and played for a long time in the sand but we were all curious to see what was next.
Darkness! Well, nearly – a black-walled room with only the smallest of twinkly lights to guide our way. "I'm walking on the moon" sighed Eva as we wandered through and came out in this neon tunnel, which was one of those moments made for Instagram. In fact, "'grammable" is the word I've heard most often applied to the Wonder Factory and I can see why. Bloggable too.
The next room was similarly 'grammable but only one of the kids was prepared to interact with this one. You can guess which kid:
A lot of the rooms really have to be experienced to be fully appreciated so I'm not going to spoiler everything here – you really should visit. Tickets are £9 each but we managed to find a 20% discount code, which helped.
Some more highlights though – you've already seen the marshmallow pool so that's hardly a spoiler:
And the hall-of-mirrors room:

And there's lots more as well. We spent around 45 minutes going round in all and could have spent longer if we hadn't been so impatient to get to the next bit. The marshmallow pool was definitely the highlight and we spent most of our time there – it was big enough for three or four families to all be enjoying it at once so we didn't feel like we had to move on too quickly. There are also some wooden sunloungers next to the pool to relax on, though they aren't the most comfortable.
To get the full experience, I would definitely recommend checking it out yourself before it closes in February. For tickets and more information, click here