We've had something of a theme this half term – I had lunch with my friend Vicki on Tuesday, Wetlands with cousin Vicky on Wednesday and today the Mamma of all Victorias – the Victoria and Albert Museum. And we travelled on the Victoria Line, naturally.  I only regret that we didn't meet up with another Vicky yesterday, though we did spot a Victoria in Tesco. It's appropriate because Roo's studying Victorians at school. So when we got to the V&A we were all ready to spend a day learning about the Vic…..Georgians. Ah well.  We're getting sick of Victorians anyway.
The event was a family performance workshop hosted by Chickenshed Kensington & Chelsea, who I believe were involved in the show we went to at the RAH a few months back. The idea was for kids and adults to work together to put on a show in a day and mainly the adults were happy to get involved. I certainly was. Work panto notwithstanding, it's been a long time since I've been able to do any drama and why should the kids get all the fun?
The day ran from 10-4, with three breaks built in and the first 30 mins or so was a craft activity while people arrived – making invitations for the show we were going to put on later in the afternoon, with a pile of pictures of Georgians to cut out and stick on. We all enjoyed that but the kids were mainly excited about what was coming next. We divided up into three groups and did a getting to know you kinda game (say your name with actions – I panicked and did jazz hands. I've clearly been SwingTraining too much) and some improv, forming a spooky forest with our bodies.
Next up was some storytelling, from Diane who brought the Bible story of the Queen of Sheba to life with a great deal of drama and the music of Handel. In case you were wondering what the link between the Georgians and the Old Testament was. It was very interactive and nice to add a bit of variety into the day.
Then back into our three groups to prepare three scenes for the show. Our group had a scene about a pickpocket gang who charged rich people to get their stolen goods back. We all practised our evil laughs and pinching fingers and, most importantly, our lines. Because we only had a day to put it all together, we were allowed to keep scripts with us and both kids did have to use theirs to read from. Because of that, I'd say that Eva was probably as young as you could practically be to get the full benefit of the workshop – she could read enough to get her lines right but a younger child might have struggled. Although there were younger ones there and they seemed to enjoy the dressing up and the dancing.
Once we'd perfected our scene, we performed it to the other two groups and watched theirs – an etiquette guide for Georgian Lords and Ladies and a sketch about two rival opera singers who had a fight on stage. Then there was a short break, where the kids wolfed down some sandwiches – it was 11:45 and drama is hungry work – then we went on a walk together to the Europe Gallery.
There we met Diane again, this time dressed as the Georgian Lady Charlotte. She taught us how to bow and curtesy and then went on to talk a bit more about Handel, including teaching us how to greet him in the three languages he spoke – German, Italian and English. We were right by the display of Regency-era instruments and so she could show us the kind of harpsichord that Handel would have played. I was thrilled to find a real life hurdy gurdy for reasons that would probably only make sense to my oldest nephew.
We all dressed up in Georgian hats or flowery headbands and, accessorised with flags and fans, we processed together to the statue of Handel, giving out our invitations to the show on the way. Then we did some freestyle Georgian dancing around the statue itself. I'm aware as I write this that it all sounds like a weird dream but I swear it actually happened. Look, here are the kids, dressed as Georgians,  in the music room:
Time for lunch and a step back into the real world. The kids had a constant squabble going over these two spinny chairs at the entrance to the Sackler Centre, so I marched them straight past and into the John Madejski Garden, which I assume is named after the football stadium in Reading.  It was sunny on one side of the garden and warm enough to sit out without a coat but possibly not warm enough to go paddling. But try telling Eva that:
It's OK. She sun-dried herself and warmed up by running a lap of the pool. It would have been nice if she'd told me that's what she was doing, because I panicked and just thought she was running off into a crowd of people to get herself lost. How foolish I am.
Did I mention that Pluto the homework dog was with us?Because he was, oh yes. Lucky Pluto and lucky us.
Powered up with snacks and coffee from the stall in the corner, we went back to the auditorium to keep working on the show. This section involved a song and dance routine to Pink's "Get the Party Started". With Georgian-themed lyrics and harpsichord accompaniment, of course. Roo enjoyed the bit where the party got really wild and he had to fall over in slow motion. Eva liked the bit where we were pretending to put on Georgian make up. If that surprises you, you clearly haven't met my kids.
Showtime was getting near, so we chose some outfits. Roo was sporting this rather natty jacket:
And Eve had what looked a bit like a Marilyn Monroe dress, that I hitched up at the top and back so that she didn't fall over.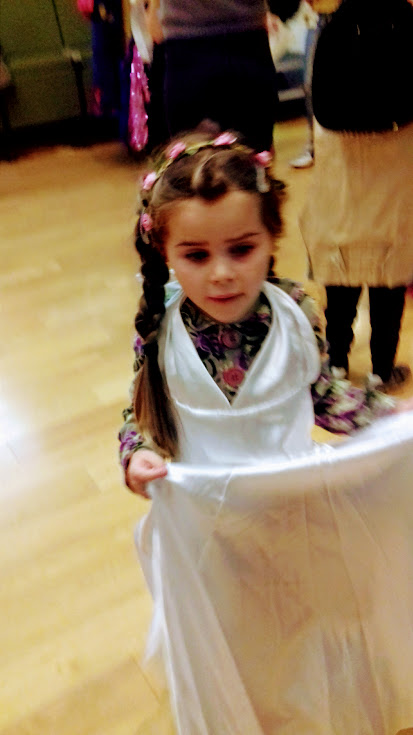 Then the audience came in, we performed our show and it all went pretty well. Both kids remembered their cues and no-one vomited on stage, so I call that a success.
By now it was 4PM and the sensible thing would have been to get on the tube before rush hour. But I've not often been known to do the sensible thing over half term and so instead we went for a cup of jelly with my cousin and her family at the Science Museum because they just happened to be there. It quickly became apparent that the kids had run out of Good Behaviour and so then we really did head for the tube, which was bound to be horrendous at 5:15 on a Friday.
So I pulled what I consider to be a genius move. Often in these kinda circumstances I'll buy them a magazine each to try and keep them occupied on the packed train but there aren't huge numbers of magazine outlets in South Ken. However, there is a small bookshop next to the tube, which carries a very reasonably priced selection of kids' books so for the price of two magazines, we got a Where's Wally book and a fairytales book and that kept them quiet all the way to Walthamstow, even though we were standing to Green Park and then awkwardly sharing two seats between three to Finsbury Park. Roo didn't even really look up from his Wally-finding when we were changing onto the Vic line, except when he spotted a Where's Wally poster on the station wall, which he thought was a remarkable coincidence. Incidentally, the ES magazine I picked up also worked quite well for keeping Eva entertained – she likes to look at all the pretty girls and dresses and decide which dress she'd like the most. Yes, I know. What can I do with this one?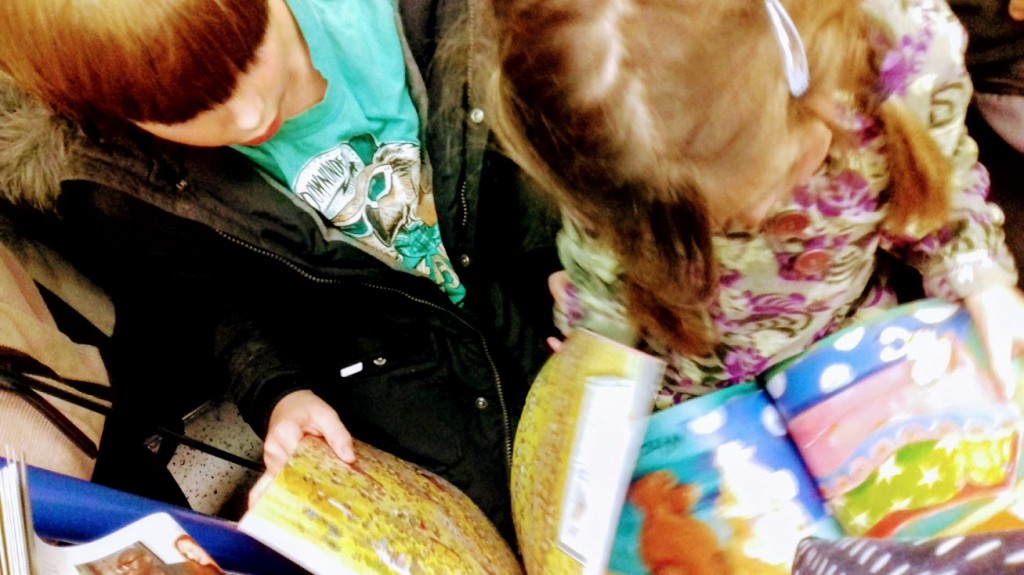 After all that, I was pretty exhausted but what a fun day and all for free! (Except the copious amounts of caffeine). It's rare to find something where parents and kids are encouraged to perform together and I really liked doing it. And it was great to see some of the V&A treasures as well. Keep and eye on the Chickenshed and V&A websites in case they do another one cause I would definitely recommend it.