I wasn't feeling awesome on Saturday morning. I'd cried a LOT at "The Girls" on Friday night, Bob and I had drunk a fair amount of wine and then I'd slept a patchy few hours before getting Nathan to drop me and the kids off at a soggy football pitch on the edge of Hackney Marshes. It was 9am. The sky was grey. I've been sprightlier.
But this was not about me. It's about Jeremy Corbyn. Yes, my kids were playing football with the leader of the Labour Party. It felt ever so slightly like a surreal dream and I wasn't convinced I'd actually woken up from my fitful sleep. But here we all were, and my children were ready:
I'm glad they were full of energy. As you can tell, we were sheltering inside the Hackney Marshes Centre at this point because it was still drizzly outside, but as we were called up to start the football drills, the sun broke through and a few minutes later it looked like this: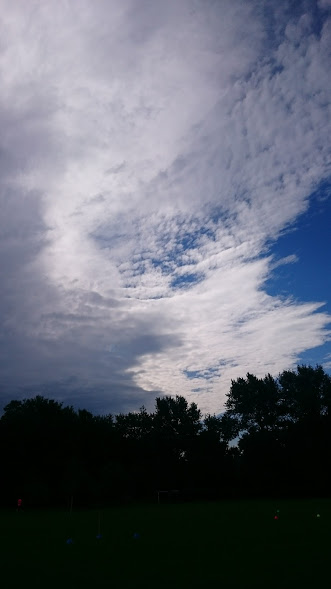 I'm not saying that Jeremy makes the sun shine. but that's what the anecdotal evidence would suggest. A football coach was putting the kids through their paces, the grass was drying out and it was all going well.
Then it stopped going well. Eva didn't have the ball she wanted. If you know Eva at all, you'll understand why this turned into a bit of a disaster. For the next hour, she was intermittently sobbing on the sidelines while I tried to keep her away from the lens of the world's press. Reuben, however, got stuck in and was busily listening to Corbyn's team talk and honing his dribbling skills.
I missed much of the football action because…Eva…but I do have this lovely picture, taken by Sulky herself:
Weirdly, this was one of the better ones. Most of them featured grass.
I should mention at this point what a fine job my friend Dan was doing. Owner of three of his own kids, he still found time to humour mine and try to cheer her up when I'd pretty much given up on her. It was one of his kids that inspired her to stop sobbing and delve into photography instead. Meanwhile, the players were lining up to take penalties and you can guess who was in goal:
The tabloids are divided on whether Jeremy has possesses footballing skills but I thought he was pretty good. He wasn't cowering in the goal with his hands over his face like I would be in that situation. In case you're wondering what the whole thing was about, he was was there to announce a policy whereby Premier League money would be fed into grassroots clubs. Hence getting down with the "talent of the future". And also Reuben.
Back to the penalty – Jezza caught it. But he let Roo take it again, a little closer this time. He still didn't score, but it was a good ego boost for him. I know Corbyn has his haters but he seems like a nice man and he was really good with the kids. Not that you should base your political decisions on this, but I did like him.
And so did Eva! Look how she cheered up when she got a photo opportunity with the man himself:
So, I'm not telling you to Vote Labour although I am. Just consider that this man looks like a Jedi, brings the sun out and stops children crying. Just saying.