If you live in the Walthamstow area, you might have noticed a new leisure centre opening and you may even have discussed it on Facebook (which is as much as I'm saying on that subject). I had certainly noticed it so last weekend Roo and I went to check out the Extreme Play area. Why not Eva? Well, you'd better ask her. Let's just say she wasn't displaying the kind of behaviour that allows her to be seen in public.
Logistically, it would also be tricky for me to take both kids on my own – there's one room for the under 6s and one for the over 6s  and the older kids have to be supervised up to age 8. So, there's no way for one adult to take a 4-year-old and a 7-year-old and have them both play at the same time. Of course, it was the weekend so I could have enlisted Nathan but on a Saturday he doesn't always display the kind of behaviour that makes me think he wants to go out in public.
Just me and Reuben then. I registered as a member online, which meant I could book the 90-minute play slot in advance. It was pretty full, so probably wise to do the same if you're going on a Saturday. The over 6s area is the "Extreme Park", which includes the trampolining park and a soft play frame. There's also a ninja run, but that's for over 13s only. In the same room there's a climbing wall section, with 6ish different walls  – that needs to be booked separately as "Clip and Climb" as it's not part of the Extreme Park. The under 6s bit is a different soft play frame, so if you're booking for a smaller one it's the "Soft Play" session on the website. Confused yet? Good
On the way there, we spotted this wall, which I imagine is a Wood Street Walls masterpiece:
Reuben observed that some of these shapes were symmetrical and some weren't. Well observed, Roo. More excitingly, it seemed to have some kind of development going on in front of it….word on the street is it's going to be a play area. On the corner of Brookscroft Rd and Northbank Rd – if anyone knows more, let me know!
Onto the centre itself. It's all very shiny and new and there's a big swimming pool with huge windows (again, there may have been some discussion on Facebook about this). We were super early for Roo's play session so we went to Coffee Corner for a sandwich and a smoothie:
Then it was play time! We put on our compulsory Extreme trampolining socks (buy when you book…I didn't have to buy myself a ticket but I did have to buy myself socks) and watched the 4 minute introductory film, which showed us a plethora of different ways you could break a bone while trampolining. Roo's drama club friend A was cringing into her mum's coat every time the "crack" noise happened and if my mum had been there, I might have done the same.
Luckily, he didn't break any bones. But there was lots of trampolining. I even had a go, although I don't quite have the endurance of a 7-year-old boy. I also wasn't brave enough to jump off the wall sides, which Roo was. I've said it before, but an all-boingy environment suits him:
There was also the Extreme Play Zone, which was described on the website as "4 floors of obstacles and slides". I'll simplify that for you – it's a soft play. But one that's built on a bigger scale than the under 6s area next door. And one with a slightly creaky sounding slide. I tried my best to ignore that.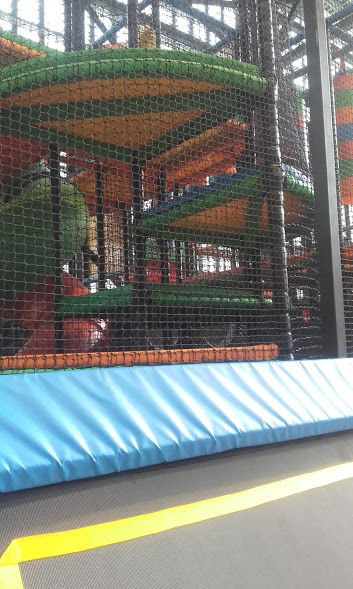 Roo had lots of fun but didn't make it through the full 90 minutes. We left about 15 minutes before the end, which was good because we missed the rush at the cafe. After all that bouncing, the boy naturally needed a brownie and a slushie. But not, as he and I discussed, a brown slushie.
Then I'm not sure we were meant to do this but…we went for a quick run around the track. He's studying Mo Farah for Black History Month, you see. That's my excuse. He completed 100m in an impressive 76 seconds. A touch slower than Mo but I didn't tell him that. I also wanted to see whether we could cut through Chestnut Field on the way back but the gate was locked and so we couldn't.
Then we got screwed over by the 275, which didn't stop at the Town Hall. But let's not dwell on that. It was a lovely mother-boy afternoon out, made better by the absence of the whingey one. If you want to similarly abandon your younger child, have a look here for more info.