I've got a bit behind on blogging this last week or so, distracted by heckling school children and getting new uniform for cabinet ministers. Did I get that the wrong way round? I don't even know anymore. But anyway, I still haven't told you what we did a week ago…and this is important stuff.
We went to Havering!
Yes, that's right – 29 boroughs down, 3 to go. I'd chosen a country park for our Havering trip but, being a Bank Holiday, it was naturally tipping it down so that plan seemed like a non-starter. We passed the morning with a little housebreaking at the neighbour's but when the rain was still not easing up by lunchtime, it was clear that soft play was the way to go.
So, which soft play in Havering? I found three candidates – Rocky's, which was closed, KidSpace, which looked fun but was expensive (and we'd been splashing the cash merrily all weekend) and Timbuk2 in Upminster. With two candidates eliminated, we set the SatNav for Timbuk2. It got us as far as the petrol station, so then we set Google Maps for Timbuk2.
I'm normally a big advoKate of public transport in London, but this one may be tricky without a car. It's quite far out of London. In fact, it may have a legitimate claim for being the furthest-out soft play in London that's still inside the M25. It really is very close to the M25. Look, here it is at the end of the car park:
A quick fact, for all you fact-fans – Havering is the only London borough that crosses the M25! It's a pity that LWAT is not also prepared to cross the M25.
You can discern then that it's a bit out of the way. I just tried to plan a public transport map on Google and even the normally-infallible Maps had nothing. The best they could suggest was a 5 mile walk from Upminster station – elongated because there are very few places to cross the A127. But don't despair if you don't have a car. You're not missing much. It's just a pretty standard soft play. It's not bad in any way, but nothing worth walking through a field for 2 hours for. You'd be better off at the transport-friendly Owls in Fairlop, which we spent a similarly rainy Bank Holiday at.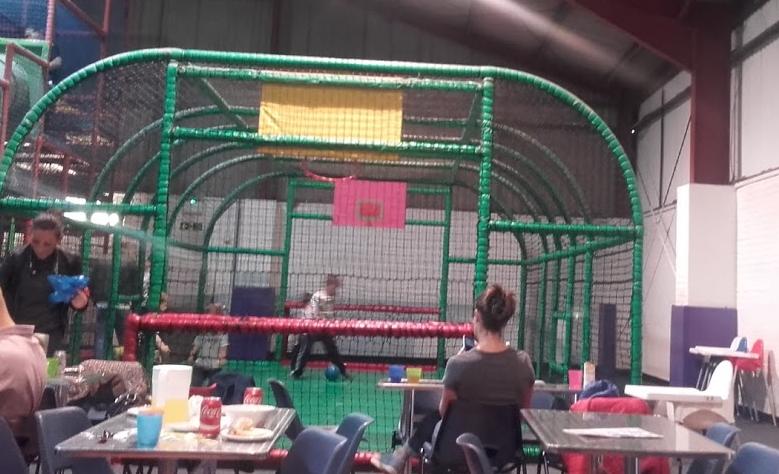 But enough about the technicalities of getting there – what is there? Well, there's an Under 2s bit, an Under 3s bit, a large frame and a football pitch. The kids enjoyed climbing on the big frame and Eva managed it perfectly well without any help, but her favourite thing was this Peppa Pig car:
We didn't put any money in it cause…we never do, but she spent about an hour sitting in it or on it or playing around it. Occasionally other children would want to get on, so she would obligingly shift to the parcel shelf but she wasn't keen to leave it. I was terrified when we stopped at a service station on a different bit of the M25 a few days later and saw the same car…I thought we'd never leave.
Roo, obviously, was more interested in the giant slides and things he could climb on although he played a bit of football as well. There was a secure gate and no other exit, so Nathan and I just sat and drank coffee (they take card! Hooray!) at our table and watched them. There's a bit of a bizarre system with the tables, where you can't enter the soft play until a table becomes free for the adults. I mean, it's nice because it guaranteed us somewhere to sit, but we had to wait about 15 minutes for a table to come up and it's just not a system I've seen anywhere outside Nandos those really posh restaurants we frequent.
The coffee wasn't bad -the cakes were all pre-packed and didn't look overly awesome but I think I'm getting spoilt. One day i'll find that soft play with fresh coffee and freshly baked red velvet cake, but this wasn't it. Neither was it necessarily a good representation of the whole of Havering – I'd like to explore the borough a bit more when it's less of a numbers game. But not a bad afternoon out, just a pretty standard wet-Bank-Holiday-at-soft-play one. It knackered the kids out anyway, and that's what's important…!