I love it when we stumble upon tiny parks that turn out to be quirky gems. That's what happened today – on a sunny Sunday, wandering through Canonbury on the way to church (new church awooga!), we earmarked a small bit of green for a post-church picnic. I had no idea what it was called but I was confident I could find it again as it was pretty much just opposite the start of the New River Walk (new church awooga #2!).
Turns out it was called Asteys Row and I'd often seen the start of it from the 38 as it crawled down Essex Road. A long thin park, based on the curves of a river it runs behind Essex Rd station and has a lot of different parts – rock garden, playground, sandpit, green area, random bits of paving and brickwork area. Like I said, quirky.
We'd arrived with a picnic from that most local of suppliers, Tesco, and sat down on one of the Teletubby-like mounds to eat. Obviously, the kids couldn't sit still when they could be climbing and Eva was keen to be "Ting of the Tastle" (she's still struggling with /k/, bless her). Roo downed his sandwich quickly and ran off to try out the helter skelter:
It was a pretty cool slide, even if I felt nervous watching Eva climb it in not one but two dresses. Nathan had carefully dressed her in co-ordinated red, white and navy which she then accessorised with an Elsa dress and a tropical necklace. Happily, the necklace matched her juice, if not anything else she was wearing. I've heard her style described as "Crazy Homeless Princess" and I sometimes find it hard to argue with that. Still, the dress-excess didn't impede her climbing ability:
Nathan and I said exactly the same thing when we saw this slide – that it was the same as the one in the River Park Leisure Centre in Winchester when we were kids. Can any Wintonians tell me whether it's still there?
As well as crazy slides and retro slides, there were some bouncy things and a kind of climbing frame-roundabout:

Eva got stuck on the roundabout with a kid who a) didn't want to go fast and b) wanted to play "Mr Tumble" with her. She didn't like that. Both my kids have been preconditioned to dislike Mr Tumble, so her face when he opened his spotty bag and got out his Tumble Tap was one of horror. That's my girl. Time to move to the swings:
Shortly afterwards, Roo issued a warning that saw us scarpering to Costa to use the toilets there. We rushed through the rock garden on the way but ambling back, coffee in hand, we took some time to explore the play possibilities. Roo liked climbing on the rocks:
(I assume he's meant to? But never assume…)
And then he did some limbo on a weeping willow branch:
I was idly taking photos of the Narnia-like lamposts and posted this one on Facebook: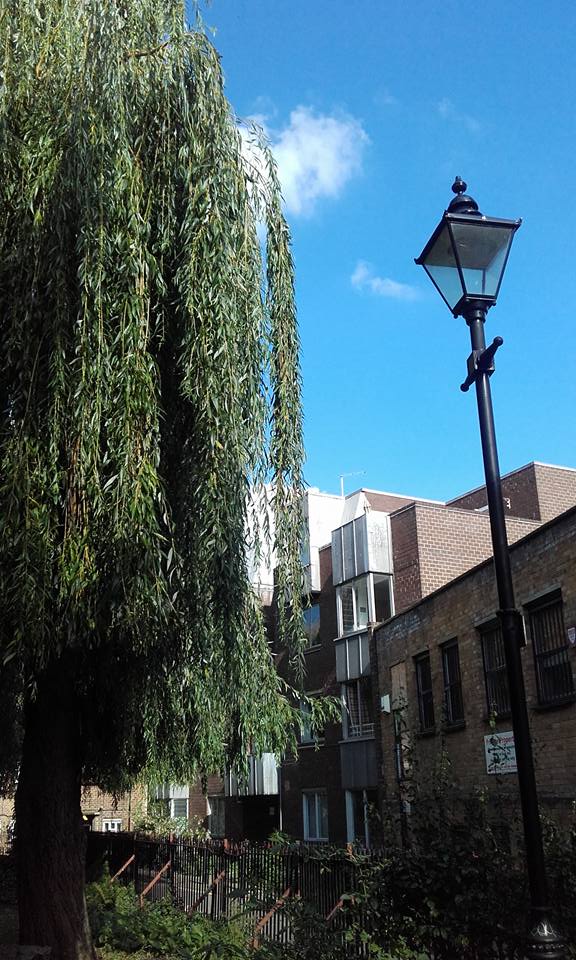 Which was taken entirely at random, to showcase the pretty tree and the blue sky, but turned out to be the old flat of some friends of ours. Small world, hey?
As a sidenote, Islington is lovely, isn't it? In my mind, it's often associated with that torturous, breakdown-inducing first job in London but there are some very pretty bits of it once you leave a darkened office in the N1 Centre. Some of the roads we wandered down looked straight out of a Richard Curtis film and probably were. Of course, this leads to sandpits full of posh kids in flat caps with their private tutors on hand but that's Islington for you. Talking of sandpits, this was another very pretty feature:
It was almost time to go, but first the kids wanted to play on the random-brickwork bit at the end. Again, I'm not sure if it's designed to be played with but they found things to climb on:
So, a park that's small in size but full of character. I'm very glad we picked it. More information here.