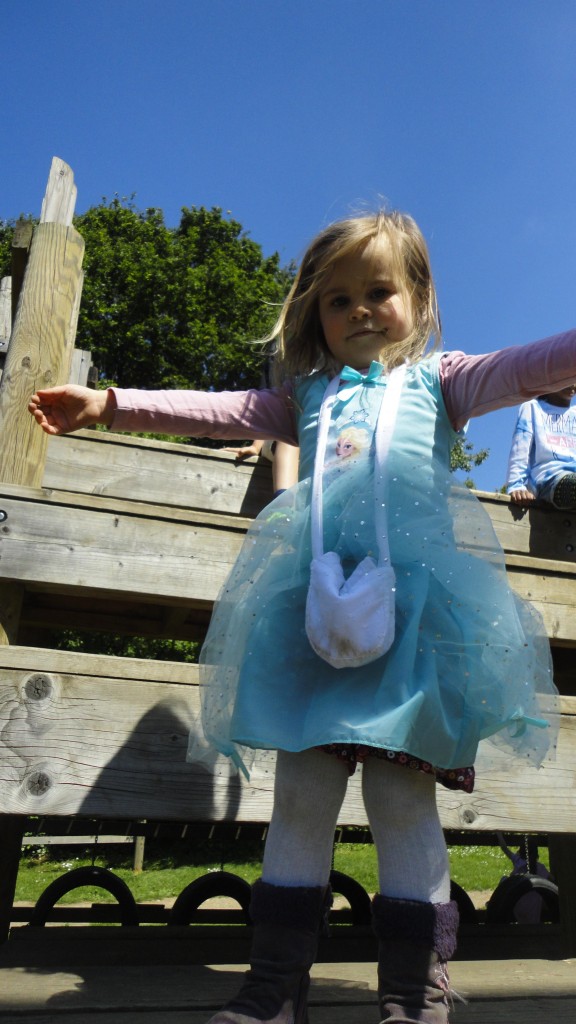 Yesterday, it was sunny. Really sunny. The kind of day that leaves a vivid red mark on your shoulders with only a finger-shaped patch of white to show where you rubbed some of the kids' sun cream off. I hurt. In case that wasn't obvious.
It was the perfect day to spend lounging around on a picnic blanket with some imaginary friends, and that's just what we did. At Peckham Rye Park, with Familia Maria and the C family. But let's not get too far ahead. Let's start at one of the many rips in the TfL space-time continuum. I've previously discovered a void at London Bridge and a time vortex at Liverpool Street but now I'd like to add the Black Hole of Highbury and Islington. Specifically, platforms 3-6, which don't seem to be at all in evidence between platforms 1-2 and 7-8 on the Overground. Of course, if you dig around, you hear whispers of "deep level" and "Victoria Line" but if those are codenames for "rips in the TfL space-time continuum", I don't know what is. All I know is that one side of the coffee hut is Platform 2 and the other side is Platform 7. Spooky.
Speaking of coffee, I was well in need of one by the time we got to Peckham and where better to go than the Dish and the Spoon? It's finally reopened, after months of flooding torment, and it's great to see it back. My flat white was smooth as ever and I think I drank it in about two gulps….it had been a long journey with two very talkative children. Coffee was essential. Roo found an X-Man book and sat reading it while eating his chocolate and vanilla cake, and Eva asked for cherry cake but then refused to eat it because…she's 3 and it's food. I gratefully gave it a good home.
It's fair to say that Roo was a *little* overexcited to see Thomas and C. It had been a while but they instantly rebonded over their love of running around in circles shouting loudly. It was time to go to the park. Eva would have been happy at the Dish for ages, playing with the toys in the corner, but three hyperactive 5-year-olds needed to stretch their legs a little. So, I ordered a very yummy bacon ciabatta with tomato relish for lunch and we headed off for a picnic in Peckham Rye Park.
We'd been to the park before with the Marias but I don't think we had Roo with us and the Adventure Playground bit was on the big side for our then-toddler girls. Even now, I was slightly cautious about the "5 plus" guidelines but it seemed to be full of kids who were nowhere near 5, so we decided to give it a go. I guess you just have to be prepared for much bigger children to be running about and not expect them to have to move around your tiny preschooler. As it was, Eva managed all the climbing bits fine and didn't cramp the older kids' style much at all. And we got to sit and have a picnic. Hooray!
It's a nice big space, which helps when you have different ages playing together. There's loads of open grass, huge wooden structures to climb up down and along…and more than one tyre swing, which again helps cut down on conflict. There's also a small indoor area with a snooker table (over 7s only) and there's an ice cream van parked just outside. What more could you need?
The older boys were pretty confident on everything, so just ran off for hours exploring the "woods" (a short path that cuts behind a bush then back out again) or hiding under the play frame. Eva needed more hand holding but she liked the little assault course, balancing on logs and chain bridges, and she managed to do most of that by herself. Which isn't always easy in an Elsa dress. They all came back occasionally, for bites of food or swigs of water, but mainly entertained themselves and each other happily all afternoon.
Which, of course, caused problems when we wanted to leave. It's a long journey back, so we started going at 3, to avoid the worst of the rush hour, but it was not a popular move. Reuben was particularly distraught, saying that he was having too much fun and that "this place is full of fun". You can't ask for a more ringing endorsement.
You might expect the journey back to be a bit fraught, but it wasn't too bad. We opted for the quiet, slow bus all the way to Farringdon, then a quick hop on the tube to Liverpool Street. We were buggy-free, so could sit upstairs on the 63, where there was plenty of space, and they were both so tired that a long sit down and chill-out with some snacks did them good. By the time we got on the Met Line, they were still pretty zoned out:
And this pile o'child at Liverpool Street is bordering on the pathetic:
But the last train came with my secret weapon – doughnuts! Yes, they'd already had cake and ice cream but at 5PM on a crowded train, a doughnut can work wonders for the mood:
The guy behind is clearly jealous that he doesn't have one. So, a trip to the South-East with lots of fun and only a few meltdowns? I call that a success…!