At last! I've been sitting on this review since October and I can finally share my thoughts with the world. I'm sure you've been desperate to hear them. It's CBeebies panto time! Woooo!
This year, the story tackled was "Peter Pan", starring Ben Faulks aka Mr Bloom as the eponymous Peter. He's a perfect choice – the cheeky, arrogant eternal boychild. And murmurs across Facebook suggest that mothers everywhere are not averse to the sight of him in tights. Katrina Bryan, or "Nina", is equally well cast as Wendy – she has a mix of girlish excitement and motherly authority that's just right. Then Reuben informs me that her brothers, Michael and John, are actually Chris and Pui. I don't know why he thinks I couldn't work that out. Anyway, they just seem to be having a whale of a time, despite Chris suffering from flu the day of the recording. What a trooper! Then there's Kat, on sparkling form as Tinkerbell. She probably has the best singing voice out of all the presenters, so it's nice that she gets her own song – "Fairies Shouldn't Ever be Sad".
When it comes to the pirates, CBeebies has a ready made crew in the shape of the "Swashbuckle" cast, headed up  and hammed up by Andy Day as Captain Hook. The swashbucklers are an easy win with the kids and lend themselves well to a plethora of in-jokes. Andy is both sinister and charismatic as Hook and seems to be enjoying himself a lot. Let's not discuss the inexplicable appearance of that camp robot. The pirates are responsible for two things – the "tick tock" dance, which Reuben is currently doing all over the lounge, and terrifying Eva. She completely refused to watch the pirate bits yesterday, saying "I don't like pirates" and "pirates are dary". Today, on second viewing she's just playing with her Peppa Pig toys and ignoring the whole thing. I don't think she's traumatised. Besides, every panto needs a good panto villain. She's come back for the "Wendy House" song.
There are a couple of reasons why this year's panto might be the best one yet. Firstly, because we were there. I may be biased. Secondly, because the visual effects are truly stunning – there are aerial acrobatics, and a liberal sprinkling of fairy dust on the video backdrop. Lastly, the music is really lovely this year, as you'd expect from "ZingZillas" maestro and professional "Friends of Danny Wallace" Banks & Wag. I was humming the tunes for days afterwards and still have some of them stuck in my head.
The downsides? Well, the cast gets bigger every year which means that some of our favourite presenters get reduced to extras  – the radiant Rebecca for one. She deserves a bigger part next year. And I guess we're lucky to see Sid at all, given that he's left the CBeebies house, but it would have been nice to see more of him. On the upside, Justin is barely in it. Some might not see that as a bonus, but I definitely do.
Overall, though a really nice show and we were so thrilled to meet Cerrie, Dr Ranj, Rebecca and Mr Liker-Biker backstage. I've held off on showing you these blurry photos till now for fear of spoilers but here they are: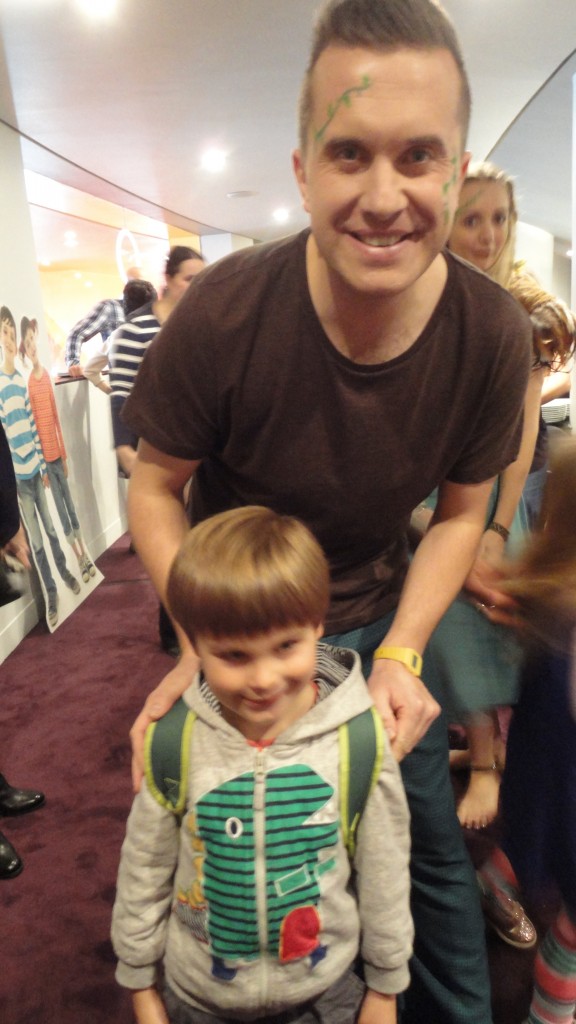 Such fun!
CBeebies "Peter Pan" is available on iPlayer now!