LWAT is a blog about fun things to do with your children in London but let's face it, quite often it seems to be a blog about trying to do fun things but ending up having a massive public meltdown. Sometimes it's the kids melting down, sometimes the parents…often both. And so it was last Saturday. The temperature was in the high 20s so the meltdowns were quite literal and it's a nice follow-on to my post about a Sunday in Stokey which also featured a public argument with Eva. Consistency is the cornerstone of my brand. Just a pity it's consistently tempestuous.
It didn't start off badly. Mainly cause I wasn't with the kids. I skipped off to Islington to do SwingTrain and explain to the church English Class about why Enid Blyton's attitudes are a bit "of their time". Then I sat on the 38 for a long time to go and join the kids and Nathan.
What were they up to? Why, getting some Free Comic Books of course! Every May Bank Holiday the publishers of comic books print up a whole load of special editions and then give them away for no money. It's a legit thing, according to the two comic book geeks in my life. Eva was just in it for the photo opportunities: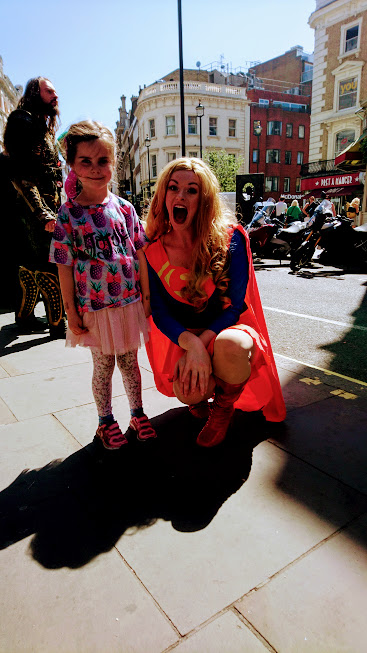 They got a good haul – 2000AD, Star Wars Adventures, DC Superhero Girls and some other stuff. Look, comics aren't my thing OK? Although I knew enough to identify a Dr Strange cosplayer crossing Charing Cross Road outside McDonalds. But comics weren't particularly on my mind – food was and I had no plan in my mind about where I was going to get any. Until I saw a delightful little hatch on Greek Street, which promised "Pleasant Lady" Chinese pancakes. You can never be sure whether this is some kind of weird Soho euphemism but I'm pleased to report it was a genuine pancake and very tasty too. They only take card, not cash and they've been open for a week but it was delicious and they do veggie, pork and chicken options all freshly cooked in front of you.
Strolling up Greek Street in the sun with a hot pancake in one hand and a cold Coke in the other, I wondered what it would take to break my good mood. I suspected the answer would start with an "E" and end in a "va" and I was correct. I must apologise to everyone in Soho Square that witnessed the horrors of a very pretty, butterfly-faced girl having a loud difference of opinions with her parents and being bodily hauled out. She might be pretty but the scene certainly wasn't.
In the midst of all this, the most surreal thing happened. I recognised someone I didn't exactly know. A ranty guy I'd encountered on an escalator at Liverpool Street a few days earlier, shouting at random people about the Fatherland. And here he was in Soho Square, shouting at random people about the Fatherland. Just what you need when wrangling an extremely irate 6-year-old out through the gates.
A quick trip to Foyles to use the loos and we were on a long, hot walk to calm down a bit. I was hoping Coram's Fields would salvage the day and yknow, it kinda did. There were some further scenes, with the other kid this time, but there was sludgy water play in the sand pit and there was a buffer zone of fun before we had to face the tube home. This last photo kinda sums the whole day up:
Kids, hey?