Today feels like it's been a bit of a surreal dream. We met a celebrity, bumped into some random friends and danced with some dancing dogs. Plus the sun was shining and we had ice cream. In February.
But it all happened. Promise! Let's start at the start, at the Southbank Centre for the Imagine Festival. Our friends W&A had booked tickets for the Harry Hill event and we tagged along for fun. Well, Roo and I did. It was an 8+ event so Nathan had the job of wrangling Eva while we were in the show. Luckily, we got there in time to nab the one remaining ticket for the 11am "Rainbow World" art session. None of us knew what thatmeant but it sounded totally like something would like. I'd imagined the queues at the RFH box office to be horrendous so I forced the six of us to leave HP ridiculously early but as it happened there was no queue at all. All the more time to nab a quick coffee then.
It's strange but I've never actually been inside the RFH auditorium before, despite visiting the building more times than I could possibly ever count. It's a bit special in there, with the modernist balconies jutting out like cadillacs someone parked halfway up the wall of a concert hall. I idly wondered about the roll call of famous people who'd graced the stage there, not realising another name was about to be added to the list. But more on that later.
The event was essentially a book launch for a new children's book, written by Harry Hill and illustrated by Beano illustrator Steve May. The book's called "Matt Millz" and it's about a boy who aspires to be Britain's youngest stand up. As part of the event, Steve May was doing live illustrations and it was all compered by Ian from the Beano, dressed in his best Dennis the Menace red-and-black jumper.
As shows go, it could have done with tipping more towards the comedy and slightly less towards the sales pitch but Harry Hill is always a joy to watch and his exuberance carried on through regardless, whether he was doing star jumps or a PowerPoint presentation. Reuben roared with laughter at the early section – the dancing cucumber and the champagne bottle that sprayed the audience with water – and I think he enjoyed the book reading too. We all played the "No Woman No Cry" TV theme show game and then there were some segments that were more informative, like Harry's rules for stand up and Steve's tutorial on drawing. But the best bit from Roo's perspective was when they picked some kids to go onto the stage and tell jokes. I steeled myself for the inevitable disappointment when he wasn't picked…but he was picked! Yes, the latest name to be added to the RFH roll call is Roo. For telling the following joke, handcrafted just hours earlier on the Waterloo & City platform at Bank:
"What do you call a sheep warrior? A baaaa barian!"
It didn't get the biggest laugh on the laugh-o-meter but he acquitted himself perfectly well. At least he had a gag prepared…I was worried he'd blank completely.  He didn't though, and now he can say that he's met Harry Hill, which my 17-year-old self would be well impressed by. Plus he got a free Beano annual and a Dennis jumper just like Ian's. Score!
Buoyed up on his middling success, we went to find Eva and Nathan, who apparently had had lots of fun doing randbow art. Each session used a different coloured piece of paper to add to this giant rainbow: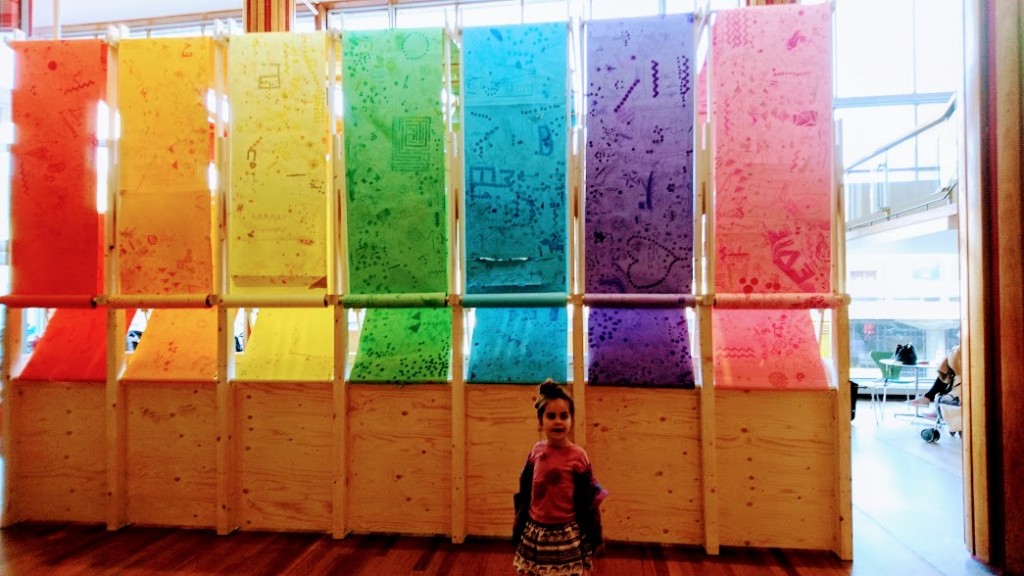 Today's colour was blue (as were Eva's mouth and hands by the time they finished):
It was a glorious day outside so we went to play on the giant "Outdoor Games" installation on the terrace. I've never seen Reuben move so slowly as when he's commanded to by some paint writing on the ground. Other instructions included "hop", "skip" and "dance". Both kids completed the game.
That done, it was time for lunch and Nathan and I both bought food from the street food market on Lower Ground. I had sweet n sour katsu, which is probably an unholy Chinese/Japanese fusion but it tasted good. Nathan got a Pad Thai, but more importantly scored a sighting of H'sMama, who came to join us on the steps overlooking the market to all eat our food in the sunshine. Good times.
From the steps you could see the whole crowd down below and that's how we managed our second  random bumping-into-friends moment in the space of a few minutes. This time it was Weasels'sDad, who was stuck in an interminably long queue all the time we were eating. So we never managed a proper catch up or to spot Weasel'sMum but still, it added a lovely happy note to the day.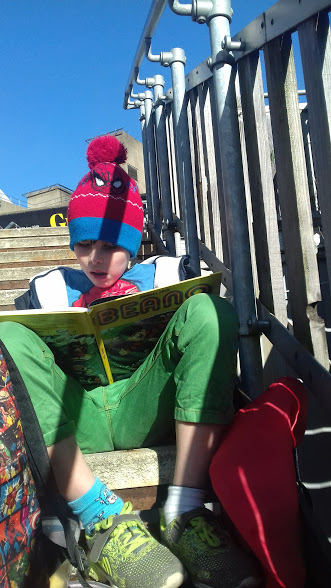 This wasn't just a one-target day tho. We had a second theatrical mark to hit and that was over the river in the National Gallery. So we had a quick play in the playground and headed across the bridge that Reuben and I used to wander over when he was a baby and I was trying to get him to sleep. This time it was Eva who claimed to be too sleepy to walk and at one point Nathan seemed to be carrying her. She forgets that she's nearly 6 sometimes.
Awesome bridge views, as always. Though not as handy for telling the time as it normally is.
We got to the National Gallery in good time but had to back out of the main entrance and go in through the Sainsbury Wing instead. The show we there for was by our friends at Chickenshed and was in honour of the Chinese New Year. It's a travelling version of their classic "Tales From the Shed" show, adapted to include lots of Year of the Dog references.
We've seen lots of Chickenshed productions now – from large-scale epics at the Royal Albert Hall to wistful fairy tales at their home base  to plays at the V&A that we put on ourselves – but this was their core kind of work. Puppets, shadows, songs and lots of silliness. The children were encouraged to come down to the front and practise being dogs, which my two needed no practice for, and contribute ideas. There was little in the way of barriers between stage and audience – performers came down and sat next to the audience members and at one point a giant parachute enveloped us all. It looked a bit like this:
I obviously don't take photos while at the theatre but I thought I could get away with this one.
The highlight of the show was probably the pas de deux between two dogs, which took in Torvill and Dean, Bill Haley, Pulp Fiction and Gangnam Style. You can guess which of those cultural references were lost on my kids and which weren't. Still, they thought the whole routine was hilarious and they enjoyed singing the final song together before going to the edge of the stage to stroke the dogs themselves. And of course getting their photos taken in the picture frame:
Afterwards we headed out into the sun to have an ice cream in Leicester Square. I can hardly believe that a week ago it was hailing, cold and miserable. There's hope for spring yet…
As a final lovely moment as we headed home, a busker was playing "Mrs Robinson" but clearly didn't know the words. He stopped and hastily went to his go-to tune for tricky situations. It's comforting to know that in such a turbulent world as this, some things don't change for 20 years and a busker's go-to song is one of those. I said maybe, you're gonna be the ones that saves me…
Disclaimer: I received free tickets for the Harry Hill event in exchange for a review. All opinions remain honest and my own.