The first thing Reuben said to me this morning was "It's OK Mummy, I didn't get up in the middle of the night and have an adventure". If you're wondering why he would even have that idea in his head, wonder no longer. It's the fault of the Midnight Gang.
"The Midnight Gang" is a new production at the Chickenshed theatre. It's an adaptation of the book by David Walliams and it's running from 19th July – 6th August. Roo and I went to see it last night, which meant hopping on the tube from Walthamstow and changing onto the Piccadilly Line at Finsbury Park to get to Cockfosters. Don't change at Finsbury Park if you're changing direction – it's a heck of a trek. We ended up getting a cab back but if we'd gone back on the tube, I think we would have gone all the way down to Arsenal on the Piccadilly Line, got the tube one stop back up the Piccadilly Line to Finsbury Park and then done the easy-peasy change from Piccadilly Line northbound to Victoria Line northbound. Don't quote me on that but I reckon it'll work.
Anyway, point being we made it to Cockfosters. Ever wondered what's at the end of the Piccadilly Line? Here you go: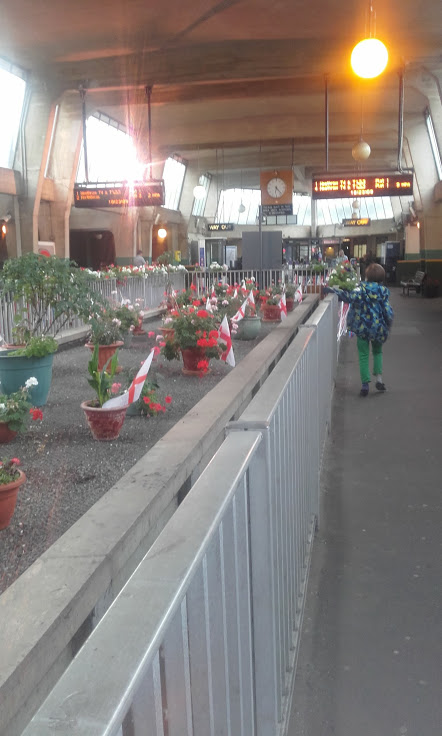 There's also some lovely art deco features in the station itself. Our other option to get to Chickenshed was Southgate tube, which is even more exciting as it looks like some kind of 1930s spaceship. But the walk was quicker from Cockfosters, so that's what we went with.
Shall I move on to the show itself instead of all this tube geekery? Oh, go on then. It was in the main auditorium at Chickenshed ("Now that's what I call a theatre" said Roo) and we were sitting behind the Mayor of Enfield. Exciting times! It was a 2 hour show, with 15 minute interval, and it's recommended for ages 6+. I considered taking Eva, but she's too young and I think it would have been a bit too emotional for her. A less sensitive and easily spooked 5-year-old would probably cope.
The basic plot is that five children meet in the children's ward, on the 44th floor of the Lord Funt Hospital.The terrifying Matron rules the ward with an iron fist but somehow the children manage to sneak out at midnight and have adventures around the hospital, making each other's dreams come true through creative use of the freezer room,  bedsheets and a shedload of balloons. The kids are the main stars here, but they're ably supported by a number of adult actors including Michael Bossisse who I think had a bit of a fan club in, given how loudly they laughed and cheered every time he appeared in drag as Tootsie. Yossi Goodlink was the one who really carried the show though – also in a dress – as the newcomer Tom. He acts as narrator, along with Ashley Driver as the Porter, and is the catalyst for the story too, arriving on the ward and following the Midnight Gang to see what they're up to.
Kids in hospital is a difficult subject to draw comedy out of, but the story is kept light and there's real heart in the banter between the patients. Joe Booth as George and Tamika Armstrong as Amber are full of energy as the leaders of the gang, Amber somehow walking to her wheelchair with two broken legs to go off on another adventure. Finn Walters as Robin is a cheerful support, cracking jokes even as he's fumbling around blind (including the favourite of the man in front of us – "I play lots of instruments. I don't want to blow my own trumpet…but I can blow my own trumpet") and Chloe Stevenson sensitively plays the critically ill Sally, desperate to be a normal kid despite her (possibly terminal) disease.
See, it's a bit heart rending in places, especially when they're making Sally's dream come true with a glimpse of the life she could have had if she wasn't ill. I don't think Eva would have coped very well with that bit. There's also real poignancy as the Porter is telling a story from his own childhood and explaining, in part, why he's never quite left his childhood dreams behind.
But then there's high comedy too, as an old lady takes to the skies and the Midnight Gang have to pursue her in an ambulance. And there's always Tootsie and her breakfast trolley if you need to break the tension (cue hysterical laughter from Team Bossisse). It was a good balance of  gentle, thoughtful moments and boisterous fun. Reuben certainly enjoyed it and he's not one for too much in the way of contemplation. The set was impressive too, summoning up the atmosphere of a slightly crumbling hospital and concealing secret extra sets like the freezer room and the gift shop. The skyline view of Big Ben and the London Eye made me wonder whether it was based on St Thomas', where both the kids were born.
During the interval, Roo and I nipped out to the very pleasant Chickenshed garden for an ice cream, as it was still light and warm. Doing that, however, meant that we entirely failed to notice David Walliams himself in the foyer, a crowd gathering around him. Bit of a missed opportunity! Still, we got to hear a few words from him at the end of the show when he joined the cast on stage (the starstruck look on Joe Booth's face was brilliant) and he was full of praise for the production, as was everyone around us as we filed out. I think it's safe to say that Chickenshed has a success on its hands – a show that's emotionally challenging enough for the older child, but entertaining enough to send them out with a smile. I would definitely recommend it to those of you with children of 6 and up – it's a beautiful piece of family theatre and at a very reasonable price. For tickets and more information, click here.
Disclaimer: I received free tickets in exchange for my review. All opinions remain honest and my own. All images copyright of  Chickenshed