I went to Costa today and  I swear to you, it was Christmas in there. They had a Christmas tree, Eva was eating gingerbread Santas and I sang along to "Santa Claus is Coming to Town". So don't tell me it's November.
In that spirit, I'd like to let you know about some lovely festive shows that are on in London over the next few weeks. And one slightly disturbing festive show. Yes, the good folks of "Funz and Gamez" have been allowed back into Soho and near children, despite the anarchy of last year's show. If you enjoy wild games shows with depressed Uncles belching at your kids, you'll love this. It's on at the Soho Theatre from Sat 19 – Wed 23 Dec at 2pm & 4pm. Tickets and more information here.
Also on at the Soho Theatre is the very Christmassy "Dear Father Christmas" which sees Santa trying to sort out muddled presents, find a polar bear and save Christmas! It's only on for a limited period – 22nd Dec to 2nd Jan – so book your tickets quickly! It's suitable for 3-6 year olds and you can find out more here.
Another big hitter for the 3 year old market is that queen of preschool TV…Peppa Pig! She's back in the West End this Christmas, with "Peppa Pig's Surprise" opening at the Duke of York's Theatre from 18th Dec – 17th Jan. This production has all-new, life size puppets…have  a wee look here: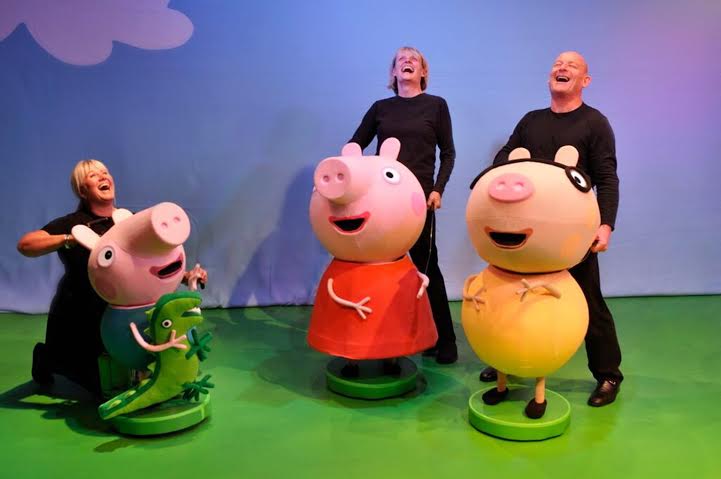 Eva was thrilled by the show last year and was still talking about it months later so it's well worth it. She was 2 and a half at the time and definitely old enough to appreciate it. Catchy songs too…
For the older kids, there are some fab options too. "The Railway Children", which I watched and sobbed through in the summer, has extended its run to 10th April. With a real steam train and a script that sticks faithfully to the book, it's a classic and entertaining tale. Bring tissues.
Also good for older kids is the stage production of "Elf", the beloved Will Ferrell Christmas film that brought "cotton-headed ninnymoggins" into our everyday venacular. It's opened at the Dominion Theatre already and runs till 2nd Jan. The age rating is 4+ but with a run time of 2.5 hours, I'd probably be wary of taking a young 4 year old. Of course, the Christmas magic may well keep them quiet and entertained!
Not strictly a Christmas show but intriguing nonetheless is "Snow White and the Seven Superheroes" which is on at the Millfield Theatre, Enfield from 7th-17th January. If there was ever a show that catered for my princess obsessed girl and my superhero obsessed boy, this'd be it, right? I know almost nothing about it so am hoping it's not an "adult" show (Snow White does seem a bit skimpily dressed on the poster). I'll report back.
While we're on the subject of adult humour, let's not forget that classic Christmas tradition – the panto. There are loads all over London, but I'm going to feature Hackney Empire's "Jack and the Beanstalk". Not just because it's reputed to be one of London's best pantos but also because it stars Clive Rowe, patron of the Walthamstow Acoustic Massive. I backing sang for him over the summer, so we're practically bandmates dontcha know? True story  – the evidence is here. There's also evidence of my ridiculous singing face, so enjoy that.
Finally, there's lovely whimsical-sounding fun at the Unicorn Theatre, who are putting on two kids' shows this Christmas – "The Snow Child" and "Once Upon a Christmas". Both are suitable for around the 3-year-old market so I may attempt to take Eva to one. I've never yet made it to the Unicorn but have heard great things about their interactive shows and "Once Upon a Christmas" promises to be another treat.
Is that enough Christmas theatre for you yet? If not, fear not…I'll be updating this as I hear of more. But start booking now…these will sell out fast!