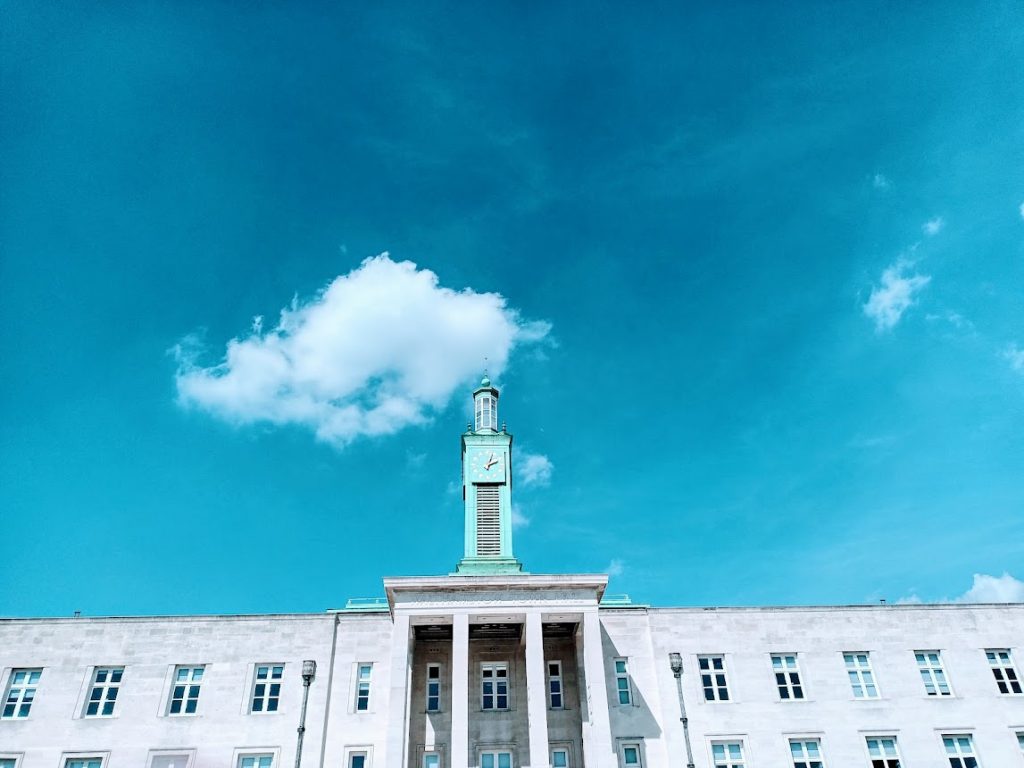 Yesterday was a very significant date in the family calendar. As Christians, we marked Good Friday. As Jews, we zoomed the family and ate last year's matzah as part of our Passover celebration. But the real reason that yesterday was significant for us was, of course, the birthday of Summer the Corgi. Last year, we took her to mini-golf and this year, we treated her to a day at the fountains in Fellowship Square. Out of all 25 of Eva's cuddly dogs, I'm not sure why Summer gets special treatment but it meant that Eva felt obliged to leave the house. So that works for me.
It was also the first properly sunny day of the year and the fountains were on, so that was a massive draw. I packed swimsuits for the kids but not for myself, which I slightly regretted. I just wandered through the fountains fully-clothed in vague pursuit of Eva but mainly just enjoying the cool water on my feet.
The toilets were open in the Assembly Hall so that was good for getting changed as well. We made a base up on the grassy slope and then just let the kids run free. We had a good vantage point to check in on them and Eva scampered back to us when she was standing on the central fountain just as it switched on. She was a little soggy about the face. And they often swooped by in search of snacks:
For the Easter weekend, there were also family games set up, like giant snakes and ladders, giant chess, a coconut shy and hook-a-duck. Reuben tried to arrange the chess places in the right way to start an actual game but was scuppered by tiny kids moving the pieces every time he put one day. So he just threw some balls at coconuts instead:
And had a go on the terrifying gyro thing:
At around 4, it grew slightly chillier and clouded over. It was almost time to head home but first, Eva wanted some popcorn from the stall in front of the Assembly Hall that was selling hotdogs, popcorn and ice cream. I think there was coffee on sale in the Assembly Hall foyer too but, for once, it was hot enough that I didn't feel the need to caffeinate. Or maybe it was because I was mainly just lying in the grass, which didn't require much energy. It gave me a very 90s-album-cover POV though:
Popcorn in hand, we ambled towards home, just as the clouds were gathering. We had salt water and bitter herbs to prepare after all.
I've hung out in front of the Town Hall a few times and I can say it's a great improvement on when we used to have to try and stop kids from running across a road towards a fountain they can drown themselves in. The water play is a great addition to the area, especially when we're fortunate enough to have a sunny bank holiday. The games are on until Easter Monday so go check it out!