These kids' birthdays seem to come around more swiftly every year. Last week it was Eva's and she put in a request for a bank holiday trip to Legoland. Yup, that sounds un-stressful. As we set off at unearthly o'clock, my thoughts were mainly on the prospect of a Harvester breakfast.
Our usual spot didn't seem to be open for breakfast on a Monday so we'd booked at the Bells of Ouzeley instead. We'd been there once before, on our semi-spontaneous trip to Windsor in 2019. I'd remembered it having a nice riverside view and I wasn't wrong. With 10 minutes to kill before opening time, Roo and I sat on one of the benches and said hi to a very good Golden Retriever.
The Harvester breakfast buffet sadly hasn't survived Covid, so there's no spending hours toasting bread products just for the sake of it. But that's probably a good thing when we actually have somewhere else we need to be. It was all too easy to get lost in the joy of toasting and forget to even go to Legoland.
The lack of buffet didn't mean a lack of eccentricity in Eva's breakfast choices. She happily ordered porridge, chips and hash browns as well as sharing a fruit platter with the rest of us. Who doesn't look a classic combo of fruit and carbs? Reuben had one of the set choices – sausage, bacon, eggs and pancakes  – which some people might also think eccentric. But he enjoyed it.
Oh and Snowy was with us. Obviously. so
We finished breakfast reasonably quickly and got to Legoland by about half ten. We were following Google Maps rather than the brown signs so went a bit of a strange route but it wasn't quite as roundabout as some of the other times we've been.
I made some pretty haphazard decisions about what to leave in the car and what to put into a locker. I'd packed spare clothes and swimwear in case we went on water rides or to Drench Towers. As it turned out, Drench Towers wasn't open and neither was the Viking River Ride so we didn't need any of them but yknow, the thought was there. The snacks I'd brought stayed in the locker too because those Harvester breakfasts really do keep you going. I'm not sponsored by Harvester, by the way – I'm just really pleased with the system I came up with.
So we used our only pound coin to pointlessly stash stuff in a locker near the Hill Train station and then, because we don't do it very often, decided to get the train down the hill. Snowy enjoyed it immensely, so I'm told and I'm sure the people we passed were happy to see a cockapoo toy waving to them from a train.
Our plan was to go to Laser Raiders first as we were in the vicinity but as we walked past Aero Nomad, we noticed there was no queue at all so we decided to go for a quick balloon ride first.
"This is terrifying but I love it!" declared Eva.
"It's not terrifying, it's just disconcerting" countered Nathan.
Laser Raiders was next, where a promised 20 minute wait time was probably less than half that. There wasn't even time for the kids to dip out of the queue and into the Kids' Zone…it was just straight through. Nathan won the most points, obviously, but it was something fairly gentle that we could all get onboard with.
Unlike the next ride, Destiny's Bounty. I've had a lot of motion sickness lately so I took half a look at this one and decided it wasn't for me. It's shaped like a ship but moves in the same way as Skater Boi at Adventure Island. End-to-end and side-to-side. I was quite happy to wander off in search of the loos and leave them to it. Unfortunately, Eva decided she didn't like the sound of it either and had to be extracted from the ride when they were doing final checks, with Nathan in hot pursuit. Reuben enjoyed it though, and Eva spent the time conquering the very tame climbing wall instead:
I'd noticed that Ninjago had gone down from a 45 minute wait to an impossible-sounding 10 minutes, probably because it was 12PM and anyone who hadn't had a full English was probably going for lunch around now. So we dived in as soon as Roo was off the ride and got all the way to almost the red-lit room before we had to wait. It was a good opportunity to glean the subliminal messages on the t-shirts of the menfolk: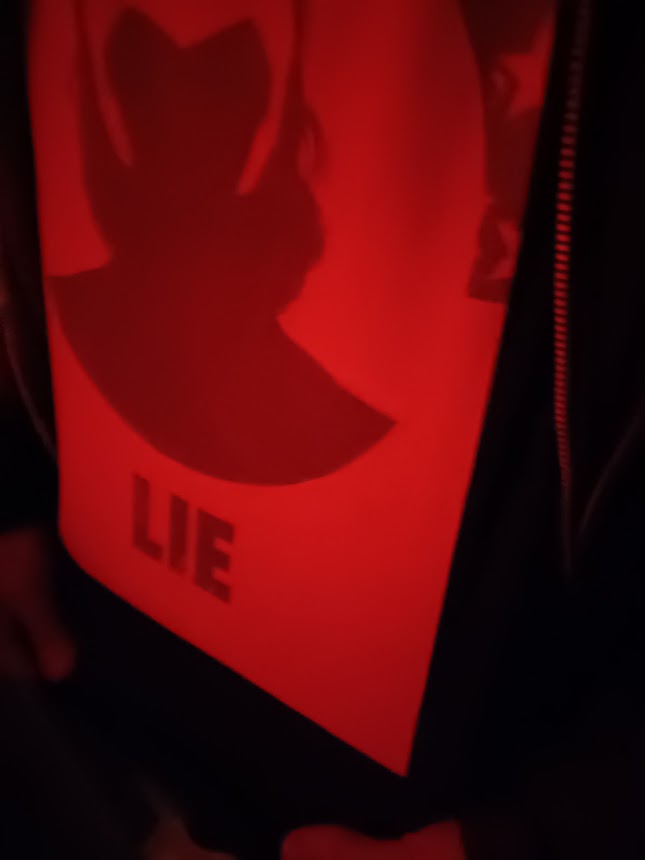 We went on Ninjago last time we visited so I think I've described it before. It's pretty fun though, especially if you have a child who like the idea of fighting loads of bad guys at once. I think I came solidly last on this one and Reuben won. We all got a vigorous arm workout as well.
Our next stop was something new to us – Lego Mythica. There are loads of interaction points, where you can use the Legoland app to create 3D versions of the Lego creation. It's hard to capture how it worked but it was something like this:
Of course, you have to persuade the children to stand still long enough for the images to load up but eventually they see the benefit.
There was a long wait for The Flight of the Skylion so we decided to come back for that later and just walk through the Mystical Forest for now.
Again, this is probably something that is better enjoyed at a leisurely pace so that you can do each AR bit and read the plot of why all these creatures are in this mythical forest in the first place. The kids were mainly just charging through though. It started with this very 'grammable tunnel:
And ended somewhere near Mordor, as far as I can work out:
Along the way, there were lots of new Lego creations like the lava crabs:
And tiny, tiny pandas:
As well as this tunnel which reminded me of the one in the Do Re Mi sequence. Ah, to be back in Salzburg again!
After all that rushing about, it was time to pause for an ice cream. The queue at the ice cream parlour was possibly longer than any of the ones for the rides but it was worth it. We sat on a bench in Heartlake City to eat, thankfully after the Lego Friends had stopped gurlpwrring at us, and planned our next move.
The short answer was that it was time to split up. Eva was determined that she wouldn't set foot in the Haunted House again, having been thoroughly freaked out on our last visit. So Roo and Nathan went to do it without us and Eva headed towards the Lego City Driving School. Things seemed to be going well for her until all the cars stopped and I could see her scampering across the roads. Apparently she'd crashed her car and one of the wheels came off, which is an impressive amount of damage. She was assigned a different car and the drivers were back off again.
I didn't get a photo of her driving, but I did get this one of the road while we were in the queue. Eva, in her usual poetic way, had been enchanted by the level of detail that had gone into this ride. "I mean, just looks at the drains".
Really, do look at them:
The boys had found us somewhere during the freewheel debacle and it was time to swap teams. Eva wanted to go on the Fairytale Brook and, as we learned from the 2018 trip, I do not fit the criteria for this ride: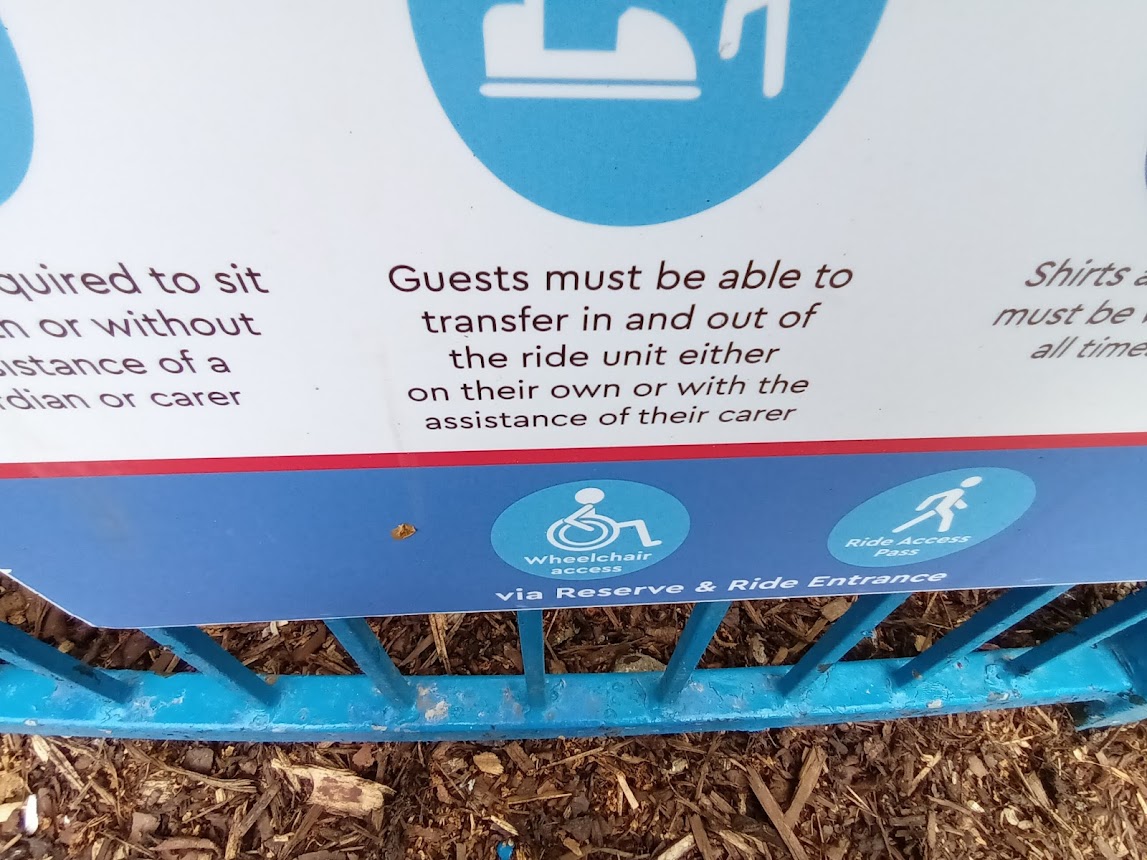 The caveat "without injuring themselves and not being able to walk for three weeks" is not explicitly written on this sign, but you can see the subtext can't you?
So Roo and I went on the Duplo Airport helicopters, where he did his best to make me airsick with the less-than-smooth ride. Then we stood by the Fairytale Brook until he declared he couldn't listen to the wolf repeating the same thing over and over again any more. He went off to the playground and I waited for Nathan and Eva, who had taken a full two turns around the brook.
We had another couple of things we wanted to squeeze in before we left so we went back to Lego Mythica, in the hope that the queues for the Skylion would have gone down a bit. Spoiler: they hadn't. I'm not sure how long we were waiting for but it was around 45 minutes, I reckon. There were four QR code challenges to do along the way so that helped to pass the time a bit. There were also some Lego models in a glass cabinet to look at.
Eva was getting increasingly nervous as we got near the front. As we stood on our designated numbers in the final pens, I thought she was about to bolt again. But no, she saw it through and I think she was the one who loved it the most in the end. Almost certainly more than I did!
The numbers were significant as they determined who sat where on the actual ride. But there is some shuffling about time once you're inside, so don't worry if you don't get it right first off. There are also shelves to put any loose items and a short briefing before you go on. I looked at the briefing screens in front of our seats and wondered how exactly such small screens were going to provide a "flying theatre" experience. I also noticed that, yes my feet were dangling as we'd been warned, but the floor was only a couple of inches below them. This was gonna be easy street.
Anyway, then we turned around.
Suddenly, there was nothing but an abyss below us and a screen in front of us that was significantly bigger than the TV at home. Eva cried: "Why was I worried about this? This is going to be amazing!" while I simultaneously thought: "Why was I *not* worried about this?"
I won't give any spoilers away but suffice to say, it was both amazing and worth worrying about. I was right at the end, so had a flat surface to my left instead of a pole and that was trickier to hang on to. We were very high up and, yes, dangling somewhat so if you're nervous about heights probably best to sit in the middle and ask to go on one of the lower tiers. But as immersive cinema experiences go, it was pretty impressive.
I was a tad pale afterwards. I left Nathan and the kids making Lego models and went for a breath of fresh air. Tapping into my hardwon knowledge about nausea remedies, I went in search of salt and vinegar crisps and cold water and scored both at a small kiosk in Heartlake City. It occurred to me that this was the only savoury thing any of us had eaten all day, except for the Harvester breakfast. See, I told you my Harvester hack works.
I was just paying for them when an announcement told me that the park was closing in half an hour. I don't know why I thought Legoland closed at 6 but apparently it doesn't. it closes at 5. I rushed back to Mythica, threw Pringles at the kids and told them to abandon their models if they wanted to get on the new water ride before it closed. So we scurried over to Hydra's Challenge, eating as we went.
When I said earlier that I had a raft of remedies for nausea, I'm not sure any of them involved climbing onto a raft with my child. But ho hum, here we were. In the queue I had the most lovely surprise of bumping into one of my choirsters and then I got to watch her terrified face twirling round the platform on the child-powered boat. It really prepared me for what was to come.
Nathan and Eva went on first, as Roo and I were just after the cutoff. That worked OK because we could hold all their stuff and stop it getting wet and then they could do the same for us. Eva was also desperate to finish building the lego model that I'd wrenched her away from. So I entrusted all my worldly goods to Nathan  – including my Pringles – and entrusted my life to Reuben and got in the boat with him steering.
It wasn't too bad, as it goes. The spinning motion wasn't the best if you're already feeling a bit seasick, especially at top speed, but the spray of water on my face was actually very helpful. I wouldn't necessarily recommend doing it straight after the Flight of the Skylion but I survived. Just about.
We were seriously running out of time by this point. Luckily, Eva had finished her Axocorn (half axolotl, half allicorn) and we left it in situ for all to admire and ponder over:
Talking of pondering, what to make of this peacockdog?
But no time to ponder kids! We have a hill to climb! And so we did, pausing briefly in Miniland along the way. Eva doesn't like steps so she and Nathan went up the slopes while Roo and I sped ahead on the stairs, before he squandered our lead by taking a slide most of the way down again.
We retrieved the stuff from the lockers that we hadn't even touched and made a successful car park exit using the car registration number I'd put in when I booked the parking. No need to scan the barcode – it just let us through the barrier, super-smooth like.
All in all, pretty successful. We managed to stop at Burger King in Heston for dinner  – unlike in 2019 – and no-one injured themselves, so that was good. We didn't spend loads when we were there – it wasn't a particularly hot day so we just carried one bottle of water between all of us and I bought a fresh one when I was buying the Pringles. In previous years, we've got a refillable drink but there didn't seem to be many places to buy them so that idea kinda dwindled in appeal until it was late enough that we knew we wouldn't get out money's worth. But generally, it seems like we might be getting the hang of Legoland. And Heston.