Not a proper hangover…it's been a long time since I had one of those. But certainly the slight grogginess that comes the morning after a Highams Park Parents' curry night and makes you regret offering to remove the children from the house for the entire day while your husband packs stuff into boxes. But the decorators are coming to paint the kids' rooms this week, the floors and walls of the kids' rooms haven't been seen for a while and it seemed like the best option was dragging myself and my progeny out for eight hours. On a a Saturday in January.
We started at a storytelling session at school, where the sound of several children pretending to be animals kick-started my recovery. Coffee and bacon seemed to be the next logical step and luckily we had a date arranged with a lady and a baby in a place that would hopefully sell both. Specifically Ellie and BabyWylie in the basement cafe of Waterstones's, Tottenham Court Road. I never knew it was there so I think it's relatively new and the reviews all said it wasn't too busy so seemed like a good hangout for a couple of hours.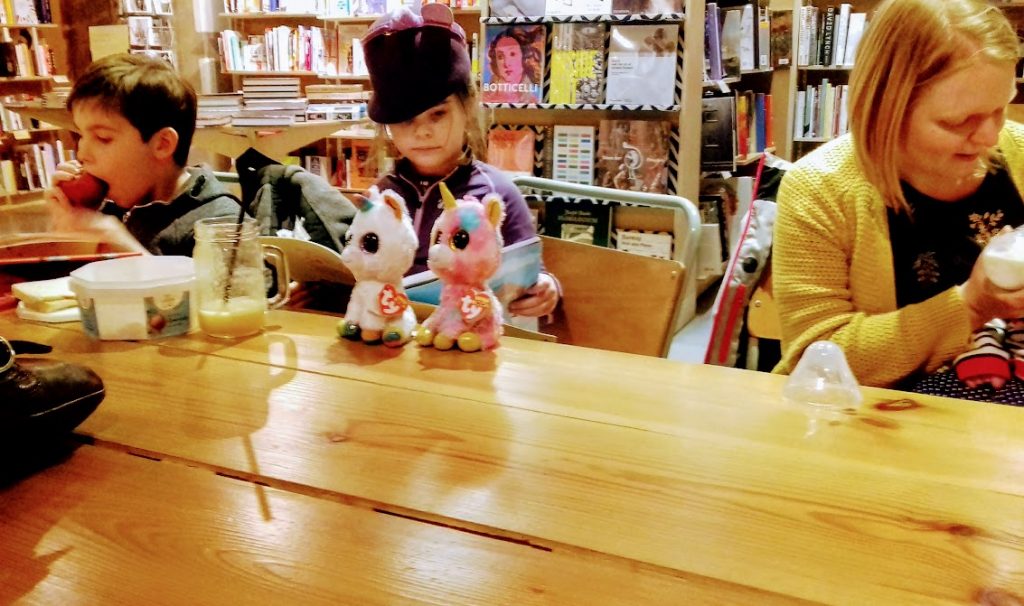 The coffee was good. The bacon croissant was good. I might have dropped some bits of croissant and bacon grease on BabyWylie's head but Ellie isn't that precious. The kids had smoothies and their own sandwiches and then went upstairs to the shopfloor to spend the book tokens Ellie had given them for Christmas. A pleasant hour or two passed, with my kids absorbed in books, a bottle of lemonade to *take the edge off* and lots of cuddles with BabyWylie.
But eventually we had to leave, and pop into Soho for the launch of a book written by a friend of ours from church. If this sounds a bit too highbrow, it probably was…the children had used up their good behaviour already and the launch was so packed out that we dropped the Wylies off and ran for it before we caused any breakages. Next stop was Forbidden Planet and thank goodness there's nothing expensive and breakable in there, hey?
So we moved on again, to the main aim of the day which was the Museum of Childhood. Here, they keep anything expensive and breakable behind glass:
But it wasn't really the vintage toys that we were there to see…it was the temporary exhibition on pirates. Eva had already visited with the Bunny Family but had enjoyed it so much that she wanted to go straight back and, as she kept reminding me, it's only on till 22nd April.
They ran straight up to the first floor when we got there and started looking for clues to where the treasure was. We weren't really stopping to look at much so just raced through the three rooms until they had all the answers.
Then it was time for some dressing up and playing on the pirate ship. And obviously making Eva walk the plank:
Before going back through at a more sedate pace so Roo could stop and listen to the "choose your own adventure" sections. The one in the first room wasn't working but the others were quite long so he didn't mind missing one.
I was seriously flagging by this point. We'd had a quick stop at Sainsburys at Holborn after our Forbidden Planet trip and there I'd stocked up on some mood-boosters – watermelon juice for hydration and vitamin C, Squashies for a sugar boost and salt and vinegar peanuts because it's what Ford Prefect would do in the situation.
All of that had got me from Holborn to the museum without collapsing but there wasn't much magic left. It was hot and noisy in the pirate room and I'd lost Eva one too many times, so we retired to the more peaceful surrounds of the duplo table, where Roo built robots and Eva played on the fire engine, tried on the vintage shoes and looked at the mannequins. At one point, a security guard approached her and asked if she was lost but it turned out he was looking for a different girl in a unicorn headband. What are the chances?
Then, of course, we needed to stop in the disco room:
And at the rocking horses: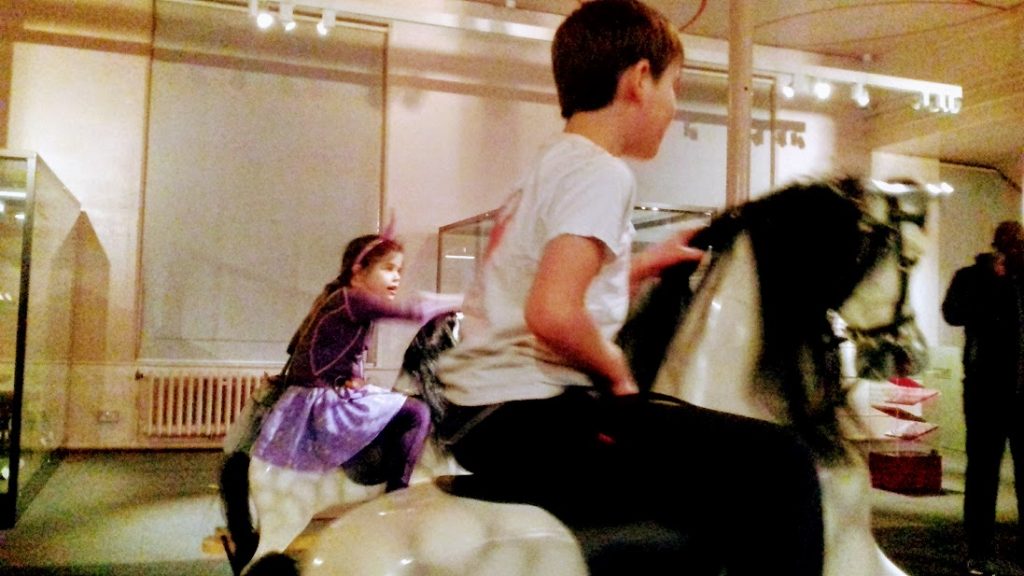 But mainly it was time to try and remember the way to Bethnal Green overground station and, from there, return to HP. We'd stayed out for an impressive eight hours and the kids' rooms were what Eva would later describe as "naked".
And then I slept. You can't blame me for that, right?