This might only be news  to those of you who have been living under a rock – or living outside the boundaries of LBWF – but London's first ever Borough of Culture has launched this weekend and yes, it's us! Waltham Forest! Home of Harry Kane and Damon Albarn and Iron Maiden and really, what other cultural touchpoints do you need?
The opening event was based in two different locations – Lloyd Park and Waltham Forest Town Hall – with street entertainers along Forest Road to link the two sites together. It meant that no buses were going down Forest Road, so we ended up walking from Walthamstow Central and down Hoe Street but Eva liked looking at the sparkly dresses and cake shops along the way so it wasn't a bad walk. We got there at 5:30 and the gates were due to open at six but the queue wasn't horrendous. We could at least see the lightshow from the outside. It looked a bit like this:
And it got moving around 5:50 so even with bag checks and scanners, we were still stepping through the gates at six exactly. I know other people weren't quite so lucky – the queue towards the Bell didn't seem to move as fast and friends of ours got stuck in that one for probably about an hour. We just got lucky.
First stop when we got in was the Fire Garden. It was, for very obvious reasons, a look-but-don't-touch exhibit but the kids thought it was amazing and looked at it for ages.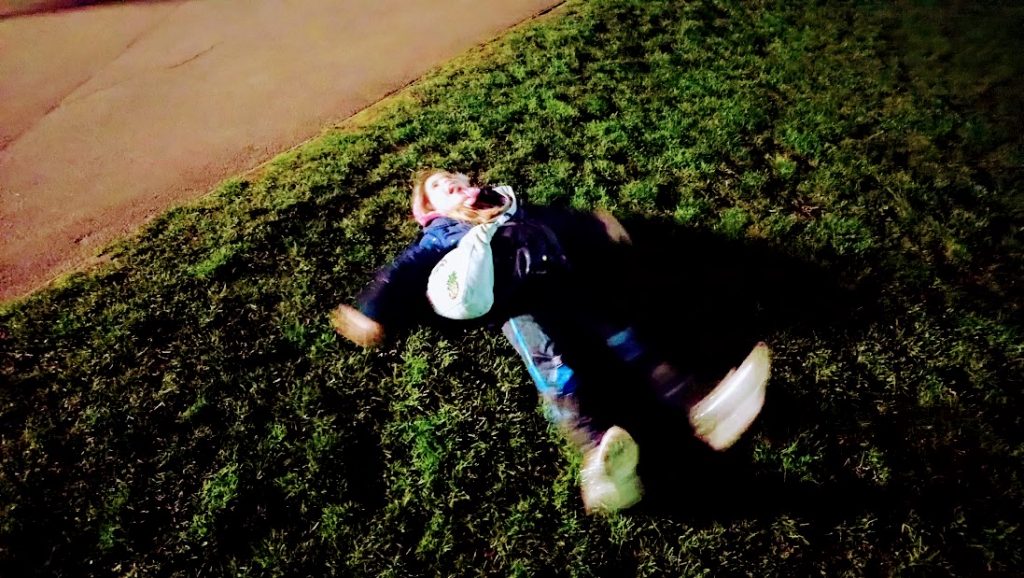 Then we walked past the William Morris gallery and they wanted to lie on the lawns, looking up at the lights and making "grass angels". They did that for ages too.
And then finally, we got into the Nest itself and again lay down on the floor, watching the projections.
It's hard to explain the light show but it was pretty mesmerising – set to an original soundtrack by local artists, the lights moved in sequence, forming curves out of straight lines and vortexes that looked like you were just about to be beamed up by aliens. Basically, it was a giant version of my favourite doodle from secondary school maths lessons. I should revive that one for dull meetings.
As soon as we'd left the Nest and used the loos, we got word that some friends of ours had actually made it in and were in the Nest. So Eva and I circled back round to find them while Roo and Nathan went to the lantern making workshop. This time, we only caught the tail end of the light show but it was still pretty cool and Eva was overjoyed to find her friend.
Leaving the Nest for the second time, we took the now-tired kids to the craft tent to make lanterns and it might have been a mistake, given how thin their patience was by then and how even thinner Roo's patience was as he watched Eva do the same craft he'd just finished himself. But they all emerged with lanterns to carry, which made the kids easier to locate in the dark. And Reuben and Nathan filled in some of the time taking sinister photos: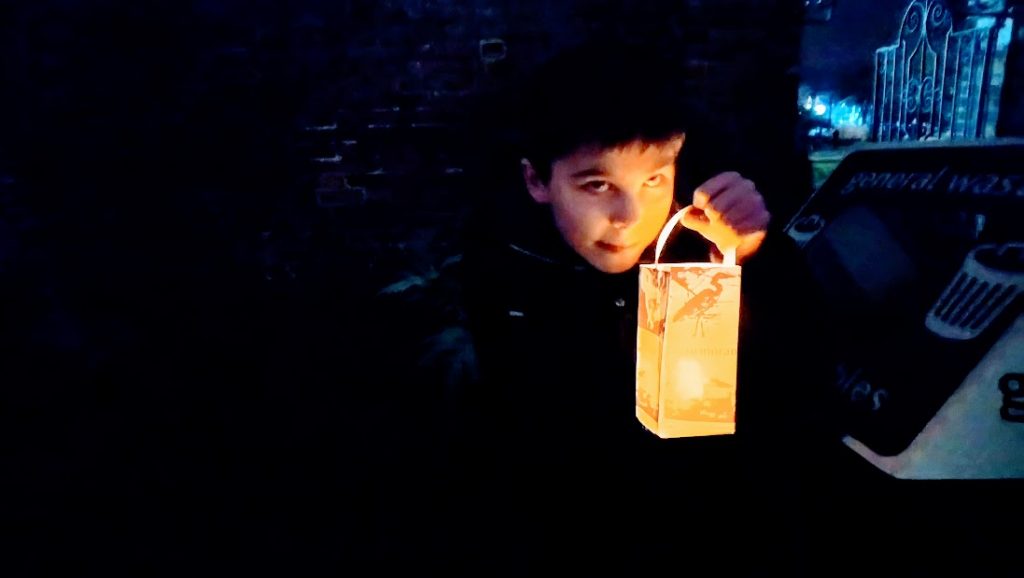 It was time to head home. Luckily our route home was planned to take in the installation at the Town Hall as well as anything going on on Forest Road so we didn't miss out.
In fact, as soon as we left Lloyd Park we were apprehended by this terrifying steampunk-horse
And then further up, near the Disco Shed, we saw ballet dancers on stilts and this pair of fauns:
I'm not entirely sure what these were but, as with the fauns, it was only Eva that was prepared to get close enough to pose with them:

And then there was the Town Hall itself, which had a film about the borough projected on to the front of the building and exploding fire pits on the front lawn:
Happily, we managed to find another friend at this point, and re-find the friends we'd lost around the horse thing. But Roo was seriously flagging so we left them all and started off home. Google Maps was extremely pessimistic about the chances of getting a bus from around Wood Street Library, so we stopped at a shop to stock up on snacks and braced ourselves for a longish walk.
But then a 212 appeared and we jumped on it just in time. It truly was a night of wonders!
Reactions around the borough to the launch have been mixed but I can say that we enjoyed it. It certainly beat the usual Sunday night activities of fighting and sulking. Now I just need to sort out my own contribution to the Borough of Culture programme…more on that later in the year….