This post has been a long time in the making – we first visited the Fleet Air Arm Museum back in October, on a visit to the Hollies. That day we spent a few hours in the cafe and the playground because the sun was shining but we didn't actually go to the museum itself. So most of the playground photos I'm gonna use will be from that day because yesterday, the sun wasn't particularly shining. But at least it wasn't tipping it down like it was when we were breakfasting at a different transport museum just down the road: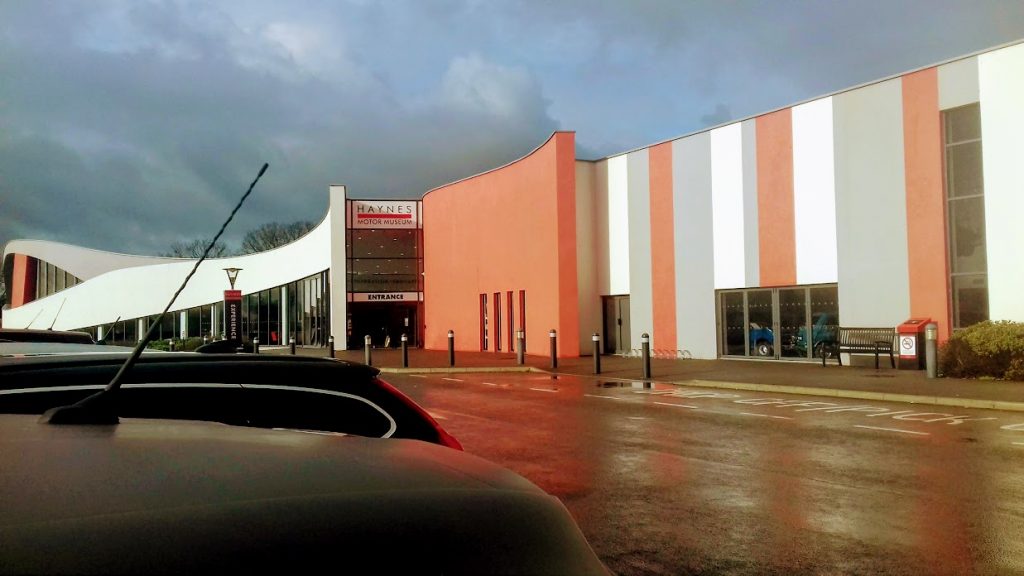 Don't ask why – it was a complicated plan. But they did a good Full English and have a room entirely full of red cars so could be worth a revisit sometime in the future. Yesterday's aim, though, had to be an aeroplane museum. Eva's into aviation at the moment. She yearnt about it at school. For once in her life, she even did the homework project and created a biplane from toilet rolls:
So that's why, in short, we left one Somerset museum for another. It had stopped raining by the time we got to Fleet but the playground looked like it would be wet enough to put the kids into waterproof trousers. Luckily we had those in the car and I definitely felt like the sogginess of the playground justified all the faff of getting them both into them and then swapping them over when it became apparent that Eva had the large ones and Reuben had the small ones. Yup, definitely worth it:
It's a lovely playground though – all air-themed and lots of things to climb:
You can see how much sunnier it was that day it was in October. Yesterday we managed about ten minutes in the waterproofs before moving on to the museum itself.
We stopped for a moment to read the instructions and make sure the kids understood the bit about NOT TOUCHING the planes. I think they understood. There was a bit of aeroplane to touch on the instructions sign itself in case impulsive kids felt the need to touch *something* right the second. Well anticipated:
Eva was anxious to get to the early aviation hall so we went through the Pioneers Gallery at quite a pace, stopping only to look at the pictures of her current heroes – the Wright Brothers – and play with the fuzzy felt board:
But the real prizes were in Hall 1 – not only the biplanes:
but also a full size helicopter you could climb into. This is how excited the kids were to be playing the "waiting to sit in the navigator seats" game:
They soon perked up:
In the same room, there was more interactive fun with dressing up and a liferaft they could climb into: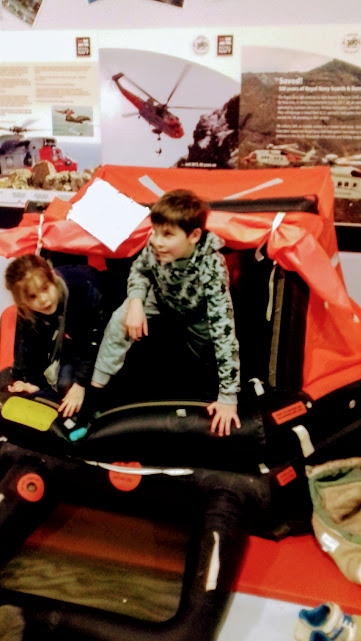 And then in Hall 2 there was an even better plane to sit in – this one let you right into the cockpit:

I asked the kids to only have a quick turn because I could see that someone else was waiting. This was not what I meant by that: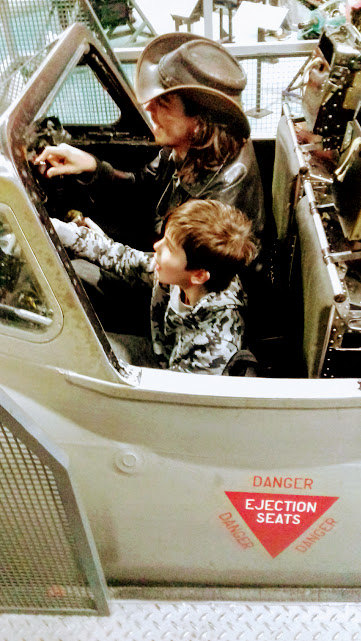 I'm glad he was having fun.
Next up was the mezzanine floor, which had a banner advertising "family activities". Clearly by the photo above, the whole family already *were* taking part in the activities but there was more to be found. Like one of those war-planning tables you see in WW1 films where generals are pushing round soldiers and boats with long wooden sticks. You know the ones. Way cooler than the way they probably do it nowadays, all CGI and stuff.
Oh, and more dressing up too I'm guessing by the look of this photo. I was busy trying to interpret the painstaking Morse Code message Eva had left for me (it was "Mum, I love you" but frankly her Morse coding needs some work). Next door was a recreation of a plane crash in a frozen lake that was weirdly spooky:
We were all starting to flag after sleep-lite night in our Travelodge so we began to plan an escape to the cafe. First though, there was the Flight Deck simulator that looked interesting so after much deliberation, we dived through a green-lit door onto the "helicopter" which "flew" us onto the deck of an aircraft carrier. We experienced a plane landing and one taking off and both were a bit too exciting for some of the smaller people in our party. Roo wasn't one of the smallest but he does have a brand new phobia of dummies since he started watching Doctor Who. Which was unfortunate because the "Island Tour" of the ship was full of dummies:
In each room, we had to wait for the light next to the door to turn green before we were allowed to proceed and at times, he was clinging on to the door just waiting for the light. He may have been being a tad overdramatic. Still, at least there was somewhere he could take shelter when it all got a Bit Too Much:
Talking of a Bit Too Much, it was definitely time to go for a coffee before the long drive back to London. We stopped for a quick photo opportunity:
And then left the main building to cross over to the cafe next to the playground. It was around half one and Eva hadn't taken part in brunch so she needed lunch of some kind and Reuben decided he did too…so it was chicken nuggets and chips for the kids, caffeine for the grown ups. In Nathan's case, the delicious and never-before-sampled "Glove in Cappucino" thanks to Eva making a oversized gesture with her glove. Spoiler alert: it wasn't good for the glove or the coffee. Spoiler alert 2: Eva didn't really eat this meal either because it had beans all over it. Sigh.
But still, we'd had a good day and the kids had been exercised enough to rest in the car for a few hours. Defintiely worthy of the revisit especially if you have a child that's inexplicably into aviation.
More information here