Hooray! It's time to pull a very special party popper. If I can summon the energy…oh wait…no, that's too much. I'm so tired. So, so tired. You'll see why.
We decided to celebrate by visiting every road on the Monopoly board. It was an idea that occurred to me while walking down Whitechapel Road a few weeks back. And simultaneously, it occurred to me that some of the squares are quite far out and so it wouldn't be feasible to do it in one day. I know pub crawlers manage it but a) they can move at adult walking pace b) they can go on late into the night and c) they can be easily persuaded to leave somewhere and move on to the next place. Actually, given this is drunken people in pubs we're talking about, maybe scrap point c).
So my idea was to do it in a relaxed fashion, over a bank holiday weekend. Saturday for the Central London ones (dark blues, greens, yellows, oranges, reds, pinks), Sunday for the outliers (light blues, browns, stations) and then Monday for anything we failed to do on the other two days. Bear in mind we needed to fit church in on Sunday morning as well. To add an LWAT twist to proceedings, every set would have some kind of theme – places to visit, or a challenge to fulfil. As you can guess, some of these took enormous liberties and stretched the concept way beyond breaking point. And besides, we improvised a lot on the day. Let's get on to what happened when we actually did this. It'll be long but hopefully it'll inspire you to do similar. Or never leave the house again. One of those. I'll try to do a clean version of the route in a separate post for people who don't fancy ploughing through several thousand words of Wot I Did and especially don't want to hear about That Scene in Caffe Nero.
We started at Green Park tube. I had an order planned but it was in practicality order rather than any board order, although some of the sets did occur naturally together. Green Park was chosen because it was easy for us to get to as it's on the Victoria Line and also because it opens straight onto a scoring street -Piccadilly, a Yellow. For those of you like Roo who are aggrieved that the set colours don't match similar sounding tube lines ("But Piccadilly has to be dark blue!") well…get over it. He soon did.
The theme for the yellow set was "tourist attractions", as you'd expect for such a lively set. I wasn't super keen to spend any money, except on food and drink, so was on the look out for tourist stuff we could do for free. And there was the perfect place on Piccadilly – the Hard Rock Cafe shop. Roo and Nathan both like a bit of hard rock and Eva and I enjoy a bit of twee indie rock so…something for everyone really. Plus there's an added extra – you can get a free tour of their basement museum, called The Vault.
They have Black Sabbath's drum kit, which Reuben was excited about, and David Bowie's guitar, John Lennon's jacket, Jimi Hendrix's guitar… it's well worth a visit. It's not a huge area, so we locked up the scooters outside (free parking?) in case we accidentally damaged a priceless rock artefact. Or that guitar from Maroon 5.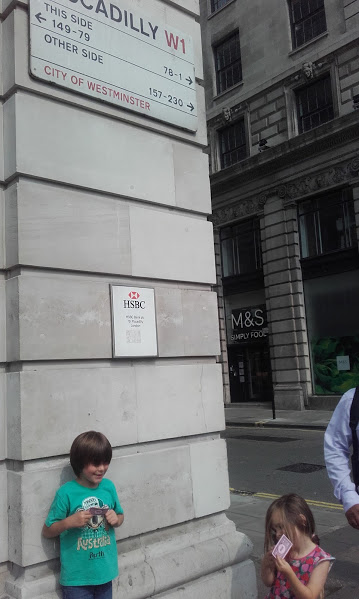 So, one street down –  many to go. Our theme for the dark blues is already showing the cracks in my plan – there's not a heap of child-friendliness in Mayfair or Park Lane (I felt like a visit to Hyde Park would throw us way off-course before we'd even started). That's why I chose the BFG Dream Jars as our dark blue mission – I knew there was one at Admiralty Arch and another on Bond Street. This is not going to work if you try this trail next week as they're only running till 31st August. Still , it worked for us today. Here's the one on Park Lane:
And here are the kids by the Park Lane sign:
You'll notice in all these photos that they're holding Monopoly £500 notes. Are you getting the subtle theme yet?
Now, I'd started out later than planned so we were approaching lunchtime and hadn't covered much ground at all. The kids were whiney, I was hungry so what to do? Stop for cake of course! I didn't have anything really in mind for Bond Street so thought maybe we'd have a coffee there. But then we walked past Caffe Nero, just off Half Moon Street and I caved in. Yes, we'd only marked off two stops (though we were in Mayfair so technically that was number three) but I needed sugar and caffeine and the children needed…just sugar.
Then there was a scene. Eva has many annoying habits but her latest is this – you go to a cafe, ask her what she wants. She ums and errs and eventually chooses something. You sit down, start enjoying your own sugary caffeine and then her face crumbles. What is wrong, you wonder. She fails to produce anything but a whiney noise for what seems like hours. Your coffee grows cold. Eventually out it comes – "I changed my mind." She wanted what Reuben has or what I had or really just anything other than what I'd just queued up and paid for.
She tried this shizz today. You can imagine how it went. Luckily, she hadn't so much as breathed on the blueberry muffin she'd chosen, so the lovely and patient staff were happy to change it for a chocolate one. I'm not nearly so lovely and patient. Importantly though, we were sugared up and ready to continue our mission. In fact, there may have been something stronger than caffeine in the coffee as both Nathan and I swear we saw a man walk by with a giant blue parrot on each shoulder. The kids saw nothing. Mayfair is one crazy place. And here's the official photo from that stop:
We found the Dream Jar right opposite the spot where Old Bond Street meets New Bond Street. Perfect, as there is no telling which of the two "Bond Street" is meant to be. I say we found it – we more remembered where it was from the time we went to the Project MC2 launch two weeks ago. I was hoping Reuben wouldn't notice this and would enjoy hunting for it..but alas, I was rumbled. It took a bit of "Ah yeah…I think you're right Roo" to convince him that I didn't also know where it was.
But Mayfair Dream Jar was secured and it didn't matter too much that we had nothing for Bond Street. The green set's theme is "shops" but the only remotely suitable-looking shop on  Google Maps was Ralph Lauren Kids. And it was the same IRL – Ralph Lauren had some giant pencils and books in its window but it did stand out in a sea of extremely delicate, valuable, sparkly things. Not to fear though – I have a child-friendly recommendation for you if you choose to do this trip not on a weekend. It's from the Project MC2 launch again and it's the exhibition space at the Royal Institution. It has giant lighting up squares to push! And a reasonably priced cafe! It's closed on a Saturday but here's a photo from when we were there:
 It kinda fits the "holding up banknotes" theme of the day. Have I over-used the word "theme" yet? Is it becoming a theme in itself? Next in the green set was Oxford Street and that was a long scoot away, all the way up New Bond Street. On the way though, we stopped for a chat with these two fellows:
It really looks like Winston and Eva are getting on well, doesn't it?
I definitely had a shop stop in mind for Oxford Street. Where would Eva realllly yuv? Somewhere with an entire floor of Disney Princess tat? Why yes, we can find one of those. And yook, it comes with a Cinderella pumpkin carriage!
Roo was upstairs with Nathan and Iron Man:
And eventually we found an Oxford Street sign for them to pose with:
I find princesses en masse make me hungry, so it was lucky that I'd pencilled in the next stop as lunch. Well, the very next stop was Regent Street, where we found a bonus Dream Jar:
And had a photo of such tired children that I swear passers by thought this was some bizarre form of begging:
I wasn't mentally ready for our Regent Street shop stop though, so we went for lunch just off (Great) Marlborough Street. As everyone knows, the oranges are pretty lame-ass in real life even though they're dynamite in the game. So I'd marked them as rest stops of a sort though I hadn't quite decided where we'd have lunch.
Hipster McDonalds turned out to be the answer. Also known as Five Guys. We were in there for a full hour and it was excellent hipster fast food. You queue up to order, go to fill your drink and then collect your order from another counter. It all moved pretty swiftly, was inexpensive and you can choose any toppings for your burger for free! They also have an astounding selection of soft drinks from the machine, including a strawberry Fanta Still that the kids conceded to drink (they don't do fizzy drinks) and unlimited refills. The burgers and fries were delicious, they had crayons for the kids and they didn't try to chuck us out when Eva took a full hour to eat half a cup of chips. I would definitely recommend it.
But I feel like I've talked enough for this post. Leave us covered in salt and grease and yumminess and rejoin us in Part 2 where we'll visit some more disappointing oranges, find a toilet on a non-existent floor and do some spontaneous water play…