You may remember that last year, we went along to the launch of a new series, designed to get young girls interested in science. Four sassy friends – McKayla, Adrienne, Bryden and Camryn – use science, math(s) and tech to solve mysteries and complete spy missions. And now there's a second series!
It was not an easy screening to get into though. We had to track down McKayla in an expensive-looking Mayfair street and she gave us the password to get in. So far, so good. But there was more – an hour-long spy mission that took us all over the Royal Institution in search of rogue agents.
I believe these guys were from the party people Sharky and George but as far as Roo and Eva were concerned, they were real spies, who had all the gadgets a spy would need – a briefcase full of mysterious objects, a tracker, a UV torch, walkies-talkies…the lot. The kids had to crack clues -some to do with the exhibitions, some not – and track down the spy, who they eventually cornered and tickled into redemption.
We kinda whipped round the actual exhibitions and I'd like to go back some time. I had a plan but it's not going to work because the museum (and cafe!) are Mon-Fri only. I'll talk more about that in a few weeks. But here's the rather lovely staircase chandelier, which reminded me of the one at the Wellcome Trust:
And a fun elements game, where you had to hit the panels as they lit up, in time to Tom Lehrer's "Element Song":
But there was no time to linger. Once the spy was caught, we had science experiments to be getting on with, including some dry ice fun:
And growing our own crystals in tube, using liquid glass, copper powder and something that might be magnesium. You don't come here for scientific accuracy, right?? All I know is that it started off with some clear stuff, then added some white stuff then some blue stuff. Sciencey!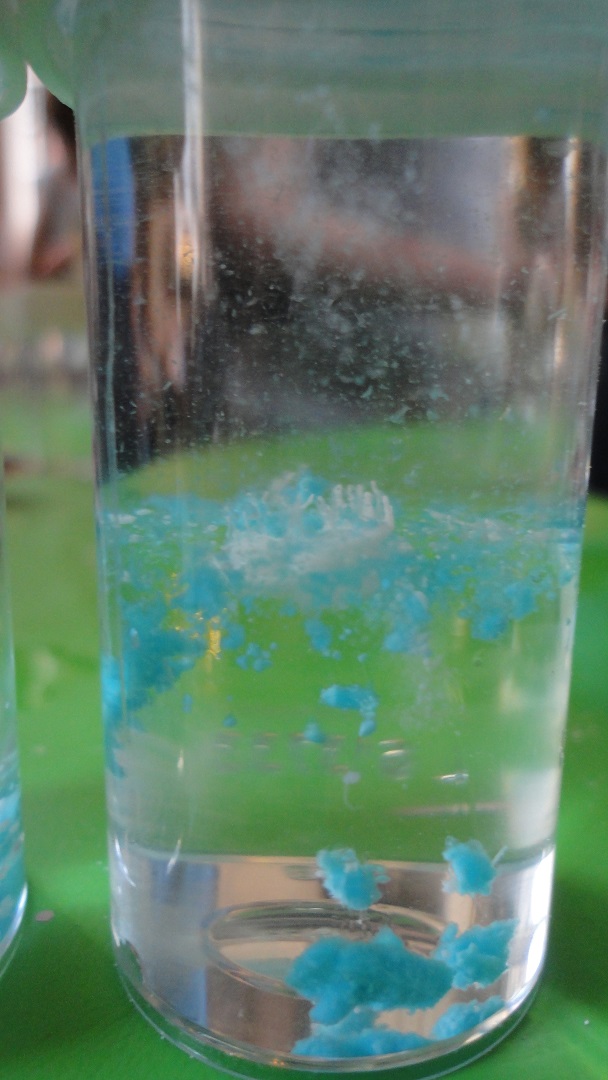 There was much fun to be had, and we were so busy playing with this digital mirror-photobooth that we almost missed the screening itself.
But phew, we screeched in just as they were closing the doors and heard one of the Mad Science women talking about the need for more girls to be taking STEM subjects at school and she got interested in science herself. There was more dry ice and then…the first episode of season two!
Now, I haven't seen the whole of season one, as my kids are still a bit young to be target audience but I picked up the gist – the girls have completed a successful mission as spies, but have busted their secret identities wide open as a result. Temporarily deactivated, they feel the urge to investigate when a former master criminal moves into town…will they go undercover and off the record to find out what she's up to and save the day? Of course they will, but first another villain has unleashed their dastardly plot and suddenly the millenials find themselves without their beloved tech…
The episode ended on a cliffhanger and I might just have to get onto Netflix and watch the rest of the season, with or without the kids. I think they did both enjoy it though – Reuben liked the way they solved problems using science, and Eva liked the clothes. Yeah, we have a long way to go before we reach equalityville in this family.
She was very pleased with her new doll though – an Adrienne to go with the Camryn she got last year. I keep telling her that Adrienne is not just pretty and fashionable…she's also a culinary scientist! I'm not sure how well the message is going but she did get an opportunity to at least use her numeracy skills on the way out. "This floor has diamonds made of diamonds!" she squeaked excitedly in the toilet while we waited for Roo, and then she went on to successfully count the 36 "diamonds" that made up the big one. Maybe there's hope for her yet…
Project MC2 is available on Netflix now. More information here.