There are many reasons to return to South London – some good, some bad, some sad. This was a mixture of good and sad, as our friend Maria is moving away and it was the last time we were going to see her and her adorable children for a little while. If you've been reading the blog for a while, you probably don't need any introduction to Maria – she was a great companion when I was on mat leave and instrumental in the rating of toddler-friendly cafes. She is superbly skilled in the eating of cake, as well as in the forging of precious metals.
I'm not entirely sure why I chose Southwark Park as a meeting place except that it's not far from a tube and not too far from her 'hood. The area is somewhere I spent an intense six months, a decade ago, when I was managing the Surrey Quays branch of Ravel. Stepping through the doors of the shopping centre felt like a step back in time. But it was retro even in the mid 2000s so I think we can blame it on the 90s flooring.
But I'm getting ahead of myself. First off – a walk through Whitechapel.
A very long walk, as it turns out. Google Maps had breezily suggested an interchange between Bethnal Green overground and Whitechapel as it was a mere skip and jump away. Not so much, especially now that Crossrail is blocking off large sections of the station – we walked round what felt like 3 sides of a square and then had to walk a fair way through the station itself. We didn't even catch a glimpse of our friendly neighbourhood Crossrail contractor. We did, however, spot a building that had been part of a "Where am I?" quiz last week. This is for you Ali – a little greyer than the picture you took!:
We did eventually find the train we needed and it was pretty quick to get us to Canada Water. I imagine it'd be a quicker interchange if you didn't have a 4-year-old shuffling along the wall because she needed to touch every railing. Just a thought.
So, as discussed above, Surrey Quays hasn't changed much in the ten years since I worked there. We went to the loos but didn't linger – it was bringing back some stressful memories. I will, however, share this photo of Eva and her Happy Meal toy, Princess PuffaPuff* because..well, she wants me to:
*Not her actual name
You can tell by this photo that it wasn't the sunniest of days and I think the was the point where it tipped over into actual rain. Still, we were not deterred as we set off to find Gomm Road and the gates to Southwark Park. If you want to do the same, it's the road that goes down the side of Seven Islands Leisure Centre. And look, here are the gates:
We were meeting the Marias at the cafe, which I believed was near the gates. And yes, it was very easy to find:
Look, that's the gate right next to it! It's also very handily located for the play area, which was lucky as we had a few minutes to kill. The kids took a fancy to this seesaw thing – it didn't occur to me at the time that the orange barriers lying around it were an indicator that it should be avoided:
Later on, they seemed to be around it in a slightly more barrieresque manner. Oh well.
The cafe was small, with no indoor seating, but it had a gazebo outside which covered a large table so there was a wet weather option. Luckily. by this time the sun was out…well, pretty much anyway. The portions were huge – my £5 sausage and mash would have been enough to feed me and Eva is I hadn't naively assumed that she required her own. She did not do it justice. Maria's Thomas did a much better job on his, but it defeated even the boy who said he could eat an entire cafe's worth of food.
I gave up on the idea of Eva eating anything and we moved back to the play area, where the 4-7-year-olds had huge amounts of fun on the giant slide. And Eva ascended this crow's nest almost all by herself:
Now, I'd had some mental confusion before we set out on the issue of water play. The last time I'd been to Southwark Park, Roo was a year old and he had got involved in some kind of fountain – I remember that because I put his wet clothes in a bag and then promptly dropped it somewhere in the vicinity of Lambeth Bridge. If you do see a 6-year-old pair of soggy dungarees, please return them to me…not that he'd fit into them any more.
So, I had a feeling there was some kind of water play at Southwark Park but all my googling efforts came to nothing – the only relevant picture that came up was this one: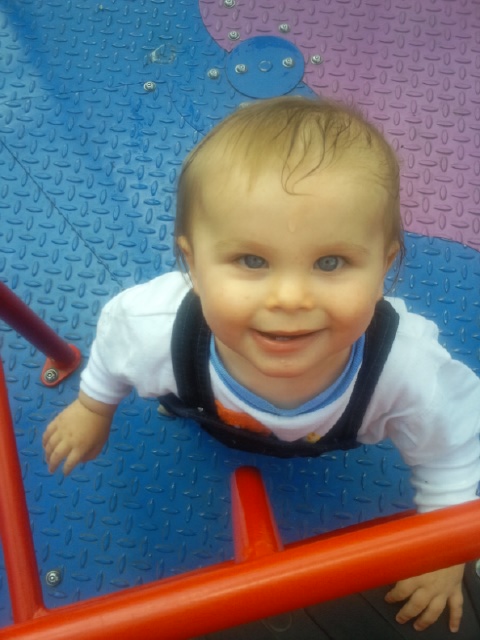 Yup, those are the soggy dungas I mentioned earlier.
So, on the basis that my blog was the only online evidence of any water-based fun at Southwark, I decided it probably wasn't there any more. Which meant I didn't bother to warn Maria that it might be a possibility. Which she didn't thank me for when a number of fountains did start spurting out water, especially as I'd believed myself enough to pack swimmers for my kids. I got to recreate the photo above though!
For the record, there IS a small splash park there. It's only three water sprays or so, but if you know children you'll know that's more than enough to get wet. There was also a large and stinky mud puddle right next to the splash zone, so the kids kept running through it. Lucky the water was on, really!
Once the kids were dried off and changed, the Marias headed off (there's 4 hours free parking..but they go quickly). We needed to go too, but first we wanted to have a stroll around the lake and the rose garden, just because it was pretty. We got distracted for a while by a squirrel eating a sandwich:
It was very pretty and tranquil in the Ada Salter Garden. We sat for a few minutes as Eva ate a sandwich, watching the swans and a family of ducklings. We could have stayed longer but rush hour was approaching and we had to get a move on.
Now, this is a proud moment. I wasn't keen to go back the same way as we'd come – I didn't fancy dragging the kids from Whitechapel to Bethnal Green again. But Roo had noticed that Canada Water was on the Jubilee Line, so he suggested we go to Green Park and change onto the Vic Line from there. He planned an actually logical route without even looking at the map. I'm so proud I could burst.
(And this is all my genes – I don't think Nathan has ever achieved this same thing, even after 16 years of living in London)
So, that's what we did and it worked just fine. We were back at Pantry &Co in Highams Park by 5PM, where it was definitely time for a little treat. Or two little treats for me:
I didn't realise the ice lolly would be quite as alcoholic as it was – hence chasing it with a glass of wine. I think I thought alcohol evapourated when it froze, but I realise now I got that confused with boiling alcohol. Ah well. It was a good ice lolly and definitely earned after 7 hours out with the kids. I'm sure Maria will agree I deserved it…. farewell for now! Hope it was a good, if soggy, send off…