As any Monopoly player will tell you, fate is a fickle mistress. One minute you're building houses on Oxford Street, next you're having to mortgage them all to pay your brother-in-law his Mayfair rent. And will he let you go out gracefully? Nooooo…"You can stay in" he says, as he merrily strips you of both cash and assets, even though all you want to do by this point is go and have a large Baileys.
Such is the luck of the real-life Monopoly player too. Last night I wrote Part One of this post, confident that we'd complete it today, racking up the light blues, stations and browns after church. But as I saved draft, there was a  curious noise from upstairs and Roo gave us a good reason to postpone for 24 hours. Will we do it on Bank Holiday Monday? Who knows? Maybe if we roll a double.
But I can still tell you about the rest of yesterday's epic day out, where we bagged the dark blues, greens, yellows, pinks, reds and oranges. At the end of Part One,we were lunching in Marlborough Street, having visited Piccadilly, Park Lane, Mayfair, Bond Street and Oxford Street. We'd visited Regent Street briefly but hadn't yet made our shop stop..and this was a big one. Hamleys!
Now, I mentioned before that I was determined not to spend too much money on this trip and so far the children were subscribing to it. We had got in and out of the Disney Store with wallets intact as the kids were happy just to look at all the exciting things and have some photos with the life-size Elsas and Iron Men. I was confident that we could repeat this in Hamleys, especially as we were sticking to the ground floor and there was always a lot going on there.
And so it was today – a boomerang demonstration at the front, a tub of "magic snow"(no, nothing illegal) round the side and a magic show at the back. All free entertainment for my two little Monopoly-crawlers. Eva also wanted to shake hands with every teddy on the wall of teddies: And she reayyyyeyyy yiked the Too Many Ponies section: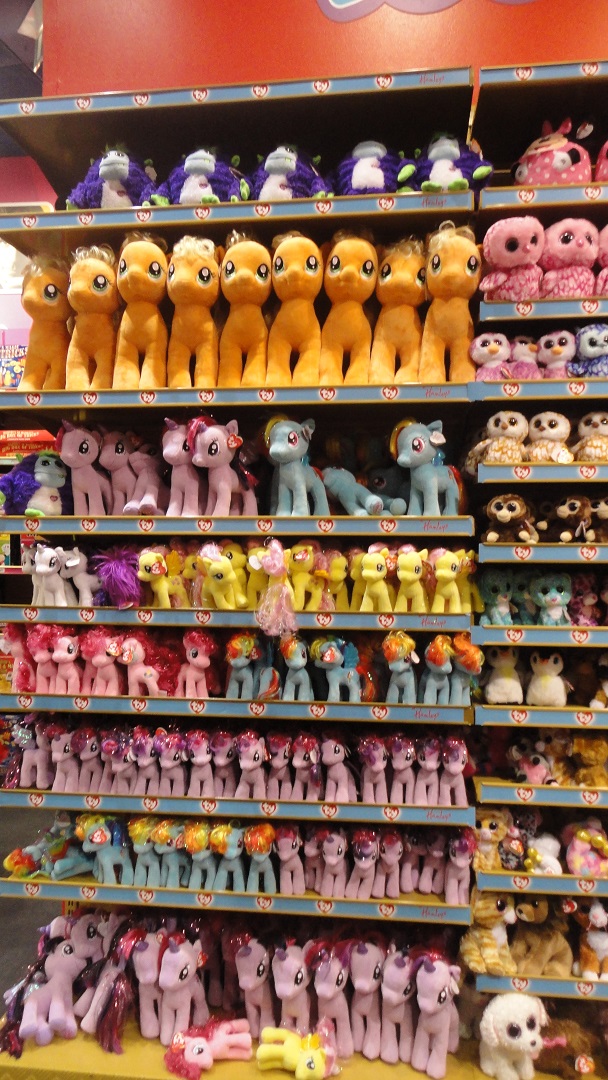 If we'd gone upstairs we may never have left, so it's probably good that we stayed on the ground floor. We were in and out in 20 minutes with no money spent. Goodness knows how, as the next stop was less than alluring.
 Vine Street. The dullest of all the dull oranges. I thought there must be something there to make it board-worthy but no. It's just the back door of the Grand Meridien and nothing else. Tim Moore, of the excellent "Do Not Pass Go", reckons it was the police station that warranted its inclusion – it matches with the Bow Street Runners and the Marlborough St Magistrates' Court to make a legal-themed set. But the police station is no more and there is nothing in its place. I'd planned to have pudding in Vine Street – buying an ice cream en route for a bit of BYO Vine Street fun. We were all still mega-full from lunch though and the back-alley smell wasn't particularly enticing. Plus Reuben needed the toilet, so we took a swift photo and headed to Waterstones Piccadilly to use the facilities.
Waterstones is a good place to remember if you get caught short in Central London and don't want to have to pay. The toilets are located rather charmingly on the 5 1/2th floor and, if that makes you think of Harry Potter, you're not alone. They have a replica of Harry's understairs cupboard near the back door, complete with portrait of Dudley Dursley on the outside. We didn't go to the children's department but I imagine that's a fun place to hang out too.
 It was fitting that we were back on a yellow street, as our next two destinations were yellows. Which means more tourist attractions! I had Ripley's in mind for Coventry Street (I think you can hang out in the lobby for free) but my Piccadilly-Circus-avoidance brought us out by the horses statue so we'd gone right past it. Time for an emergency tourist attraction and Bubba Gump provided just that – obviously the kids haven't seen "Forrest Gump" yet but I got a photo of them on Forrest's bus stop bench, next to a box of "Life is like a box of chocolates"  chocolates. Eva is clearly trying to get into the chocolates here:
We got waylaid much longer than planned at our next stop, Leicester Square, and I finally had to spend some money on something non-edible. Our planned stop was the M&M Store, which we ducked into, to pose on their M&M bus:
My children had been dazzled by the bright lights of Hamleys and the Disney Store, so the M&M Store didn't hold the thrill it once did. There was a Nickolodeon Store next door which I think they may have liked, but I've avoided PawPatrolMania so far and I don't think that place would have helped. There's a Lego Store coming soon too, so next time we visit I imagine Roo would want to pop in there. But what was the real thrill of Leicester Square?
OMGoodness. There is water play there now. And a man blowing giant bubbles. This was a slippery combination indeed and, as you can guess, we were not prepared for any of this. The fountains started off really small, so the kids just took their shoes off and paddled. Then the fountains got less small, and Eva collided with a toddler boy and went right into a puddle. Drastic action was needed. Luckily, we were in Leicester Square so there were outlets available:
London Baby, yeah. I was disappointed that I couldn't find any Monopoly-themed t-shirts but these were on-theme enough for now. Once they were dry though, we needed to move hastily on and avoid the wet stuff. Easier said than done:
What's that though? Another Dream Jar? Go fetch, kids!
This one made Reuben really hungry apparently. Most things make Reuben hungry.
We were now handily positioned to cut through to Trafalgar Square, our next stop. And on the way we found another Orange Street:
Does that count? It should count.
It was getting late, but I felt like we were on the gateway of the pink/red power bloc. A few swift moves could knock down five of them. I thought we'd have to go a bit out of the way for Pall Mall but I didn't realise it came right up to the edge of Trafalgar Square.
Another one in the bag. Boom! I hadn't come up with much for the pinks and the reds as there's not a lot of child-friendly places on Northumberland Avenue. So here's my slightly lame "challenge" – for the pinks, find the flags of as many different countries as possible. For the reds, spot a statue of an animal. Come on kids, it's fun!
To be honest we were so near the end of the day by now that we were motivated purely by collecting streets. The flags challenge would have worked well on a more leisurely day, when we could stroll past all the embassies and take photos of every flag we could. As it was, we found one on each pink. Starting with the Canadian flag on Pall Mall: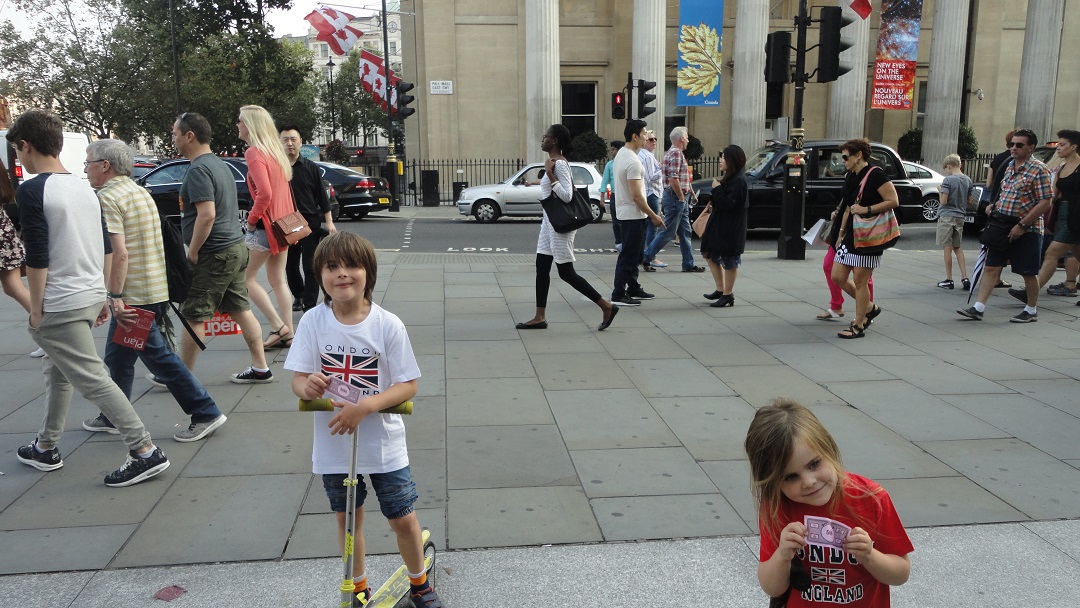 The animal statue in Trafalgar Square is a pretty easy win but Reuben was soon distracted by not one but two floating Yodas. Who needs more than one floating Yoda in a small space? Roo asked both how they did the floating thing but neither answered. I assume it was The Force.
Anyway, here they are in Trafalgar Square. No road sign needed for ID, right?
And here's the classic kids-with-lion shot. Nathan went up there with them and then stayed up to haul another, unrelated to us, little girl up there as well. At her father's request, obviously. That sentence sounds strange without the context.
Crossing the road at the bottom of the square to get some pinks, we noticed something odd about the Green Men lights. One appeared to have a pair of green children instead but I realise now that it was two adults with a heart in the middle. I've googled it and it's all part of this project – replacing the green men with trans and gay symbols for Pride. I'm not sure who gets the credit for it but it was kinda neat.
The opposite corner gave us two pinks and two flags – a British one on Whitehall and a Korean one on Northumberland Avenue. Again, this would have been less lame if we'd actually gone down the roads but we were tired. Here are the photos though –
Whitehall: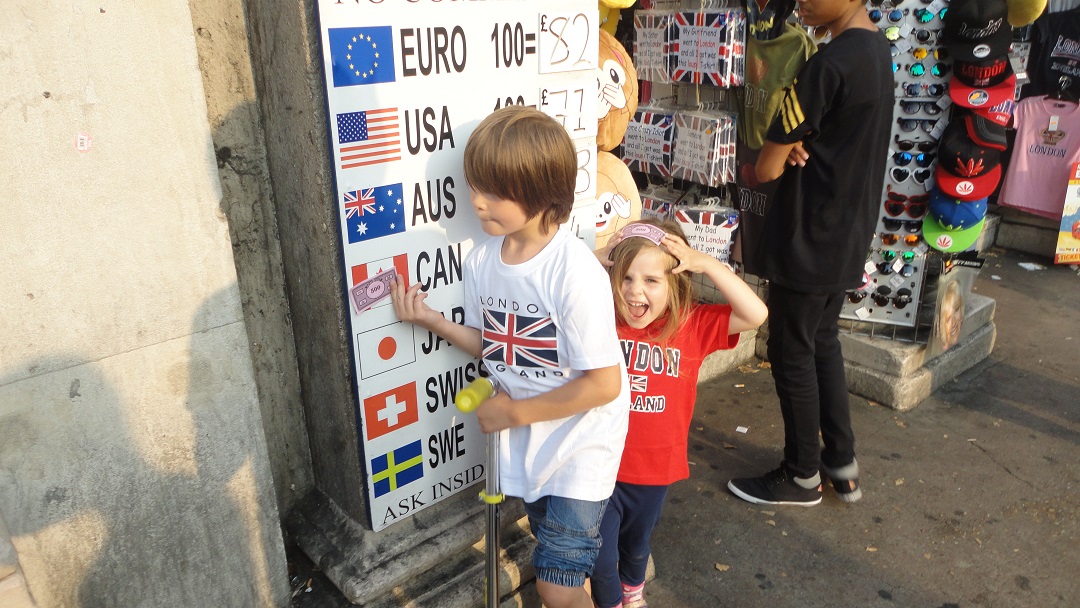 And Northumberland Avenue:
Whitehall also served up a Pret that didn't sell those frozen berry smoothie things, after I'd promised Roo he could have one. So McDonalds on the Strand it was then. Which obviously meant another red down, along with its animal statue (antelope outside the SA Embassy):
Our rest breaks seemed to all be very long. We only had two more stops scheduled for the day but even Nathan was whining and asking for bed at this point. He'd opted for a vanilla thickshake and I think it made him sluggish. Come on, family! Just Bow Street and Fleet Street and then we're done for the day! And they're close, right?
Not as close as you'd think. Bow Street is the opposite end of the Strand and then a substantial way up Wellington Street. It was 7PM and the pavements were thick with theatregoers, which impeded us somewhat. Still, we made it to Bow Street where, once again, we failed to do anything more than take a photo and look at the giant ballerina on the side of the Royal Opera House. Dang oranges. We did bag another bonus Dream Jar though:
Fleet Street was another trek again. The Strand really is longer than anyone thinks, as it carries on the other side of Aldwych and past the Royal Courts of Justice. Turns out there was a full mile's walking/scooting from McDonalds to the end point – it was a bit more effort than any of us were ready for that time of day.
But lo! The entrance to Fleet Street and with it, an animal statue! 17 streets achieved, three quarters of the board done minus the stations and it was definitely time to get the bus to Liverpool Street and from there the train home. And we completely forgot to take a photo of Liverpool Street as a stop, so I guess we're revisiting that tomorrow.
To summarise then, here's the map of our first day:
Piccadilly, Park Lane, Mayfair, Bond Street, Oxford Street, Regent Street, Marlborough Street, Vine Street, Coventry Street, Leicester Square, Pall Mall, Trafalgar Square, Northumberland Avenue, Whitehall, Strand, Bow Street, Fleet Street. Dark Blues, Greens, Yellows, Oranges, Pinks and Reds. 4.53 miles walked/scooted. Can I sleep yet??