Let's start at the very beginning..
Although it may not be a very good place to start if the beginning is 5am in rural Essex. We were already behind schedule thanks to a diversion to Chingford's only 24 hour petrol station and as I was sitting in the forecourt, loading the destination into Google Maps,  I had a bit of a shock. 48 minutes to Stansted? I may have boasted previously of our 28 minute drive to the airport…even on this blog… but this was the first time I'd relied on it because it had allowed us to set a 4am alarm rather than an unthinkably early 3-something alarm.
I looked in a bit more detail. The M11 was closed for emergency roadworks. Yup, that would do the trick. The M11 is somewhat central to the whole half-hour drive thing. I hadn't budgeted time for petrol and now this? It was gonna bit a touch tight. The only thing I wanted to be a touch tight were my jeans because I had gorged on so much strudel. But this was how it was gonna be. And it could be worse – the roads were quiet, we had Longpigs and Madness on the stereo and the back seat was entirely free of younglings. Although it was early, I was more or less cognitive to remember that I'd dropped them off in Winchester some 11 hours previously and we weren't just sneaking out while they slept. It felt a bit like that tho.
We made it to the roundabout outside Stansted around the time we were meant to be at the check in desk. A tad late but well redeemable. Just no room for errr….errr, did we just take the wrong exit and go into the "paid for" drop off section? Oh marzipan. We tried asking some blokes in high vis how to get through to the car park and they said to just keep driving straight through. No mention of the barriers that would charge us £4 for doing that. Given that we were late, trapped and with people on our tail, we just paid. Most expensive 100m of our lives.
But you'll be pleased to know that everything went remarkably smoothly after that. A bit of a queue for check in and security, obviously, but very little hanging around once we were on the other side. Just time to grab a soy latte and a sausage sandwich from Starbucks before boarding the plane to read a book that slagged off people who grabbed soy lattes from Starbucks. I think I was OK with the sausage sandwich though because it wasn't like it was vegan sausage on gluten free bread. Like the drive up, I too was redeemable.

In just 1 hour 30, we were coming in to land over the mountains of Salzburg. I don't mind admitting that I had a weeny tear in my eye as I hummed a little song to myself about going to the hills when my heart was lonely. I had another weeny tear in my eye as we stood under the "EU Citizens" sign at arrivals for possibly the last time. But, as Nathan pointed out, we'd already had two farewell trips to the EU – to France and Portugal– and he was looking forward to seeing where we'd go in January.
Somehow we were the very last to get through passport control and by the time we got to baggage reclaim the belt had stopped and our suitcase was nowhere to be seen.  Time to deploy my first proper interaction auf Deutsch and in what I hoped were not-too-panicked tones. The attendant told us to look in between the two reclaim belts, which was fruitless (fruchtenlos?) as there was nothing at all there. We really were starting to panic and she'd gone off to look for someone else's luggage when we saw her  from a distance hauling our battered red suitcase out through the flaps. Never have I moved faster while also thinking and shouting rapidly in German. Happily, we got it back and walked out through the terminal to catch the trolleybus 0-10 into town.
Getting public transport in a foreign country is always slightly tricky but we figured it out. There was a ticket machine at the bus stop, which was right across the car park from the terminal. You could pay by card and, as long as you're not a student or a senior citizen, there is only one viable option – the 24-hr vollpreis. You can use this for any 24 hour period starting when you validate it on one of the ticket punching machines on the bus itself. We were there for 48 hours so 2 lots of tickets suited us nicely, including the trip back to the airport at the end.
The O-10 runs every ten minutes or so and it's only 15 minutes into the Altstadt (Old Town) from the airport. As we drove through the city, it looked very modern and not quite the Salzburg I knew so well from the Sound of Music. Then we went through a rocky tunnel and emerged into the Altstadt, just as I thought it would be.  The very first thing we saw was the Pferdeschwemmen – the Horse Pond – which is a distinctive Salzburg feature (no 25 on the map) and one I thought I recognised from the film but couldn't exactly place where. A lot of googling later revealed that it was a snippet of the "My Favourite Things" instrumental montage (see top photo below) but also that there was a deleted scene featuring Liesl and Rolf that was shot there. At the time I didn't want to have my head stuck in my phone to research – we'd only been in Salzburg for 30 seconds – so we just took some photos and walked on to see what else there was to see.
Round the next corner was the entrance to the Museum of Modern Art, with the Monschberg lift, which seemed to me to be an easy shortcut for climbing at least one mountain. I really wanted to go in but we had all our luggage with us and check in at the Hotel Elefant was four hours away. So we kept walking.
Although it turned out that walking with a large suitcase on narrow cobbled pavements wasn't the easiest thing. After a few more minutes, we decided to go and throw ourselves at the mercy of the hotel and see if they could take it off our hands.
And they could! My awkward German was obviously compelling enough for them to take pity on us. So now that we were unburdened, we could wander free around the Altstadt and it was not long after that that we found our first confirmed SoM sight – Residenzplatz. It was where Maria has her revelation that she does, in fact, have confidence in herself after leaving the abbey. She walks through the archways still full of doubt but by the time she's at the fountain made of what seems like merhorses, she's perked up a bit. It's a must see and we went back there several times, just to soak up the atmosphere. It's also where they filmed the Anschluss scene, but that wasn't the kind of atmosphere we were soaking up…more the confident epiphany vibes. It's number 10 on the map:
You may have picked up already that there's a running horse-theme to Salzburg. Not a theme of running horses but a running theme that is equestrian in nature. We'd already posed by two horse fountains. Would there be more? Spoiler – yes.
Next to Residenzplatz is the Dom – the Cathedral – which was chiming as we walked past it and I felt the urge to run through the square, splashing water on my face. I didn't but I should have done – it was remarkably hot and sunny for an October afternoon. Especially after weeks or constant rain in London. The Dom was another location that features only briefly in the "My Favourite Things" instrumental montage  but by the time we'd figured that out it was the following night. Hence the picture below (top one is from the film, bottom one is me watching the film on my phone to work out where I should be standing. Number 8 on the map, partly obscured by the musical notes I've added on….)
Oh, and there's also some modern art near the Dom. A giant Goldene Kugel. There was lots of modern art around the town but I'll admit, I wasn't as interested in it as I was in the SoM sites. Call me uncultured if you will:
Our next uncultured steps took us across the Mozartsteg, a bridge across the river, which also featured in that same "My Favourite Things" instrumental montage. I was a little confused at the time as I thought it was where they first put words to "Do Re Mi" but, contrary to what I'd always thought, that wasn't on a bridge at all. Don't worry readers, we found it later. Were you worried?
It was still gloriously sunny at this point, so we decided to flop down on the river bank, eat a large bag of crisps and read for a while. And yes, that same river bank did feature just after the bridge shot but again, I didn't realise it at the time. I just wanted a sit down in the sun with a view:
Nathan was way happier than he looks in this photo, honestly:
Why wouldn't he be happy? It's not like I tricked him into spending his 40th birthday treat doing stuff that I was obsessed about. Noooo….
As soon as Nathan had smug-posted on fbook about how sunny it was, it clouded over. So we got up and decided to walk to Mirabelle Palace, home of the last bit of the Do Re Mi montage. Did we find all the relevant shots? You betcha: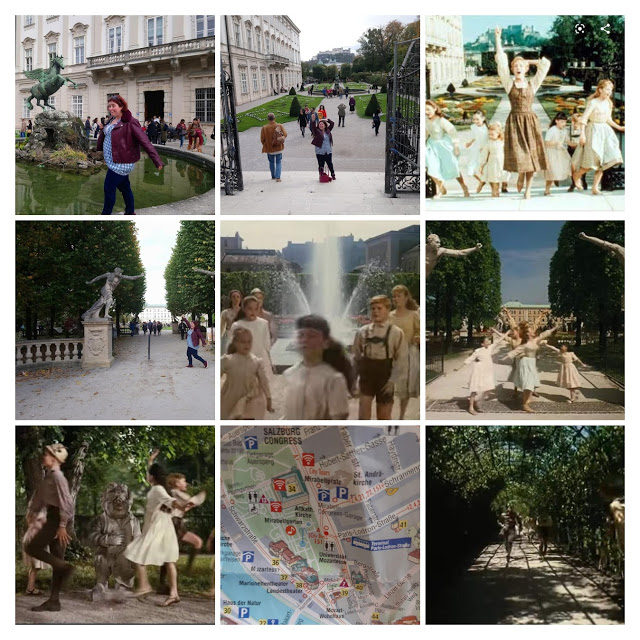 The gates with the outstretched arms are the ones closest to the street, just by the marionette theatre. The fountain that the children walk on the edge of is yet another horse fountain, the hedge tunnel is pretty easy to find and the steps at the end are the ones with all the tourists jumping up and down them. The statue is off to the side – you cross over a little bridge by a playground (ah, shame we didn't have the children) and there's a sculpture park with the specific fellow sitting on his own by the trees – not in the main circle. Just in case he was feeling lonely, we gave him a Von Trapp-style pat on the head and a cuddle:
The weather was feeling not chilly but autumnal by now and we were flagging. We hadn't had lunch, so we went back to Getriedegasse and bought some warmed-up bagels from the Spar, which we ate by the river under the watchful and hungry eye of a local doggie. He remained hungry, poor boy. Then it was 3PM and time to check into our hotel. Good intentions about going up in the cliff list melted away as the 4am start caught up with us and the lure of a nap proved overpowering. Our hotel room was like a cocoon – not much natural daylight and very warm – so we stopped for just a moment and woke up again at 6pm. I think we needed it.
For dinner, I really wanted some traditional Austrian fare so we went to a restaurant by the name of the Goldene Kugel – much like the sculpture outside the Dom – and ordered schnitzel, bier and strudel, which ticked all the boxes of being hearty, filling and very Austrian. It didn't hurt that two of those things were among Maria's favourites as well. We were going to struggle to get any wild geese or indeed snowflakes, but deep fried meat in breadcrumbs and pastry we could do. Nathan had the Apfelstrudel and I had a cheesecake version and I have to say that his was tastier. Which of course didn't stop me from finishing mine as well as having some of his:
After dinner, we went for another walk round the Altstadt to work off some of the stodginess. Residenzplatz was deserted so I could skip about and sing "I Have Confidence" to my heart's content. We hadn't achieved everything we'd set out to do on Day 1, thanks to the massive nap, but we'd had a good try. And tomorrow is another day….whoops, wrong film….