Yesterday was one of those rare Advent Saturdays without any commitments in the diary, other than an early morning appointment to get a smart meter fitted. So I decided we should do something as a family and the thing Reuben really wanted to do was to go swimming – that classic December activity. To be fair, we'd skipped out three weeks' worth of swimming lessons because of various illnesses and school trips so he was owed a bit of swimming time. We also had some Christmas shopping to do, so the logical solution that occurred was one that probably wouldn't have seemed logical to anyone else – go to Stratford, swim at the Aquatic Centre and shop at Westfield. Sorted.
I've meant to try out the Aquatic Centre for ages as we've often walked past the "Pringle Building" but never been inside. It's not massively more expensive than a normal swim – £16 for the four of us – although the kids' Better memberships only get them 30p off. Booking in advance is advisable and the main pool is limited to strong swimmers – you have to be over 8 and be able to swim 100m in a recognised stroke so Roo probably wouldn't quite scrape in. As it happened, it was closed for a competition all day so we booked into the training pool and that suited us just fine.
The complicated bit was actually gettting in. First, we had to drag Eva past all the sparkly shops and a Santa's grotto:
Then we had to negotiate the Stratford Wind Tunnel experience which almost made the kids take flight and almost stopped Nathan taking breath:
Then we had to find a way into the Pringle itself. I'd always assumed the entrance was somewhere around here: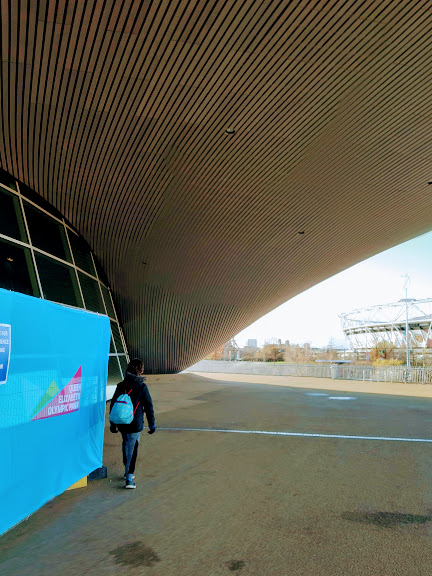 But no, there was just some construction work going on. So we walked around the side:
Still nothing. At this point, I considered going back and checking whether that lift down to the riverside would be helpful but Roo had skipped off ahead down the stairs and there was no calling him back over the noise of the wind. So we carried on round:
Still no entrance, so we climbed back up the other side and found ourselves back where we started. And then we took the lift down a level and from there it was pretty obvious where the entrance was.
Once we were inside, it was slightly less windy – tho the papers on the reception desk were still getting blown about – and fairly straightforward. As instructed, we'd printed off 4 copies of the booking confirmation but only needed to show one and were waved through the barriers. You then walk through an eerie, blue-lit corridor with the competition pool to the right and the training pool (s) to the left and at the end of the corridor, you veer left to find the training pool changing village. There are a number of changing options – male, female, unisex and family – so caters for everyone  tho some slightly bigger lockers would have been nice.
You might wonder why I said pool(s) a moment ago or you may not have wondered at all. Well, either way I'm going to tell you. It's because the training pool is one 50m pool but has a movable barrier halfway which can split it into 2x25m pools. And there's a movable floor, so the two pools can be different depths! Well, I was impressed anyway. There's a section in each of the pools that is free for family swimming (i.e. the bit that isn't being used for lanes or lessons) so we started off in the pool that was 0.8m, which was perfect for Eva but a bit shallow for Roo and way too shallow for me. So Roo and I spent most of our time in the other pool, which was 1.2m and Nathan and Eva mainly stayed in the shallow one. I think Roo would ideally have liked it a little deeper so he could do some diving but I found it reassuring not having to worry about him being out of his depth for once. His favourite deep end  – at the Feel Good Centre – is 3m and trust me, it brings out all the anxieties.
It was a nice, quietish swim – plenty of room for Roo to do lengths and for Eva to splash about and do water-waltzing. We stayed in for about 50 minutes but it was lunchtime and we were all super hungry so decided to get out. I made an executive decision to have a snack before we even left the centre because the thought of dealing with the Westfield food court with post-swimming hanger was a bit…overwhelming.
It was a wise choice. The Westfield food court was everything you'd expect it to be. Still, it had Pizza Hut for Roo and McDonalds for Eva and not massively long waits for either. Just all a bit full-on.
Unlike the Christmas shopping experience in Westfield, right??
Wrong. Obviously, that was nightmarish too. We split the list into two and Nathan and Roo ended up with a load of male family members to buy for and Eva and I a load of female ones. Of course, I can't reveal what was bought for anyone but Flying Tiger and Typo continue to be very useful sources of geek presents. Eva was keen to buy this jumper for her teacher but I suggested it might be a bit much in so many ways:
However, I can reveal that I bought a splendid red/green sequin tie for £3 from Flying Tiger which has been involved in both a carol service and a choir gig today. What an investment!
Hours of fun on the train home too, just switching it from red to green and back again:
Eva and I finished out list within 90 minutes and happened to spot the boys in the Lego store as we walked by. Apparently they'd finished their list too. So we all went for cookie dough, which was the price Eva had negotiated for her co-operation. We probably didn't need one each though – a little cookie dough goes a long way and the kids didn't manage half of theirs.
Still, a successful day out I think. Let's leave it there before I have to recount the horror of getting to Hackney Downs and hearing the "signal failure" announcement. For more info about the Aquatic Centre and to book tickets, have a look here. Happy Christmas!