Photo c Skewbald Theatre
Whenever we go to the theatre it can be hard to choose which child to take with me. Of course, I could take both but that sounds like a lot of hard work so it's easier to treat it precious one-on-one time with without one I choose. This show was aimed at 3-8-year-olds so Eva would have been the obvious choice but she declared that she was scared of dragons so I went for the backup option, who is a little older than 3-8 but not too much. So that's how I found myself wandering around the Battersea Power Station development with my 9-year-old at 10am on a clear and warmish December morning.
Battersea used to be familiar turf for us when we lived in Kennington but it's changed a lot in the last few years. We had paused at Vauxhall to get a quick coffee and then hopped on the 436 to get to Battersea – straight away this was feeling odd. Didn't the 436 used to go to Marble Arch? Times they are a'changing.
I'm not convinced we went the best way but getting off the 436 at the Sleaford Street stop landed us at the gates of the new development and then we walked 10 minutes or so through the building site, all the while not *quite* sure whether we were meant to be there. The show was at the Village Hall in the Circus West Village phase of the development – the first bit to be completed. We eventually saw a cashpoint from afar, which we took as a good sign that we were getting towards the finished bit. As Reuben confidently asserted – where there's a cashpoint, there's always a shop. And there was! Plus a few bars, restaurants and a water feature.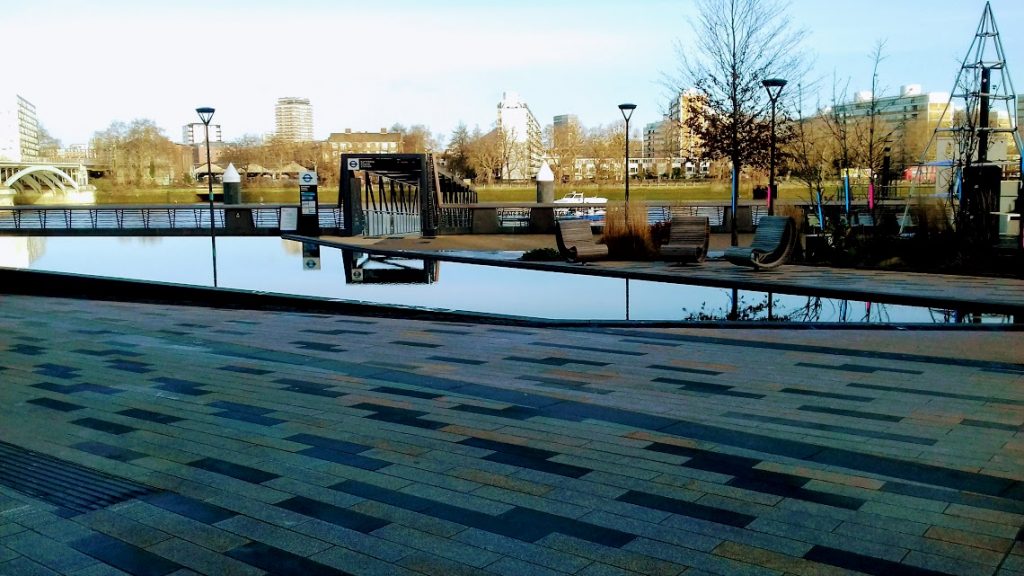 What there didn't seem to be was a theatre venue. It took us a few goes wandering round before we worked out we needed to go down the steps to find the Village Hall. For future reference, it's in a railway arch so if in doubt, aim for the railway bridge and you'll find it.
But we did find it and it's a nice new venue, with walls lined with mirrors (maybe I should have taken Eva after all). Inside the performance space there were rugs on the floor for the kids to sit on and then banked seats behind. Roo decided to sit on the grown up seats because he wanted a backrest – he really is getting old. The actors came out and chatted to the kids at the front so I was trying to nudge him to go forward and interact but he was happy just to observe from afar.
The plot to "Mimi and the Mountain Dragon" is fairly straightforward – a girl living in the Swiss Alps discovers a baby dragon hiding in her woodshed and has to return it to its mother. The execution is similar to "The Everywhere Bear" – a mix of live action and puppetry – and I think the cast may have been the same but, of course, they had Swiss accents in this one. The songs were gentle but effective, often sung in three parts and with the occasional yodel. Reuben, having recently been forced to sit through "The Sound of Music" by his somewhat obsessive mother, now thinks that yodelling is just "something puppets do". We'll go with that.
There's a strong family theme – Mimi lives with her Mami and Papi and longs for a baby brother to complete her life. I floated the idea of a baby brother to Roo as a Christmas present but he's content with Lego for now. The baby dragon becomes like a pseudo-brother to her before being reunited with his true family. There's a strong sense of community in the little Swiss village as they band together to scare off the mountain dragons. So it's a perfect play for Christmas – what's more Christmassy than family, community and dragons? Also, a lot of snow and honeycake. I'm a little disappointed that the marmot that popped up at the beginning wasn't an integral part of the plot but it was more than compensated for by the giant mountain cow called Martha. And of course, the appearance of Mama Dragon, which even had the brave 9-year-old snuggling in a little closer for comfort. I think I was right not to take Eva.
It was a touch young for Roo but he really enjoyed it and there was enough silliness to keep him entertained. There was even a subtle Star Wars joke in there. He enjoyed meeting the puppets afterwards and gently stroked baby dragon without poking him in the eye or anything. Some of the very small kids in there seemed a bit terrified of some of the more perilous bits but I think your average 3-8-year-old would love it. As long as they're not scared of dragons.
We had another mark to hit before leaving Battersea and were pleased to discover that we didn't need to go back through the building site to get to Battersea Park – a short stroll through this light-filled tunnel got us in the right direction: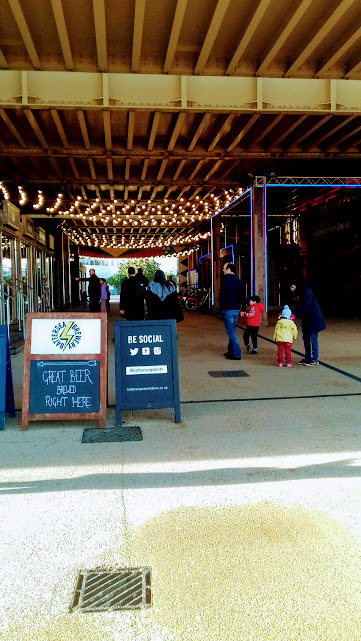 And on the way we found a exhibition about the history of the power station, complete with interactive switches which I can only hope weren't linked to London's electricity supply:
Then we took this bridge going out onto the river and back and that landed us on the edge of the park. Maybe we should have got in that way or used the free shuttle bus from Battersea Park station. Live and learn.
My first thought was to get some lunch. I hadn't been to the cafe in Battersea Park for years and couldn't quite remember what it was like but I'm pretty sure it's got a lot posher since I last went there.
Lunch options were around £13 on the menu but I spotted a posh ham and cheese toastie on the counter which was only a fiver so I got that and some sweet potato fries plus scrambled egg and bacon for Roo. It cost £15 for the two of us, which wasn't too bad (there was a tap for freely available water) and it was very tasty.Roo's bacon was superbly crispy and my toastie was tasty. Also, free WiFi which really helped when I'm mega-squeezed for space on my phone and was having to backup and delete on a regular basis all day. I got on to the free WiFi at Circus West Village as well. Result!
After lunch, we had a quick play in a newish playground with a wooden pirate ship in it. Again, I swear that wasn't like that last time I looked…
And then we headed over to Battersea Park Children's Zoo for our date with Santa. You see, Reuben had been unconvinced by the version at his school Christmas Fair and I think he's on the edge of non-belief. This one, though, was very convincing and spent a good long time asking him questions. Then he gave him a cuddly otter (since christened "Harry Otter") and sent him next door to stroke guinea pigs. You don't get that in every grotto.
Entry to the grotto had meant buying a ticket to the zoo itself so I thought we might as well get our money's worth. Reuben was more interested in the play areas than the animals but he proved you're never too old to enjoy pretending to drive the fire engine:
No really, NEVER too old:
And there's a helicopter there as well now!
But we did spend some time with the animals – we introduced Harry Otter to the other otters:
and Roo enjoyed going down the meerkat tunnel.
Plus we both liked watching the very cheeky monkeys. Reuben said he wanted to be a monkey so he could not go to school and just cliumb trees all day. Then I pointed out that monkeys can't go to the cinema and watch "Star Wars" so I think the lure of Episode 9 changed his mind.
At this point, it seemed a good time to claim the free Christmas biscuit and apple juice that we'd been given as a perk of the grotto visit. It's the gift that keeps giving. We also did the Christmas stocking trail, counting how many animals had their stockings up ready for Santa. A few of the animals seemed reluctant to come out on even this mildly cold afternoon and so some enclosures seemed to only contain a squirrel or a pigeon….but we saw plenty of good wildlife. And I'm not talking about the kids in the playground.
It was 2:30 and already the sun was setting so I decided to shuffle him on to the last part of our adventure – catching the Thames Clipper back to London Bridge. We'd got the Victoria Line down but I thought it'd be fun to get the boat on the way home and get the bus from London Bridge to Liverpool Street to get home.
And it was fun! We had some gigantic waves, which made Roo shout for more and for me to shout for less. It was about £9 for the two of us and 30 mins journey which is a pretty efficient way to get across the city. I ordered Roo's child ticket online and then used contactless for my ticket so we could just walk on without too much faff.
Excellent views, obvs:
And Hayes Galleria when we disembarked was also pretty pretty. We were looking for gifts for Nathan but only managed to buy some haribo and tissues. I think I was flagging.
So I'll leave it there. But what a lovely day with my big one! And check out "Mimi and the Mountain Dragon" at Battersea until 31st Dec and then at Little Angel from 2nd Jan. More information here.
Disclaimer: I recieved free tickets in exchange for a review. All opinions remain honest and my own.