Ah, family days out. Don't ya love them? So spontaneous and trouble-free. I'm not pinning Reuben down in this photo, honestly. Just trying to ensure there's some distance between him and Eva.
That said, it was actually quite a nice day out that we had yesterday. It was the first Saturday in a long time that I didn't have a choir gig so we planned a day of wandering around Central London, looking at Christmas lights and stuff. And it pretty much worked out smoothly against the odds. So there.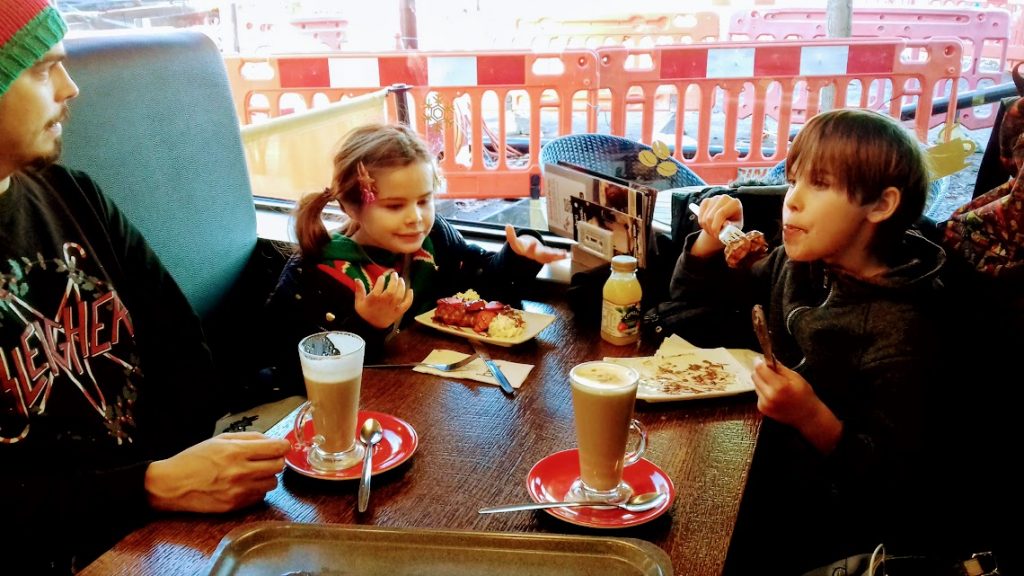 We started off in Bru, Walthamstow which is a regular haunt of ours for drama-club-time snacks but this time we were sampling the brunch options – a meal that Roo has been planning for a long time. He and Eva both had the strawbella wafflepops and Roo asserted that they were "300% delicious". Eva pushed hers around the plate a bit and said hers was only 50% delicious but the rest of us ended up finishing it for her, and trust me it was pretty delicious. As were mine and Nathan's – the Cookies and Cream and Apple and Cinnamon wafflepops with a coffee each. This was gonna be the kinda brunch that got us through a family day out alright.
Of course, the most likely outcome was that they would be totally sugar-hyped on the Victoria Line and we'd be kicked off by Seven Sisters. But thankfully that didn't happen because they'd packed books and were busy reading them. Oh yes, this was going smoothly.
A smallish glitch at Covent Garden tube, obviously. I'd made the rookie tourist mistake of not getting off at Holborn and just walking down. So we had to queue along the platform and then again for the lifts along with every other Christmas shopper in the world. As we emerged from the tube, Eva looked around and declared that Covent Garden was "wonderful and horrible". I think she's pretty accurate – it's one of my favourite places in London for Christmas decorations and always has a bit of a magical atmosphere…but the crowds can indeed be described as horrible.
It was time for our first stop – the Christmas Pudding Race. We'd last been to see it when Roo was three and he and C had been most distraught that they didn't get to run the funny race, only watch it. This time, he'd started to react in the same way when we suggested it but quickly came round to the idea of spectating. The minimum entry age is 14 so maybe one day he will run it himself. I think he enjoyed watching though-  it's a great spectacle, with team dressed as Santas or Christmas trees or the entire Toy Story cast and all trying to climb over inflatables with a Christmas pudding in hand.
Eva, however, was mostly enjoying the between-races entertainment, courtesy of The Roxys…or as Eva described them, "those wonderful girls". She just stood gazing at their perfect hair, shiny shoes and velvet dresses in amazement. Such a fangirl already. I was enjoying singing along to doowop versions of "Beat It" and "Careless Whisper".
Very soon, the races were all run and the prizes presented by Her Majesty The Queen*. It was time to warm up a little and find some toilets. I'd remembered vaguely that the Royal Opera House was opening up to the public, Southbank Centre style, and I decided to go and see whether I'd remembered correctly and whether it could tick the boxes of both warm and having toilets available.
*May not be the actual Queen. But we're not sure
I was right! Doors are open from 10am every day and there are several cafe spaces you can sit in or just have a wander around. Because we'd already had coffee we didn't go for another one, tempting as it was, but we did have a good explore and found not just the loos but this giant cherry in the basement:
And nearby, a display of ballet shoes and costume samples that Eva yuvved. She would like to wear all of them, apparently.
Then we took the escalators up to the top floor and found the best costumes of all – tutus worn by Margot Fonteyn (I think) for the twin roles of Odette and Odile in Swan Lake. Again, it was hard to pull Eva away:
There was also a balcony, which had a great view over Covent Garden:
And a interesting piece of artwork over the escalators:
Altogether, a really interesting place to snoop around and I'd like to stop off longer and try out the cakes there someday soon.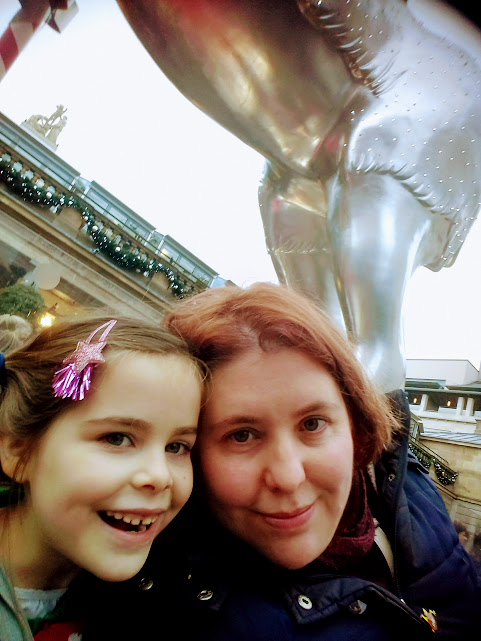 But we had shopping to do! I took Eva off around the market so that she could choose presents from Nathan and Reuben, while the boys did went to buy a present for her. It was tough getting her past the pretty windows of the shops so we made slow progress. One of her favourites was the "Narnia opticians":
We did eventually find something which I won't spoiler here but we had a few minutes to kill so ended up in Paperchase, a shop that Eva declared she was "seriously falling in love with" thanks to the sheer quantity of sparkles and unicorns. You can probably tell that she was having one of her eloquent days. The best is yet to come.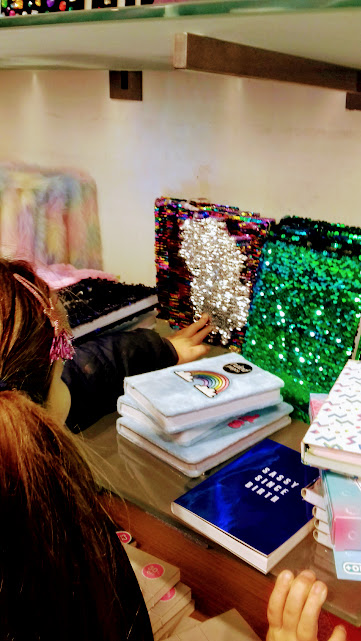 We'd arranged to meet back at 2PM but Reuben somewhat impatiently phoned me at 1:58 to say he was hungry. Time to get some lunch that wasn't wafflepops. And Five Guys seemed just the place.
It's not mega cheap but it's affordable and they don't move you on as quickly as they do in McDonalds. We found a table in a little booth and stayed there for almost an hour, taking our time over the piles of chips and the refillable drinks. There were spare table nearby so I felt totally justified in not rushing. I'm even justifying it right now.
Despite this being our relaxed day, we did have some marks to hit. Eva and I had long been pencilled in for a singalong showing of Muppet Christmas Carol at the Prince Charles at 4:30 so to make it fair, I'd booked the boys into "Spider-man: Into the Spiderverse" at the Odeon Luxe Haymarket which, despite its name and reclining seats, is no more expensive than any other West End cinema.
We had a few minutes to kill before that so wandered round the Christmas market in Leicester Square, marvelling at the spinning illusion things and pretending I couldn't hear Eva as she asked to get her face printed on a teddy. I'm not sure I can think of anything more terrifying than a bear with the face of a girl and specifically, a bear with the face of my girl. Then the boys left for their show and Eva and I had yet more time to kill so went to look at the windows of the Lego Store (there was too much of a queue to actually go in), where she told me the windows were so cool that "I might vomit with amazement". I told you she was feeling eloquent.
And then she made me go to the M&Ms store where I nearly vomited with the sheer smell of sugar and the intensity of the crowds. We went to all four floors, bought nothing and gratefully took the side exit pointed out to us by a member of staff. This landed us just off Lisle Street with still 15 minutes to kill before we meet the Bunny family for the Muppets. Both my legs and my ideas were exhausted by this point, so we sat on the pavement. Oh yes, I am showing my kids a good time alright.
The Muppets singalong was an enjoyable experience but it was odd not to have subtitles so that everyone could…yknow…sing along. Luckily I knew most of the words from singing the songs in choir but I often felt like Kermit and I were doing a lonely duet. Plus, I had to miss "One more sleep till Christmas" because Bunny and Eva both needed the toilet. Still, I got to eavesdrop on a very amusing conversation between the two of them on why you shouldn't throw "stationery products" down the toilet.
At the end of the film, I had one more engagement before calling it a day. So I met up with Nathan and Reuben and sent Eva home with them and the bunnies. Then I set off on foot through Soho and Marylebone to catch my friend Vicky singing with the Constanza Chorus in Marylebone Parish Church. My phone died on the way up there so I didn't get a single photo of the gorgeous church, heavily decorated with Christmas wreaths or the pretty lights of Marylebone High Street. But I did get a blurry one of the Bohemian Rhapsody-themed lights on Carnaby Street on the way. Oh, and Constanza Chorus were amazing. You should totally check them out or buy one of their CDs.
So one jug of mulled wine after the concert and I was on my way home after what had proved to be an epic day out in Christmassy London. I'm tired today. Still, pretty successful I think….