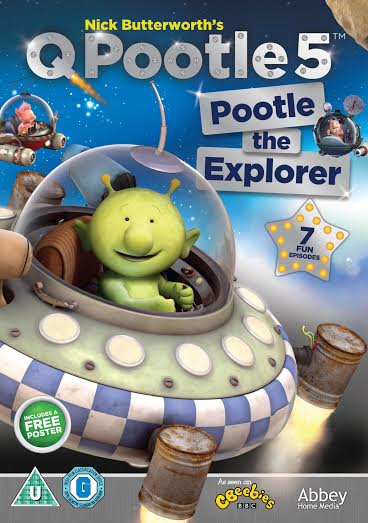 It's been a while since the kids last sat down to a Q Pootle 5 DVD but when I mentioned the possibility to them, they responded with their usual enthusiasm for anythingBeebies (unless it's Justin-related, obviously). I don't think the 7 episodes on the disc were totally new to them, but they enjoyed them anyway.  We've always been fond of Q Pootle 5, with its gentle humour and amiable characters and plotlines with a little jeopardy but not too much.
I particularly liked the first episode – The Cosmic Whipple – as it had some really nice swirly graphics as Pootle and Oopsie rode their way through a comet. The kids liked the swirliness of it too –  it was Eva's favourite colour – and it was very visually pleasing. Reuben had some nitpicks, as he always does, but they were mainly to do with how "the guy with the two heads should get two lunar sticks, not one". He has a fair point.
We watched two episodes on Saturday night and then they had to go to bed, but they were keen to watch more. Eva asked "About the third one tomorrow morning? And the fourth one?" As it was, they got the rest of the DVD on Sunday. Aren't they lucky? They had some questions about what a major bird was (I'm guessing it's a play on myna bird?) but otherwise enjoyed it.  They learnt to do some beatboxing a few weeks back, so were happily singing along with the version of "Welcome to the Shack" in "Beat Box Bud-D".  Eva also liked the glitterball.
Overall, Roo said the DVD was good, Eva said she "yuved it". It's a good quality programme, with great voice talent (Stacey!) and the cinematography is impressive too. If you'd like to know more, why not read the Q&A I did with creator Nick Butterworth back in 2014?
Pootle The Explorer is out now, priced at £7.99 and including a free poster. Full list of episodes below:
The Cosmic Whipple
Pootle The Explorer
The Groobie Woogie
A Friend For Ray
Rocking Not Rolling
Beat Box Bud-D
Planet Dave In A Spin