Listen up, Londoners…this is important stuff. I know this blog covers a wide variety of topics, from the trivial (politics) to the vital (sandpits) but this is one of the life-changing ones. I'm going to tell you where all the places in Tabby McTat are.
Of course, if you haven't read this book every night for a solid month or so, you may not quite be feeling the urgent Need to Know that I did but I'm sure I can't be the only person who was delighted to see a Donaldson/Scheffler book that seemed to be set in the real world rather than a fantasy one…and a recognisable one at that! Apparently this was not Axel Scheffler's favourite book to illustrate, quite because of that whole photo-realistic thing, but I enjoyed it and it's been quite the challenge to try and pin down where all the locations are meant to be. Obviously, there's been some artistic licence taken and they're often amalgamations of different places, but this is the coin that I'm going to throw into the old checked hat…
So, where else would you start but The Square?
Here's where the story opens, with McTat singing along with Fred. But which London square they in? My best guess is Golden Square, in Soho where I've spent many a tense lunchtime wrangling stir-crazy children. I'll explain why.
First off, ignore the lions. They're a red herring. Red Herring-Lions. Me and Google can't find any London squares with lions except Trafalgar and it's clearly not there. The square has to have a raised middle (cause there are steps going up to it) and be surrounded by office-type buildings. I present to you now, Golden Square:
Contender, hey? I swear when I looked at it yesterday the fence had those golden tips, like the ones in the book. Maybe they've Google-painted them overnight. But still, I think it's on the money and it's not far from where we met Axel Scheffler once, although that was years after the book came out.
I had a sudden flash of inspiration when I realised that the publishers. Nosy Crow,  used to have offices on Vincent Square in Pimlico. Could that be The One?
No, it's clearly flatter and greener than the busker's square but I include it because it seems to have a playground in it which I didn't know about before. Top Pimlico tip, there!
Let's move on, as McTat did. Prunella and Pat's house clearly isn't meant to be anywhere specific – it's just a house, designed by people who really, really love cats. Even stray cats who rock up, trash the joint and knock up the lady cat. It's also clearly in North London.
Why?  Cause it just looks like it is. They seem like North London people. They're probably both writers (who else still has a desk at home with pens on it?) and Pat probably bought it for a song in the 1970s. I would say it's somewhere like Kentish Town or Tufnell Park, though that's hardly "a stroll round the block" from Soho. But there has to be a fantasy element in there somewhere, right?
Next up, a familiar looking view as McTat goes for a stroll "all over town". This one took me no time at all – I'm pretty sure the hill he watches the sunset from is Greenwich Park:
The dome confused me for a bit as I assumed it was St Paul's. It wasn't until I pinned down the exact location – One Tree Hill – that I realised it was probably the top of the Naval College instead. Here, filched from Google Maps are some views from that spot:
The first one just *looks* like the illustration and the second has a very similar skyline (Canary Wharf, pointy building, domey building). It was the angle he was looking at Canary Wharf from – South-Easterly – that made me sure it was Greenwich. And besides, Axel Scheffler lives in Blackheath…but more on that later.
The other scenes on that page I've failed to pin down. The market is pretty generic and doesn't look much like a London market. The canal could well be the Regents Canal but it's all gentrified now, so doesn't look much like it did then. We went there in 2012 and though Roo said there was an  Octopus in there, I don't remember many floating bottles. It was more floating bookshops.  I wish Google Maps had let me see under this bridge, as it might have been the one:
 Now, onto the most obvious bit of all and the reason I knew this was set in London. The heart-rending reunion between cat and musician. Where else but the South Bank?
But which bit exactly? It took a bit of virtual strolling, but I think I found it, just by Blackfriars Bridge: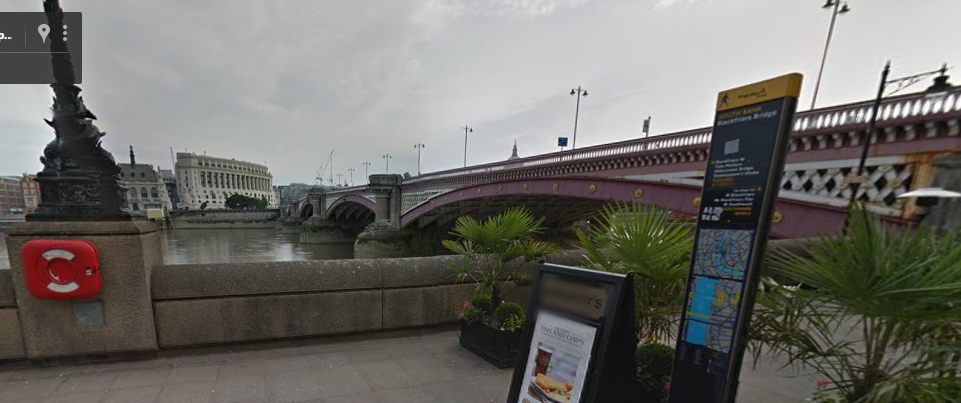 Lampost? Tick. Top of St Paul's? Just about? Building that's mostly white with a different colour roof? Yup. We have a winner.
Which just leaves one mystery, and this is the one that I spent longest puzzling over. The park at the end.
When I first saw it, I thought instantly of Brockwell Park:
It's all in the gradient, ysee..and Brockwell Park is a lot steeper than it looks in this picture. Trust me, I lost Reuben once as he shot down that hill on his scooter and I couldn't keep up. Scary stuff. The gates are similar too.
Then I googled and read that someone on Mumsnet thought it was Victoria Park in Hackney. Well, I'm sorry Mumsnetter but I beg to differ. Victoria Park is dead flat  – it's not like this at all. Then I found the Twitter account of the Blackheath Bugle Blog, which pointed out that Axel Scheffler was a neighbour of theirs and that he was probably inspired by one of their local parks. I puzzled for a while – Blackheath itself is flat again, even though it's high up – but then I saw what they meant…
It's Greenwich Park again! Local to Blackheath, a park of startling altitude and a gate arrangement that matched the one on the picture (Narnia lamposts plus concrete ornamental things). It's not perfect – there's no bookshop, for one – but I think it's probably as close as we'll get.
Which concludes our guided tour of Tabby McTat's London. How about we finish with a sing-song… all about how purrfectly happy we are.