There are probably some LWAT adventures that you read and think "That sounds fun. I too may try to venture out to a small local park at some point. How very manageable" and others that make you wonder if I've actually lost my mind. This may be one of the latter. As adventures go, it was a little insane. But also insanely fun. So that's OK. I'll tell you about the meltdowns later.
We've been to The North a few times lately, most recently on mine and Roo's Peter Pan trip to Manchester. That time, we took the train and came back the same day. This time, for Geronimo Fest in Tatton Park, we decided to make a full 24 hours of it. With a small amount of travelling time each side. If anyone thinks this sounds badly-planned, then let me direct you to mine and Nathan's pre-kid holidays, commonly known as the "hit and miss holidays". Since we've had kids, we do at least tend to find somewhere to stay the night and have never yet wound up on the steps of a French train station.
I'm off-track already. Which would precisely have summed up my thoughts half an hour into our epic journey. We'd set out at noon, changing our travel plans at the last minute, thanks to a status update from a Facebook friend saying the M1 was at a standstill. So, we decided to avoid it and take the M11, then the M25. Unfortunately, we also avoided any kind of petrol station on the way and the orange light on the dashboard was giving me a Sheldon-like anxiety. We're pretty familiar with the M11 from our recent trip and knew there were no services on it. Turning onto the London Orbital, I was frantically googling petrol stations and found one near Waltham Abbey. We turned off and skimmed along the edge of Epping Forest, which bore a startling resemblence to the bit of forest near our house. I tried to ignore that inconvenient truth, as we'd been on the road for 30 minutes and I really didn't want to imagine that we were no nearer Manchester than we had been when we started. Hang on, did that sign say Chingford? Let's not take it and stay on the road to HappyDenialLand.
As it happened, we stayed in HappyDenialLand for a long time. All along the M25 as we queued in traffic to get round onto the M40. Traffic is always annoying, but even more so when you're travelling in the distinctly UnManchesterLike direction of Due South. And the kids had finished all their snacks already. Still, we would be villified once we got onto the M40 and found it blissfully free of all that nasty Bank Holiday traffic snarling up the M1, wouldn't we?
Yes! We were. In your face, M1. The pain had been all worth it and in another two hours of whinging no time at all, we were breaking for coffee at Warwick Services.
I always find motorway services to be a bit lacking in fun spaces to run around in. The only one I've found with a play area is Leigh Delamere, and even that had the emphasis on the "area" rather than the "play". Luckily, Warwick had a little green bit in front of the Days Inn and the sun was shining, so it was a good time for a tree-slalom.
Then we walked around the back of the hotel, where we were almost certainly not meant to be, and found a load of tree stumps that were almost certainly not meant to be an obstacle course for small children. But again, we made our own fun. In London, you have to pay people to make "natural assault courses" in parks. In the Midlands, they're just there. The kids blew dandelion fuzz and put daisies in their hair and a good break was had by all. Look how excited Eva was:
Or insane. One of the two.
I sense you want me to move onto the point of this post, which was the NorthWest's very first Geronimo festival. So I'll fast-forward us up the rest of the M6, to Stockport for a night with some old friends, round an entirely incorrect bit of countryside, through the gates and up the driveways of the ginormous Tatton Park…and finally, here we are at Geronimo.
Yes, that's us with CBeebies legend and "mother's favourite" Mr Bloom. He was one of the headlining acts, along with ICanKaty and Cook and Line. Those naughty pirates were on when we got there, so the kids rushed to see them while I signed in at the press tent. When I caught up with them, Roo was ferociously doing the "Swashbuckle Salute", while Eva had her head buried in Nathan's shoulder. Apparently pirates scare her. This was news to me but apparently I've mentioned it on here before. Must remember that for next time. But anyway, look how excited she was to find the "Frozen" bouncy castle in the VIP area:
So, of course they needed to have a bounce before I jostled with the other mothers to see HisBloomness:
I'd like to point out that my interest in Mr Bloom is purely to collect another CBeebies presenter, which is kind of an ongoing project of ours. I can't speak for the other mothers. I was hoping to meet ICanKaty too, but at the time of her Meet and Greet we were at the other end of the field, getting thoroughly distracted by these daring fellows:
That's Danny Butler and his little brother Ashley, who have clearly carried over some kind of childhood-Monopoly-grudge into their careers. Danny, Ash may have stolen Park Lane off you but that's no reason to sacrifice him under the wheels of your weird, seatless bike. Also, I'm getting the impression you're not too bothered about becoming an uncle, given the positioning of your back tyre.
Sibling rivalries aside, it was an impressive show as they bunny-hopped onto the roof of their trailer. Reuben tried to recreate this stunt later:
It didn't go well.
It was very nearly lunchtime and we'd already dragged Reuben out of the Brio tent to go and eat before we'd been sucked into the extreme mountain-biking. There's a lot to distract you at Geronimo. I've also skipped straight past Eva's favourite moment of the day so let's take a look at it now:
Just how thrilled was Eva to have her photo taken with Queen Elsa? Very, very thrilled. I was thrilled too as that means we don't have to go to Disneyland. Eva keeps asking to look at this photo and I love it too. Nathan was mostly excited to see a Punch and Judy booth that had last been spotted outside our local Tesco last Autumn. Small world.
A quick break for lunch then, back in the VIP tent where I unpacked our picnic (see, there was some planning) and were given a free CD by Luke and Emma, from Cartoonito. I have to confess I wasn't 100% sure who they were as we don't watch much Cartoonito – as Reuben once pointed out at a LazyTown launch. Nothing against it, we're just Beebies loyalists. So as they came to our table, Nathan was googling them to check who they were. Embarrassing. But we will definitely put the preschool pop CD on in the car. In fact, I almost suggested it on the way home before realising the kids were asleep and that would be a crazy thing to do.
All fed, we headed out for another explore. Eva was most keen to look at this giant, animatronic pig which terrified me:
Meanwhile, Roo and Nathan were busy in the Sea Life/Legoland dome. Roo loves lego and his topic this term at school is "Under the Sea", so it was the perfect tent for him. It was a little crowded in there – Sea Life and Legoland could really have done with a tent each. Still, they had fun making superheroes and I vandalised someone else's Lego masterpiece to make my own. I don't know what "SPR" stands for, but it was the work of a few seconds to turn it into a tribute to the Super Furry Animals:
ICanKaty's show had started on the main stage, so Eva asked to go down there. But halfway down the slope, she froze. Katy was talking about her CBeebies colleagues and had asked the crowd "Who likes Mr Tumble?". I looked at Eva, stopped in her tracks, and she squeaked out "I don't yike Mr Tumble". It took a little persuasion to convince her that Justin wasn't about to appear and befriend her but eventually she came down the hill to watch the show. And do some dancing! And the sun came out!
Roo and Nathan came down to join us, and we all watched Junior Frood busting out some moves. It would later inspire Roo to laucnh his own street dance routine on the Baby Ballet stage. I won't post the video here.
But I will say that Eva enjoyed holding hands with the teddies of Baby Ballet, and they both liked doing some colouring. Eva also really liked getting a flag to go with her windmill:
Time was moving on, but there was so much we hadn't seen yet. Next stop was the Motobike arena, where both kids were fitted with helmets before going for a scoot on some balance bikes. Reuben had a brief meltdown about the lack of pedals, till we explained that they were meant to be like that. I think the bike might have been a tad low for him and those long legs he's just grown.
Then he tried to recreate the extreme biking stunts he'd seen earlier. As I said, it didn't go well.
So, what next? Roo was keen to go on the helter skelter so while he and Nathan queued, Eva and I hung out in the open-air lounge, complete with piano:
And some Shetland ponies, obviously. The helter skelter queue was quite long, but by the time we'd seen the ponies and played on the piano, the boys were almost at the front. I'd expected Roo to freak out at the top and refuse to go down, but I have clearly underestimated my lad:
Our last stop of the day was the Circus Zone. Roo and I had visited earlier, while Eva and Nathan were ensconced in the Pimms bus, and I had stunned Roo with my complete lack of diablo skills. So when we returned, we watched the actual professionals instead:
It's OK, she did actually have a head. She's just really bendy. The red light in there made it tricky to get any decent shots, but the acrobats were pretty awesome and we all loved the cheery Mexican juggler. Nathan wasn't sure about the mime artists, but Nathan is never sure about mime. It was a total bonus, having a whole circus act as part of the festival. Don't need to visit the one in Chingford now either. See, this is a total money saving venture.
Then we went back to the Circus Skills area, where Nathan picked up some plate-spinning tips: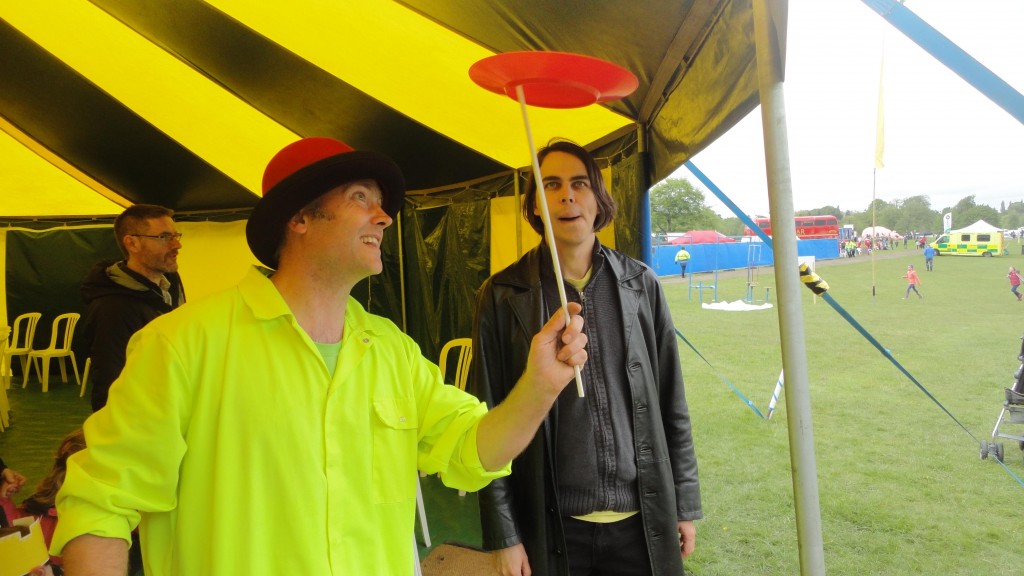 Then he picked up that plate. A few times. We were all getting tired and it had been a big old day. So we stopped back at the press tent to pick up our goody bags, which the kids were super-happy with. Eva's been playing with her LaLaLoopsy dolls and craft kit all day. We piled some sticky, happy, knackered kids back into the car and headed for London.
And the way home? Let's skim over that. There may have been an ill-timed Intention to Wee notice that saw Eva squatting on her potty on a grass verge in Sutton Coldfield. There may have been a Nandos in that same Sutton Coldfield, opposite the ASK restaurant where Nathan and I had had a romantic but morning-sicknessy dinner date 6 and a half years before. There may have been a fault with the frozen yoghurt machine, which led to all kinds of heartbreak. There was definitely a lot of driving. And the kids definitely fell asleep super-late, just as "Yellow Submarine" came on. And Nathan and I definitely sang along to it anyway.
An epic trip out then – 24 hours in the North, peppered with exciting celebrities and fun things to do. Geronimo feels smaller than LolliBop and less full-on, but there was still so much there that we didn't have time to do it all. The Inflatable Village and the Adrenalin Zone were sadly neglected by us. We just ran out of time and energy. It was an insane thing to try and do in a weekend but I have no regrets. The kids loved it and so did we, even with the 12 hours of driving. We'll definitely do it again next year!