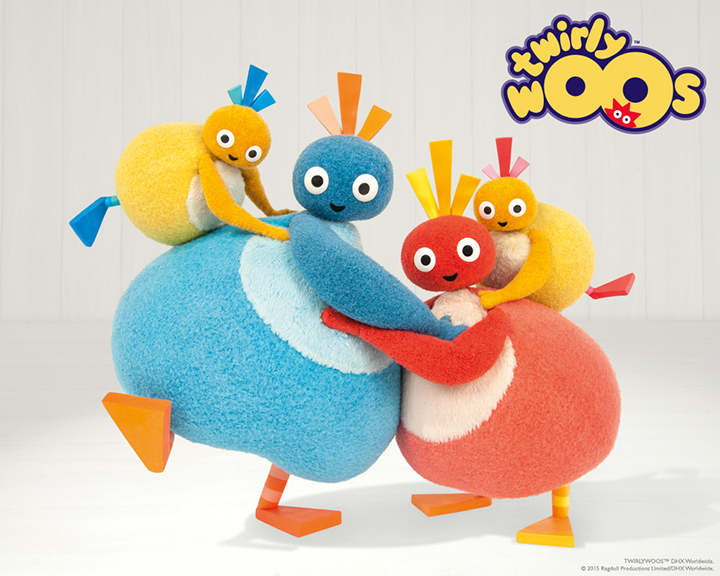 I told you exciting things were afoot this weekend. And now I'm back to report on the first part of it – the Twirlywoos Launch. It was so exciting that I lost a tooth. I wonder whether that'll make it as a phrase.
We were in King's Place, home of Mumsnet Blogfest and a lovely canalside room where kids can look at the boats. And joining us was Alex Winters, of the CBeebies house. That was a happy surprise for the kids, and an even happier one for me. We've been collecting CBeebies presenters, and Alex was the last of the classic line up (i.e. when Reuben was small) that we had to meet. We've previously met Sid, Andy and Cerrie so I'm very glad we have the full set now. Also, Alex was lovely. He introduced the show and the creators and explained that each episode featured a concept that children are interested in – whether that's "up and down", "full" or "wrapping" (sadly not "rapping"). The bird-like Twirlywoos come to our world and discover these concepts for themselves. There's Great BigHoo, Toodlo, Chickedy and Chick and they all live in the Big Red Boat, with the adorable secret creature Peekaboo (the Twirlywoos never see him..but we do).
The episode we watched was about being full, and saw the Twirlywoos filling containers full of water and then filling themselves full of fruit tea. There's a lot of silliness, some adorable slapstick and seamless interaction between the stop-motion characters and the live action of the real world. Eva was hiding behind my back and gradually crept round onto my lap as the brightly coloured action drew her in. Reuben was sitting right at the front and laughing out loud all the way through. I think they enjoyed. I just asked Reuben and he said "they're really funny". What was Eva's opinion? "They look pretty, like me". Quite.
At the end of the screening, there was another surprise appearance – by the Twirlywoos themselves! Reuben would get to meet them later, but Eva decided she was shy again, so just hid behind my legs and wouldn't go near them. There were lots of other fun activities to do that she enjoyed though, including making a balloon-twirlywoo that I've only just managed to removed from her tiny grasp (5 hours of carrying it around and it's only lost two legs…it's a record). Reuben enjoyed doing the Peekaboo treasure hunt and  they both liked the magic show.
And we met Alex! Hooray! But the strangest thing happened – just as I started to talk to him, my tooth fell out. Well, not all of my tooth. Just a bit of it. Not entirely strange , given I've had toothache all week, but enough to distract me a bit from the lovely conversation Alex and I were having about dinosaurs. So, apologies if I seemed at all strange. There was a lot going on . That also meant I failed to get a picture of Roo with him. Bah!
Then it was time for my interview with Anne Wood, mastermind of not just this show but so many iconic Beebies shows, from "Rosie & Jim" to "Abney & Teal". She was utterly lovely, and confirmed that yes, she did teach my mother-in-law when she was at school (my mother-in-law has long used this as her claim to fame). Then we settled into talking about the Twirlywoos. I'd wondered, as you might too, whether the four of them were meant to be a family and whether this was a recurring theme in Ragdoll shows. Anne's answer was thoughtful – she saw it very much as an "enfolding programme", in contrast to some of the more full-on kids shows and believes that if you have a  "reassuring group" then children will project family roles onto them.  Apparently, the family groupings of "In the Night Garden" were entirely unintentional – when children see Upsy Daisy as a mother figure or Iggle Piggle as a father, it is just their way of making those characters fit into a familiar world.
We also discussed the animation – what I thought was CGI at the beginning was, in fact, very real, painstaking stop-frame animation that had been colour-graded to give it the bright blue of a 50s postcard. Take note of that, readers. Not CGI. As Anne said "the water was real, the sand was real, the boat sailed on it..everything was real". You'll be amazed when you see it. And it took a lot of hard work, so you should be. Especially tough was animating against a white background, with shadow and anything. It's a slow process, with a 1min 45 shot taking three weeks to complete. No wonder it took four years to get from idea to screen.
The lack of CGI gives the show a lovely retro feel, not a million miles away from "Morph".  Anne and I discussed the show's place alongside other vintage-tinged shows like "Abney & Teal", which Anne describes as an "oasis of calm" away from the stresses of the rest of the world. "Twirlywoos" also owes something to "Dipdap" which was made by fellow Twirlywoo-creator Steve Roberts. It's the simplicity of the action and the strength of the physical comedy that ties the shows together. Sweet, funny, charming….what's not to like?
I couldn't resist discussing that Titan of kids' TV – "Teletubbies". Did Anne feel that it changed the landscape of preschool telly? She modestly says that "it probably did", as people often tell her so, but at the time it just felt like a natural progression from the earlier Ragdoll shows like "Tots TV" and "Brum" and she didn't realise how huge it would be until the press started rolling in. Of course, not all that press was favourable, with accusations of "dumbing down" being hurled amid fears that a whole generation would grow up being unable to form a sentence. What those short-sighted journos failed to realise was that "Teletubbies" was, in Anne's words, "deeply educational". All that walking up and down hills that the teletubbies do eventually leads to the child being able to draw their own up-and-down lines – a precursor to writing. It's all about engaging them with patterns that they then want to recreate.
Which leads us on to the current government's policy of formalising education as early as possible. It's a bugbear of mine, seeing as Roo's curriculum seems to be getting ever more compressed (Similes at 5! Adverbial phrases at 10!) and Anne feels similarly, believing that reading- and writing-readiness can come from play and TV rather than making them sit at a desk from the age of two.  Ragdoll programmes are always educational, but "Twirlywoos" is more overt in its education, cementing concepts in children's minds with practical examples. And it seems way more fun than teaching toddlers grammar….
It was a pleasure talking to Anne, and I'm sure you'll all enjoy the new show just as much. It starts on CBeebies on 23rd February, which you'll also realise is my birthday.  Make sure you watch it (and wish me a Happy Birthday too…why not?)